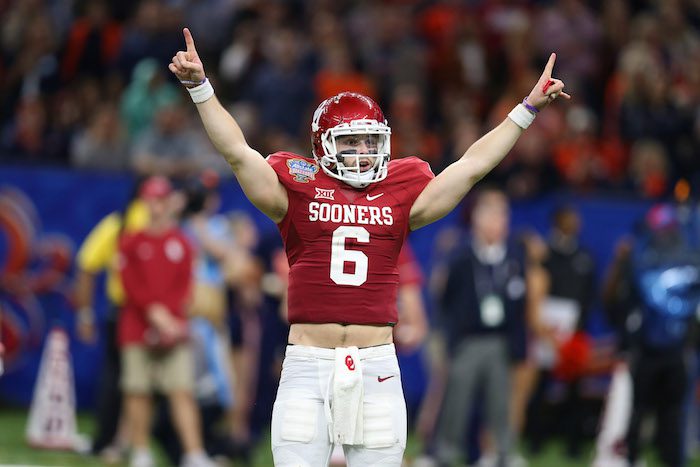 The Universities of Oklahoma and Texas will soon make the jump to the Southeast Conference. Since OU will soon depart the Big 12, let's take a look at the Oklahoma Sooners' top 10 wins over SEC teams (when those teams represented the SEC).
No. 10: OU 35 Auburn 19 (2017 Sugar Bowl, New Orleans)
No one at the time knew this game would be Bob Stoops' last as Sooners' head coach. No. 14 Auburn held a 3-0 lead after the first quarter, and then the seventh-ranked Sooners scored on five of their next six possessions for a 35-13 lead. The Tigers scored their final touchdown on the game's final play against Sooner reserves. OU quarterback Baker Mayfield threw for 296 yards and two TDs to be named the game's MVP. Running back Joe Mixon rushed for 91 yards with two TDs and caught five passes for 89 yards.
No. 9: OU 37 Alabama 27 (2002 in Norman)
No. 2 Sooners appeared to be coasting to a victory holding a 23-3 lead at halftime of their home opener. The unranked Crimson Tide scored 24 unanswered points in the second half to take a 27-23 lead with 3:37 left in the game. Oklahoma then marched 80 yards to take a 30-27 lead. Bama then drove to the OU 43 when Tide quarterback Tyler Watts dropped back to pass, but the pigskin squirted loose as he released the ball. Sooner safety Eric Bassey scooped the ball off the turf and rocketed 45 yards untouched to the end zone with 24 seconds left.
No. 8: OU 25 Vanderbilt 23 (1977 in Norman)
The Sooners were pre-season favorites to win their third national championship in four years, but their No. 1 ranking was in jeopardy against the unranked Commodores. OU, a 30-point favorite, lost seven of 11 fumbles and was plagued by 104 penalty yards. Starting quarterback Thomas Lott had a severely bruised leg, and Dean Blevins started in his place, but a backup freshman sparked the go-ahead drive in the fourth quarter. Norman native Jay Jimerson came off the bench and orchestrated a 55-yard TD drive, scoring the go-ahead score for an 18-15 lead. Four minutes later, safety Bud Hebert (playing with cracked ribs) blocked a Vandy field goal attempt, and defensive end Barry Burget swept up the pigskin and flew 64 yards for a touchdown to lift Oklahoma to a 25-15 lead with 5:29 remaining. The Commodores answered with a touchdown and two-point conversion to cut their deficit to 25-23. They collected the onside kick and moments later, but the Sooners blocked their field goal attempt to preserve the victory.
No. 7: OU 10 Arkansas 3 (2002 Cotton Bowl in Dallas)
Oklahoma's first Cotton Bowl appearance. The 10 a.m. kickoff was the earliest in OU and Cotton Bowl history. The bundled-up crowd of 72,000-plus endured 35-degree temps. The 11th-ranked Sooners (10-2) held the Razorbacks (7-4) to six first downs and 50 yards in 55 total plays. The Hogs had averaged nearly 38 points per game in their last five contests. QB Nate Hybl scored on a one-yard run in the first period to cap a 63-yard, 13-play drive. Tim Duncan added a field goal in the third stanza that gave OU a 10-0 lead. The Razorbacks got on board with a field goal midway through the fourth quarter. Oklahoma's defense tied a Cotton Bowl record with nine sacks. Hybl set the Cotton Bowl completion record with 24 completions, and Curtis Fagan set the punt return record with seven returns. Safety Roy Williams had six tackles, three for a loss, and two sacks and was named the game's defensive Most Valuable Player. Quentin Griffin had only 56 yards rushing but caught nine passes and was named the offensive MVP.
No. 6: OU 20 Alabama 13 (2003 in Tuscaloosa)
Leading 13-10 in the third quarter, No. 1 Oklahoma reached into its back of tricks. Facing fourth-and-10 from the OU 31, Bob Stoops ordered a fake punt. Punter Blake Ferguson set up for another punt but instead lobbed a pass to Michael Thompson, who sprinted 22 yards for the first down. Jason White launched a 47-yard TD bomb on the next play to Brandon Jones for a 20-10 lead. The Tide then moved into OU territory, but safety Donte Nicholson intercepted Bama's pass at the four-yard line. The Tide added a field goal minutes later, but the Sooners recovered the onside kick to preserve the win. 
No. 5: OU 40 Auburn 22—(1972 Sugar Bowl in New Orleans)
The No. 3 Sooners took their 10-1 record to New Orleans to meet No. 5 Auburn on New Year's Day. Quarterback Pat Sullivan led the Tigers to a 9-1 record, and he was voted the Heisman Trophy for his effort. Both teams had lost to their arch-rivals—OU to Nebraska and Auburn to Alabama—during the 1971 regular season. Sullivan completed 20 of 44 passes for 250 yards and had two intercepted. Noseguard Lucious Selmon and defensive end Albert Qualls were in his face all day long. OU quarterback Jack Mildren led the Sooners with 149 yards rushing and scored three touchdowns. The Sooners scored 34 points before the Tigers got on board with a touchdown in the third quarter.
No. 4: OU 35 LSU 0 (1950 Sugar Bowl in New Orleans)
This game was most notable for a couple of former LSU players spying on Oklahoma's practices. Bud Wilkinson enlisted an OU booster, team photographer, and a policeman to investigate. The two LSU spies took off when they saw Wilkinson's investigators shooting film on top of a garage overlooking the Sooners practice field. LSU officials denied the allegations. The No. 2 Sooners, undefeated at 10-0, rolled up five touchdowns on the Tigers' defense that had yielded an average of 7.4 points per game. LSU was ranked ninth nationally in the AP poll. Leon "Mule Train" Heath rushed for 170 yards on 15 carries and scored two TDs to be named the game's Most Outstanding Player.
No. 3: OU 26 Tennessee 24 (1968 Orange Bowl)
No. 2 Tennessee and No. 3 OU entered the game with identical 9-1 records. The Sooners owned the first half by jumping to a 19-0 lead over the Volunteers, who were favored by a touchdown. The Vols scored 17 unanswered points to trail by two early in the fourth period. OU cornerback Bob Stephenson intercepted a UT pass minutes later and returned it 25 yards to put Oklahoma on top, 26-24. The Vols then marched 77 yards to close the gap to 26-24 with four minutes to go. Tennessee later drove to the OU 27 but stalled and missed a field goal with seven seconds remaining.
No 2: OU 45 Alabama 31 (2014 Sugar Bowl in New Orleans)
No. 11 Oklahoma was a 16.5-point underdog to the third-ranked Crimson Tide, the two-time defending national champs. Quarterback Trevor Knight, who was inconsistent sharing duties with Blake Bell during the regular season, was a superstar against Bama. He threw for a Sugar Bowl record 32 completions for 348 yards and four TDs. The Sooners intercepted two Tide passes, which set up a touchdown both times. OU linebacker Erik Striker logged three sacks and one forced fumble. Striker stripped the ball from Tide QB A.J. McCarron, and Geneo Grissom (who also had 2.5 sacks) scooped the ball at the Bama eight and scored with 47 seconds remaining.
No. 1: OU 31 Tennessee 24 (2015 in Knoxville)
No. 23 Volunteers jumped to a 17-0 lead over the No. 17 Sooners in the first 18 minutes of action. OU got on board with a field goal just before halftime. The Vols clung to their 14-point margin through the third quarter. OU's two touchdowns in the fourth quarter tied the game and forced overtime with a tally of 17-all. The dominant Volunteer crowd was deafening. UT scored a touchdown on its first OT possession. The Sooners answered in five plays. QB Baker Mayfield scored on a one-yard run. Sterling Shepard made a clutch sideline catch of Mayfield's pass for 19 yards on the first play. The Sooners got the first crack in the second OT. In three plays, Mayfield hurled an 18-yard scoring strike to Shepard, who maintained his balance along the sideline and dived into the end zone for a 31-24 lead. OU cornerback Zack Sanchez stepped in front of a UT receiver and intercepted the Vols' pass to end the game.