Big 12 News
Steve Sarkisian Shares Disappointment in Both QBs After First Scrimmage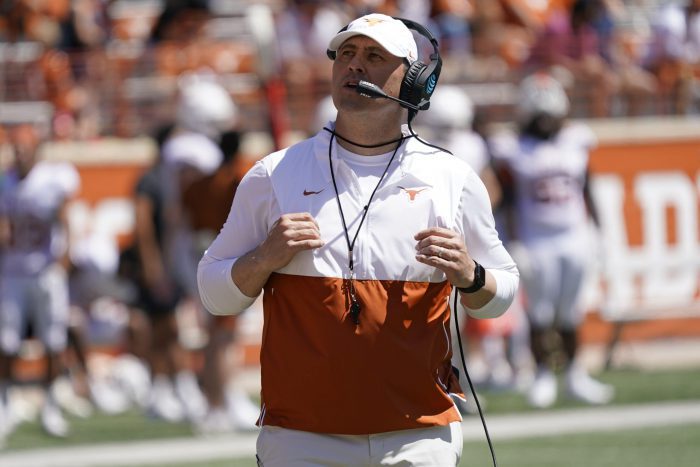 The Texas Longhorns held their first scrimmage of preseason camp on Saturday, and it doesn't appear like we are any closer to finding out who is going to be the starting quarterback come September.
After the scrimmage, Sarkisian said to the media, regarding the QB battle between Casey Thompson and Hudson Card, "Neither guy played up to the standard that I view as acceptable, and I think what they view as acceptable. And that's part of the process."
Sarkisian went on to say about the offense in general, "I thought there were some plays there to be had whether we missed a read at quarterback, or didn't make a play at wideout, or maybe missed a read at running back, that set the tone a little bit for the guys offensively."
The quarterback battle in Austin is the most-watched position battle in the Big 12 Conference this preseason.
Casey Thompson was most recently seen by fans on the field during his impressive showing in the Alamo Bowl. Even though he completed just eight passes, he threw for an incredible 170 yards and four touchdowns in a quarter and a half of work. Thompson has patiently waited his turn and even his brother insinuated it was time for Sam Ehlinger to move on after the 2020 season, as Thompson is heading into his fourth season on campus. He was a Top 15 dual-threat QB coming out in the Class of 2018, according to 247Sports.
Then there's Hudson Card, who was the No. 2 dual-threat quarterback in the Class of 2020, according to 247Sports. He hasn't had many reps, but certainly has an incredibly high ceiling as a talented prospect.
However, while the QB position remains undecided, Sarkisian went on to tell the media that some of the positions he feels good about are defensive line, running backs and tight ends. But even Sarkisian knows that while he can talk up all other positions, until the quarterback spot is decided, that will be the biggest topic of discussion on the 40 acres.
The Longhorns open up the 2021 football season on Saturday, September 4th against Louisiana-Lafayette.