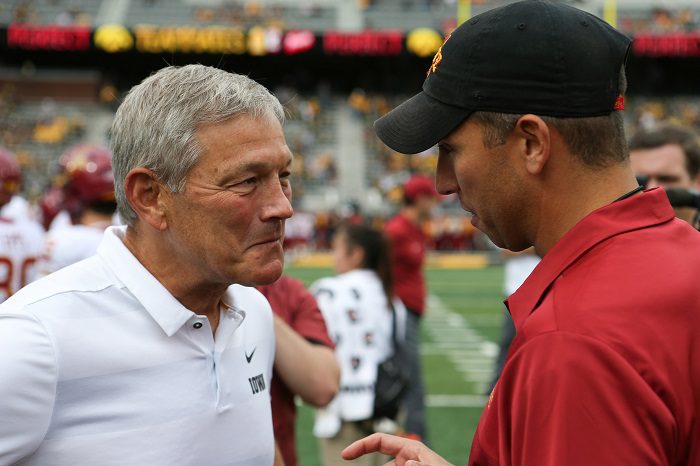 One season removed from teams playing one non-conference opponent then going right into conference play, the Big 12 and the rest of college football will be reverting back to the typical three non-con slate to start the 2021-2022 season. The Big 12 has set up quite the non-conference schedule, with every team sure to be tested early into the season. Today I'll be looking at some of the best or most interesting of those matchups and ranking my top five, as well as giving my analysis of the games mentioned.
5. Oklahoma State at Boise State
The Cowboys travel to Boise, Idaho, in week three to play on the smurf turf for the first time in program history. Oklahoma State won the only game played between the two schools 44-21 in 2018, now they look to do the same on the road. 
OSU is one of three Big 12 teams that won't be playing a Power 5 non-conference opponent this season (Baylor and Texas Tech), but they'll be facing one of the best Group of 5 teams in the country with the Broncos. First year head coach and Boise State alum Andy Avalos will be looking for a statement win in his inaugural Power 5 matchup, while Mike Gundy will look to end the Cowboys' non-conference slate with a win before Big 12 play.
Gametime: Sept. 18 @ 8 p.m. | FS1
4. Kansas State vs Stanford
K-State kicks off its season in Arlington, Texas, with a battle against the Stanford Cardinal at AT&T Stadium. The last and only time the two teams played was in 2016, where Stanford won 26-13. 
Kansas State, fresh off a 4-6 season which saw them topple Oklahoma for the second consecutive year, will hope to build off the momentum brought on by the return of senior quarterback Skylar Thompson and the stellar breakout year from running back Deuce Vaughn. Stanford is riding high after finishing with four straight wins to end the 2020 season and will look to utilize sophomore running back Austin Jones after a 550 yard, nine touchdown year in a six game season.
Gametime: Sept. 4 @ 11 a.m. | FS1
3. Oklahoma vs Nebraska
The old Big 12-Big 8 match up makes a return at last as Oklahoma and Nebraska meet again in Norman after an 11 year hiatus. OU currently leads the all-time series 45-38-3, a series that dates back to 1912.
These are two very different teams and programs then what they were the last time they matched up, that being the 2010 Big 12 Championship game, which saw the Sooners win 23-20 in Nebraska's final year in the Big 12. To put it bluntly, Oklahoma has gotten better and Nebraska has gotten much worse. Since leaving for the Big 10, the Cornhuskers have an overall record of 68-55. Also since Nebraska left, Oklahoma has won seven Big 12 championships and is primed to win another in 2021. This game isn't expected to be close, but nonetheless, longtime college football fans will be ecstatic to see the two former rivals meet again.
Gametime: Sept. 18 @ 11 a.m. | FOX
2. Iowa State vs Iowa
The 68th annual battle for the Cy-Hawk trophy commences in Ames this season after the two teams were forced to call off the game last season due to the shortened schedule. Iowa has won the last five meetings against the Cyclones, the most recent being an 18-17 victory in 2019.
This heated rivalry has been pretty lopsided historically, but with the way Iowa State has been trending up in recent years under Matt Campbell, the series might be starting to even out. The Hawkeyes currently hold a 45-22-0 lead on the Cyclones, and this year's game will be crucial to Iowa State if they want to take that next step as a program and remain in the upper echelons of college football. ISU quarterback Brock Purdy and running back Breece Hall both return this season, as well as tight end Charlie Kolar and reigning Big 12 defensive player of the year Mike Rose.
Gametime: Sept. 11 @ 3:30 p.m. | ABC
1. Texas at Arkansas
The lone Big 12 vs. SEC (SEC vs. SEC?) matchup of 2021, the Longhorns travel to Fayetteville to challenge the Razorbacks in this Southwest Conference rematch. 2014 was the last time the two teams met each other, with Arkansas winning 31-7 in the Texas Bowl. The last time the two played at a non-neutral site was 2008, when Texas won 52-10 in Austin. 
The Razorbacks faced a gauntlet of a schedule last season, finishing with a record of 3-7 with wins versus Mississippi State, Ole Miss and Tennessee. Still, even in the team's losses, Arkansas was a competitive and gritty squad that looked solid throughout most of the season. Coach Sam Pittman also reeled in a top 25 recruiting class for 2021, so I wouldn't write off the Razorbacks to be easily handled by Texas quite yet. Additionally, a Texas loss or even a close win will be detrimental to their status in the eyes of the public and the "we're backkkkk" memes will be unleashed once again.
I see this matchup as the most interesting and most competitive non-conference game to watch in regards to the Big 12. Will Texas prove they are worthy of joining the SEC? Or will they be bested by one of their future classmates?
Gametime: Sept. 11 @ 6 p.m. | ESPN
Honorable Mentions:
Baylor vs BYU
West Virginia vs Virginia Tech
Texas Tech vs Houston
Kansas at Coastal Carolina
TCU vs SMU