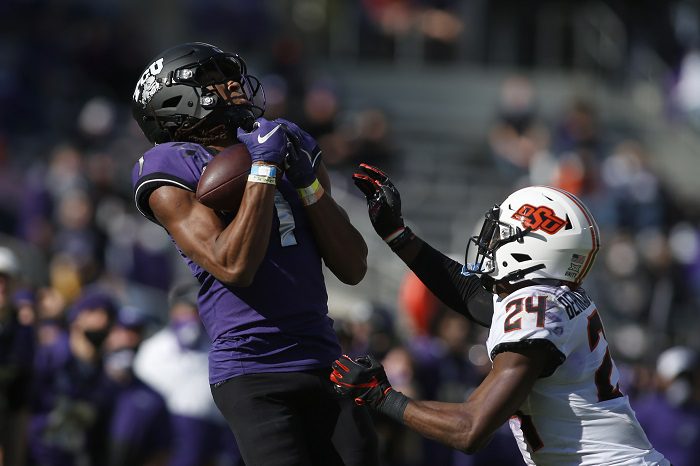 When the TCU offense needed a spark last season, wide receiver Quentin Johnston always seemed to embrace the challenge.  
Johnston arrived at TCU in 2020 as the second-highest rated recruit of head coach Gary Patterson's 20-year tenure and quickly met the hype.  
He finished the season with 22 catches for a team-high 487 yards (54 yards per game) and two touchdowns. The All-Big 12 Honorable Mention honoree averaged 22.1 yards per reception, the best rate by a true freshman in Big 12 history, and cracked the starting line up in week three against Kansas State after snagging five catches for 120 yards in the first two games.  
Johnston had a couple zero and one-catch games, but his impact could not be denied.
He became a focal point for defensive coordinators. Catching deep throws and converting short passes into long runs became a specialty.
Johnston will likely remain the top receiver this fall and should improve on last season after spending an uninterrupted offseason running routes while building chemistry with quarterback Max Duggan.
The passing offense needs to take off and compliment the running game better if TCU wants more points and yards in 2021. The Horned Frogs scored just 11 touchdowns and posted 196.3 yards per game through the air last year.
The Rest of the Gang
The Horned Frogs return their top four receivers, which can make increasing those numbers a little easier. Senior Taye Barber, senior Derius Davis, and sophomore Blair Conwright join Johnston as the main targets.
Barber grabbed a team-high 31 receptions for 318 yards and two touchdowns and showed versatility as a runner. He carried the ball 15 times for 54 yards.
Davis maximized 15 receptions for 209 yards, including a six catch, 139-yard performance against Oklahoma State. He also ran for 65 yards on seven touches and exploded as a returner specialist.
An Honorable Mention All-Big 12 kick and punt returner, Davis averaged 14.53 yards per return and returned punts for scores against Baylor and Kansas.
Conwright opened the 2020 season with 176 yards and 11 catches in three games and then added just 31 yards and six catches over the next five games. He missed the final two games. 
Senior JD Spielman should also garner attention from defenses, despite limited touches in 2020. He racked up numerous accolades as a receiver at Nebraska from 2017-2019 before transferring to TCU last year.
An injury kept Spielman out of the final seven games, but his speed and elusiveness became evident immediately. He accumulated 56 yards on five catches and returned seven punts for 80 yards.
TCU has depth, experience, and leadership at wide receiver, and more options should emerge. Sophomore Savion Williams, junior Mikel Barkley, and junior Marcel Brooks, a converted linebacker and transfer from LSU, could find their way into the rotation.
With Johnston headlining the receiving corps, big plays, first downs, and touchdowns should become a mainstay. He may not be at a first-team all-conference level performer yet, but the talent exists.
Capitalizing on that potential can elevate the entire receiving corps and make the Horned Frogs a much stronger offense.