Big 12 News
College GameDay Reportedly Turns Down Cy-Hawk for Navy-Air Force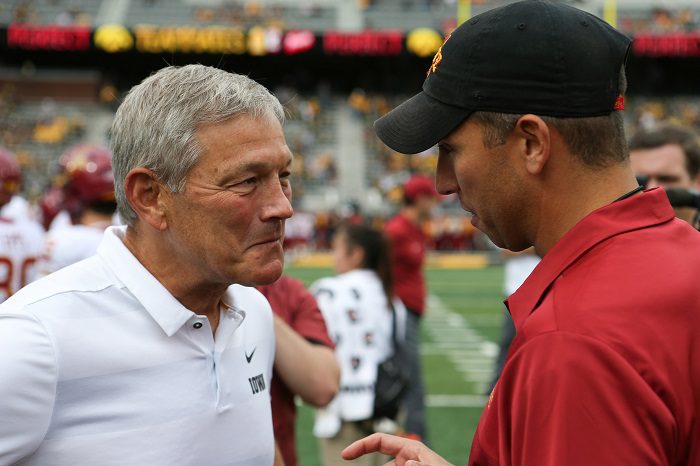 ESPN's College GameDay remains one of its better programs, as the traveling roadshow goes to college campuses all over the country and interacts with the best fan bases in America. And reports have come out that the show is not going to be heading to Iowa State vs. Iowa in Week 2, instead picking the match up between Navy and Air Force.
Our own Derek Duke even speculated last week that Cy-Hawk would have been a great fit in Week 2 for College GameDay, writing:
"How about a little Cy-Hawk to kick off the GameDay party in the Big 12? This has been one of the most underrated rivalries in all of college football and the heat continues to turn up in this series with Matt Campbell brining Iowa State football to new heights. While Campbell has yet to beat the other team in the state, keep in mind that these two did not play last season due to COVID-19. No matter what happens, I know that Jack Trice will be rocking for this one as Iowa State will look to beat Iowa for the first time since 2014."
And while the Iowa State vs. Iowa game could have College Football Playoff implications, it's hard to not appreciate the show wanting to honor the service academies on the 20th anniversary of September 11th. If ESPN does it right, and I admit that is a BIG if, this has a chance to be a really special day and show.
I've also written and wondered if ESPN is going to try and punish the Big 12 given that commissioner Bob Bowlsby has been at war with ESPN since it came down that Oklahoma and Texas were leaving for the SEC. Bowlsby sent a cease and desist letter to the Network in recent weeks, which in many ways, it was the gutsiest thing Bowlsby has done since he signed on as Big 12 commissioner.
However this selection is not indicative to me that this is an anti-Big 12 move, as much as it is a chance to honor the men and women who have served this country on the 20th anniversary of one of the worst days in this nation's history.
For that, I give ESPN credit, and we will have to wait for another week to see when, or if, the Big 12 could actually get burnt by the network given the recent developments between the network and the league.