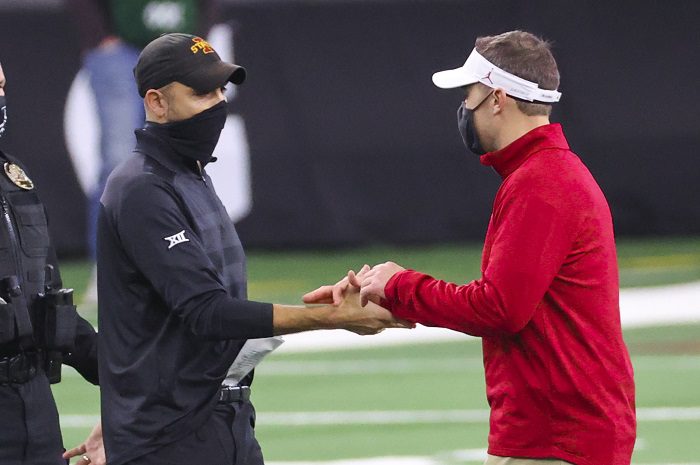 Welcome to the HCS Big 12 mailbag! This mailbag is for all you football junkies out there who root for a Big 12 school who not only have questions about your team, but other teams in the conference as well. So, join me, grab your favorite drink, and relax as I answer all your Big 12 questions. For those interested, I will send out a tweet (@Derekduke25) every Monday until 8 PM CT for you to send in your questions to be answered every Tuesday right here at Heartland College Sports.
I want to thank each one of you who submitted a question this week and for those reading, I am glad you could join me. I am doing this on late Monday evening and of course this mailbag beverage wouldn't be nearly as fun without a right next to me. Tonight's drink of choice? I am finishing up the last bit of my Woodford Reserve. Cheers!
@clonesjer asks: Explain this from Barrett Sallee's AP ranking article today: "While the Clones will be a tough out yet again this year thanks to experience & the coaching acumen of Matt Campbell, ranking them ahead of more talented teams like Notre Dame & Oregon is just a tad bit aggressive."
Duke: I can't speak for anyone else when it comes to their opinion, but I can say when I disagree with an opinion. I looked at Barrett's article and the funny thing is that he said that Iowa State was overrated, and Oregon was underrated at #11. I am guessing he took a big, fat nap during the Fiesta Bowl because what Matt Campbell did to Oregon was a slap in the face to Ducks fans. In fact, I would just call it like it was, an ass kicking. I really don't care what national media has to say these days because whether it fits their narrative or not, Iowa State is a top ten team who is worthy of being with the big boys. My advice is don't worry about guys like Barrett.
@JwQueck asks: When Iowa State beats Oklahoma in the Big 12 championship game will ESPN nix their CFP appearance?
Duke: I love the confidence you have in your team. Maybe a bit overconfident for me but I respect it. If and I mean if the Cyclones beat the Sooners for a Big 12 title, they belong in the playoff no doubt about it. Of course, this will depend on what Iowa State does before that because they can't be a three loss Big 12 champion and get in. They need to take care of business week to week first. If they do that and win a conference crown, ESPN will likely be upset but who cares. I am sure they would rather have four SEC teams in the playoff than Iowa State anyways.
@DwainR11 asks: Besides overrated Iowa State, what games should Oklahoma be concerned about?
Duke: I look at the Oklahoma schedule a few games stick out to me besides Iowa State. First off, the big test will be in Manhattan, Kansas against Kansas State who has beaten the Sooners two years in a row. The very next week is Texas in Dallas and that is always a big game no matter the record of the Longhorns. Outside of those two games, I would circle Bedlam in November. That game is in Stillwater and that crowd will be fired up for that one. Also, you had to get a shot in on a mailbag question? That's a bold move amigo.
@wiggitwiggit asks: Why isn't the Big 12 knocking down the door at CBS? CBS will lose CFB in 2024. Seems like a perfect time to interject 8 quality programs plus expansion. The SEC wasn't the conference it was without CBS, they built it up over decades. I can see CBS doing the same for the big 12.
Duke: First off, the SEC has been a good conference for awhile now. I am not sure how much CBS had to do with that. Good football is good football no matter what network it's on. As to why the Big 12 isn't exploring that, I would say the Big 12 needs to figure out what they want to do and execute that idea. Why would CBS want a conference that appears to be crumbling apart by the day? That would not make sense financially for their business. Again, the Big 12 should not worry about CBS helping build the conference reputation, they should focus on staying a power five conference and then trying to get their games to the highest bidder for more money.
@CajunCy asks: What do you make of the other conferences meeting to form an alliance and the Big 12 being excluded from those conversations? Any chance the Big 12 didn't participate willingly so as not to interfere with potential lawsuits with OK and TX?
Duke: Well, I am not sure if the Big 12 wasn't willing to participate because I believe it was a conversation, they were not even invited to be in. I don't have a ton to say here but it is not good for the Big 12. But from the other side of the table, I understand why. The Big 12 is on shaky ground right now so why would you want to include them in conversations about your future? There are still so many things that will need to play out before we can start getting some of these answers we desperately need.