Big 12 News
Pac-12 Commissioner Remains Very Open to Conference Expansion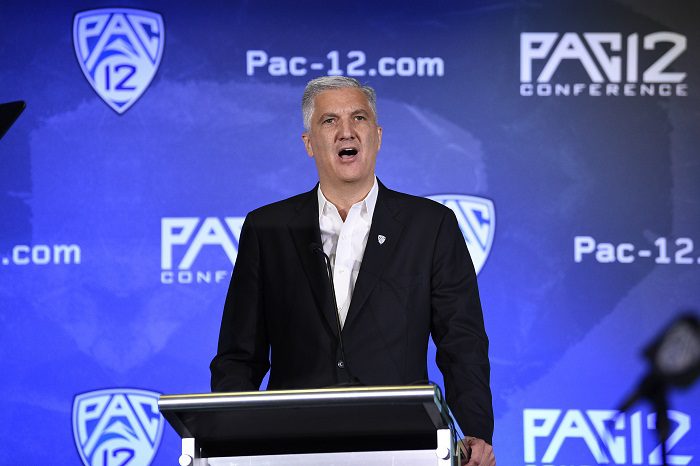 Even though the college football season is right around the corner, there's still plenty of questions surrounding what the future is for the sport in terms of conference realignment, especially as it relates to the Big 12 Conference.
One of the proposed landing spots for either all eight Big 12 teams or a handful of them is the Pac-12 Conference. Texas Tech, TCU and Baylor had reportedly already reached out to the league, while others have proposed a potential 20-team Super Conference with all eight Big 12 teams heading west.
In an interview this week in the Las Vegas Review-Journal, new Pac-12 Commissioner George Kliavkoff was asked about conference realignment and he said, "I think we're really, really happy with the 12 that we have in the league. The opportunity to revisit that following Texas and Oklahoma has certainly presented itself. I am not actively poaching any school or convincing anyone to leave their existing conference, but I wouldn't be doing my job if I wasn't listening to schools that wanted to go in the Pac-12, and we've had a lot of them reach out. Probably all of the ones you would expect and several you'd be surprised by."
Kliavkoff added that there is a group working to consider teams for the Pac-12, saying, "We have taken initial meetings with everyone that has expressed an interest. We have a working group … who are together deciding on what to recommend … At the end of the day, they'll make the decision about whether or not to offer admission to the Pac-12 to any other schools."
As for a timeline: "There's no hard deadline related to any of this, but I would say I don't think it's good for college athletics given the vibration that's going on as a result of the Texas and Oklahoma news. The quicker we can dampen that vibration, the better. We will have a decision on whether we intend to expand or not in the next couple of weeks," the commissioner added.
That leads me to believe if the Pac-12 is going to make a move and expand, there doesn't appear to be interest in dragging it on too long. Whether or not that is good for any of the Big 12 teams remains to be seen.
This news comes on the heels of reports that early next week the Pac-12, ACC and Big Ten could announce an alliance. Per The Athletic, "Schools within the three conferences believe they are like-minded, that they want to continue to prioritize broad-based sports offerings and that the academic profile of their institutions matters — as does graduating athletes. For example, Big Ten schools sponsor an average of 24.8 sports per campus, with the ACC (23.8) and Pac-12 (22.9) not far behind. SEC schools offer an average of 19.9 sports."
So no matter what, the tectonic plates in college athletics continue to shift at a rapid pace, but for eight Big 12 programs and their fan bases, there is still more unknown than known at this point in time.