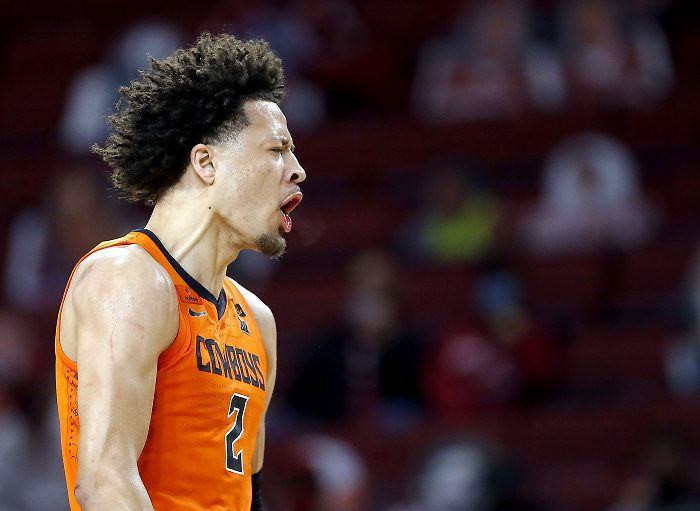 The Big 12 had seven total players taken in last month's NBA Draft, and even more guys signed to teams after going undrafted. The next step for these young hoopers in their NBA journey was competing in the summer circuit as the NBA Summer League tipped off August 8.
Many former Big 12 players showed out for their respective organizations, including a couple of guys who contributed to the Summer League championship-winning Sacramento Kings, who cruised past the Boston Celtics, 100-67, in the final match.
I've compiled my list of former Big 12 basketball players from this year's draft and previous drafts who gave notable Summer League performances, and if these performances are any indications, look out for these guys to make some noise when the 2021-2022 NBA season rolls around.
Davion Mitchell, Jahmi'us Ramsey, Matt Coleman III – Sacramento Kings
These three guards all played college ball at Texas schools, where they lit up the stat sheet. They picked up right where they left off this summer, leading Sacramento to the championship game where they beat Boston for the crown.
Davion Mitchell was the Kings' first round pick a month ago, taken ninth overall out of Baylor. He is no stranger to championships, as he helped pioneer an NCAA Tournament championship win for the Bears earlier this year. Mitchell averaged solid numbers in the Summer League, putting up 11.3 points and 5.5 assists a game while shooting 50% from three.
Jahmi'us Ramsey, a second-year player out of Texas Tech, put up 16 points and three rebounds in the Kings' championship victory. He was drafted in 2020 after spending a season in Lubbock, where he averaged 15 points per game. He played in 13 games for the Kings as a rookie last season averaging 3.1 points.
Matt Coleman III went undrafted out of Texas in the 2021 Draft but was picked up by Sacramento and assigned to the Summer League. In the championship game, he scored 14 points and three assists in 12 minutes coming off the bench.
Cade Cunningham – Detroit Pistons
The highly-anticipated No. 1 pick out of Oklahoma State, Cade Cunningham displayed just how valuable he will be to the Pistons for years to come. His first NBA action saw him average 18.7 points and 5.7 rebounds in three total games. He also made 50% of his three-point attempts, including a 7-10 from three performance against the Knicks, where he finished with 24 points and seven rebounds.
Cunningham lit the college basketball world on fire during his lone season in Stillwater. He averaged 20.1 points, 6.2 rebounds and 3.5 assists a game while shooting 40% from three and leading the Cowboys to the second round of the NCAA Tournament.
Austin Reaves, Mac McClung – L.A. Lakers
Two former Big 12 guards found Summer League spots on the Lakers after going undrafted in July. Oklahoma's Austin Reaves and Texas Tech's Mac McClung both played big roles in L.A.'s Summer League rotation.
Reaves put up a modest 7.8 points and 3.9 rebounds across seven games in both Las Vegas and Sacramento while starting for L.A. He spent his college years first at Wichita State, then he would transfer to Oklahoma in 2018 after his sophomore year where he sat out a season due to NCAA transfer rules. As a senior, Reaves averaged 18.4 points, 5.5 rebounds and 4.6 assists for the Sooners, capping his career in Norman off with an NCAA Tournament win over Missouri.
Mac McClung surprised a lot of Lakers fans with his Summer League performance, hitting numerous tough shots over NBA-ready players while also sinking all of his free throws through five games. The undersized guard has been on basketball fans' radars since his high school days, where he became a mixtape legend at Gate City High School. Much like Reaves, McClung played for two schools before making his way to the NBA. He played his freshman and sophomore seasons at Georgetown under Patrick Ewing, then transferred his junior year to Texas Tech, where he scored 15.5 points per game for the Red Raiders.
Miles McBride – New York Knicks
The scrappy former Mountaineer was a key factor in the Knicks' Summer League run. With averages of 15.2 points, 3.5 assists and 1.5 steals through six games, McBride showed the league why he was a draft steal at pick 36. 
In two seasons at West Virginia, "Deuce" played with an intensity and motor that was missing in Bob Huggins' teams the past few seasons. Similar to another former Mountaineer, Brooklyn Nets' guard Jevon Carter, McBride was relentless on the defensive end of the floor, and he'll likely carry that relentlessness with him over to the NBA. He played in only two games his freshman year, but the following year he emerged as WVU's top guy, scoring 15.9 points, 4.8 assists and 3.9 rebounds a game.