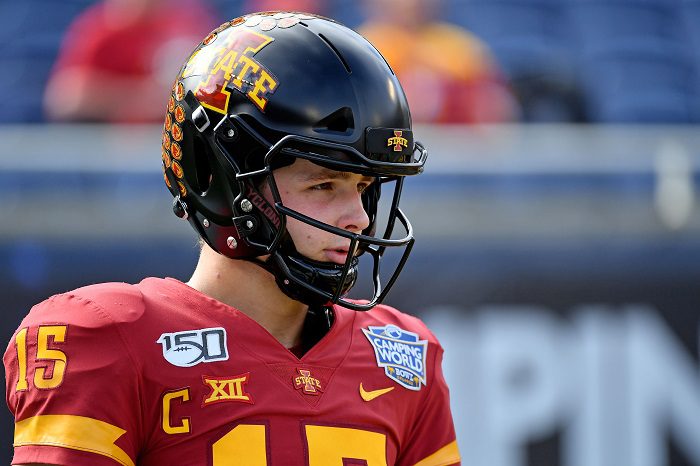 Going into 2021 the Big 12 has some potential to add another Heisman Trophy to it's cabinet. The question is will it be another quarterback from Oklahoma? Or someone else in the conference? The last non-OU player to win the Heisman was Robert Griffin III out of Baylor in 2011. Let's take a look at who might just win the award this fall.
Spencer Rattler, Oklahoma
The redshirt sophomore will begin the 2021 campaign as the nation's favorite to bring home the Heisman. He made a big splash on the college football scene last year when he broke out for over 3,000 yards passing, 28 touchdowns, and 7 interceptions. He also had 6 touchdowns on the ground. With Lincoln Reilly who has proven he can develop his QB's into Heisman winners, keep an eye on Rattler to add another one to Reilly's resume.
Breece Hall, Iowa State
Breece Hall finished 2020 6th in the Heisman voting after running for 1,572 yards and 21 touchdowns. He also caught 2 touchdowns for the Cyclones. Keep in mind he did this in 2 less games than he normally would have had.  With the likes of Najee Harris and Travis Etienne gone, Hall is the best running back in the country. However, a running back hasn't won the award since Derrick Henry last won it in 2015. If Hall takes another step forward as he is expected to, then don't be surprised when he is the first running back to win the award since Henry last did it. 
Brock Purdy, Iowa State
Brock Purdy was the Big 12's 1st Team All-Conference quarterback in 2020. Purdy threw for 2,750 yards, 19 touchdowns and only 9 picks. He also had 5 touchdowns on the ground. With the emergence of Breece Hall last year and missing out on 2 more games than you he would normally play in, Purdy didn't throw for nearly as many yards as he did in 2019. Purdy threw for 3,982 yards in 2019. With Iowa State being more in the spotlight in 2021 and the Heisman having become more of a quarterbacks award, Purdy has a chance to be Iowa State's first Heisman winner. 
Bijan Robinson, Texas
As a freshman in 2020, Bijan Robinson ran for 703 yards and 4 scores. Coming out of high school Robinson was ranked as the best running back in the country. With Steve Sarkisian now at the helm there's a lot of expectation for Robinson to burst onto the national scene. After all the last running back Sark coached was Najee Harris at Alabama where he was the Offensive Coordinator. In 2020, Harris finished 5th in the Heisman voting and won the Doak Walker award.