Big 12 News
ACC, Big Ten and Pac-12 Announce 'Historic' Alliance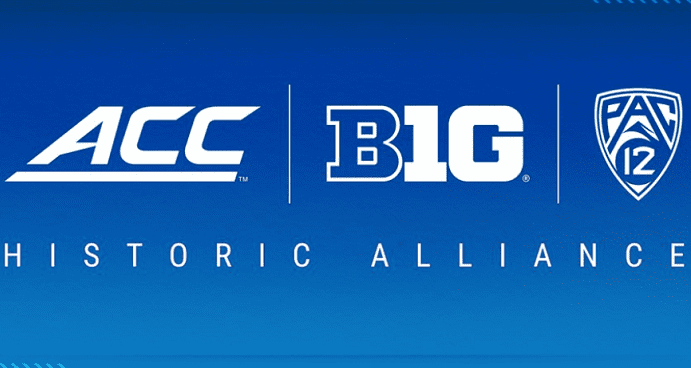 As has been reported for the last several days, the ACC, Big Ten and Pac-12 officially announced their "historic" alliance on Tuesday afternoon.
In the press release, the conferences cited their 41 world-class institutions together on a collaborative approach surrounding the future evolution of college athletics and scheduling.
The alliance is clearly in response to Oklahoma and Texas joining the SEC in 2025 and the seismic shifts happening across the college football landscape. However, at least one college football reporter believes the Longhorns' and Sooners' departures could come sooner, perhaps as early as the fall of 2022.
Regardless, the alliance is also taking subtle shots at the SEC and it's football-focused conference, when they noted that their alliance, "will be guided in all cases by a commitment to, and prioritization of, supporting student-athlete well-being, academic and athletic opportunities, experiences and diverse educational programming. The three conferences are grounded in their support of broad-based athletic programs, the collegiate model and opportunities for student-athletes as part of the educational missions of the institutions."
The most obvious and immediate note of the alliance revolves around game scheduling. The football scheduling will feature matchups across the three conferences while continuing to honor historic rivalries. The press release also notes that any and all current obligations for non-conference games will be met and honored.
In women's and men's basketball, the three conferences will add early and mid-season games as well as annual events that feature premier matchups between the three leagues. The alliance will look at doing something similar for all the Olympic sports as well.
However, as Heather Dinich of ESPN notes, there isn't much teeth to this in terms of contractual agreements:
All three commissioners released statements that read as follows:
Pac-12 Commissioner George Kliavkoff: "The historic alliance announced today between the Pac-12, ACC and Big Ten is grounded in a commitment to our student-athletes. We believe that collaborating together we are stronger in our commitment to addressing the broad issues and opportunities facing college athletics."
Big Ten Commissioner Kevin Warren: "Student-athletes have been and will remain the focal point of the Big Ten, ACC and PAC-12 Conferences. Today, through this alliance, we furthered our commitment to our student-athletes by prioritizing our academics and athletics value systems. We are creating opportunities for student-athletes to have elite competition and are taking the necessary steps to shape and stabilize the future of college athletics."
ACC Commissioner Jim Phillips: "The ACC, Big Ten and Pac-12 recognize the unique environment and challenges currently facing intercollegiate athletics, and we are proud and confident in this timely and necessary alliance that brings together like-minded institutions and conferences focused on the overall educational missions of our preeminent institutions. The alliance will ensure that the educational outcomes and experiences for student-athletes participating at the highest level of collegiate athletics will remain the driving factor in all decisions moving forward."