Big 12 News
Pac-12 Will Announce Intent To Expand By End of Week: Report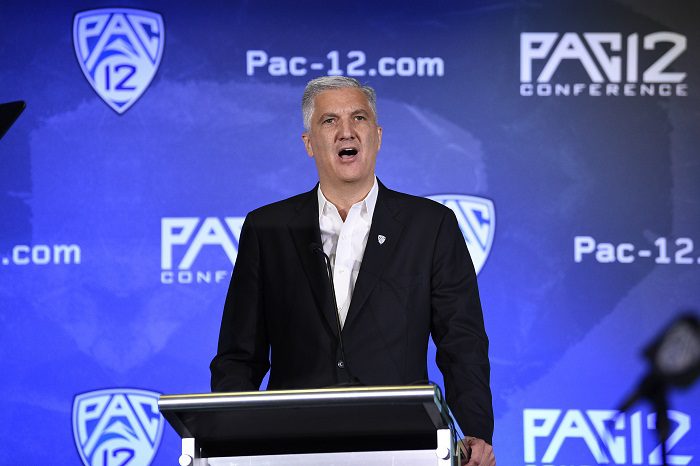 The Pac-12 Conference will announce by the end of this week whether it will expand its membership or not, according to Pac-12 commissioner George Kliavkoff.
The Athletic quoted Kliavkoff in the story, noting that he has not committing to what programs the conference might take in.
"I'll commit that we're going to announce our decision about whether or not to expand before the end of the week," Kliavkoff told the Athletic.
This came just a couple of hours after Kliavkoff announced, in conjunction with the Atlantic Coast Conference and the Big Ten Conference, that the three conferences were forming an Alliance for scheduling and other athletic initiatives.
During the press conference, Kliavkoff said that "we're able to achieve a lot of what we wanted to achieve when we were thinking about expansion by forming this alliance."
READ MORE: Big 12 Players With Top NBA Summer League Performances
READ MORE: Mike Boynton 'Doesn't Know' When NCAA Will Decide Appeal
It's not clear how that Alliance will impact the Big 12, or any football games the Big 12 currently has contracted, with those three conferences. The Alliance press released noted that the three conferences would honor all current game contracts.
On Monday, The Mercury News reported that the Pac-12 would have a decision on expansion in a 'couple of weeks.' This would appear to be an acceleration of that timetable.
In that interview, Kliavkoff said that "We'll have a decision in the next couple weeks about whether or not we're looking at expansion. If we do look at expansion, then it would be a process that we would go through."
Kliavkoff also noted in an interview with the Las Vegas Review-Journal that he was "not actively poaching any school or convincing anyone to leave their existing conference, but I wouldn't be doing my job if I wasn't listening to schools that wanted to go in the Pac-12, and we've had a lot of them reach out. Probably all of the ones you would expect and several you'd be surprised by."
Some current Big 12 schools have, reportedly, reached out to the Pac-12, including Baylor, TCU and Texas Tech, in the wake of the announcement that Oklahoma and Texas will leave for the Southeastern Conference.
You can reach Matthew Postins on Twitter @PostinsPostcard.
**Want to win a $20 gift card? Go sign up here and join our conversation! The best poster each week wins a gift card to your favorite establishment!**