Big 12 News
Bob Bowlsby 'Stabbed In The Back Twice' Per AD: Report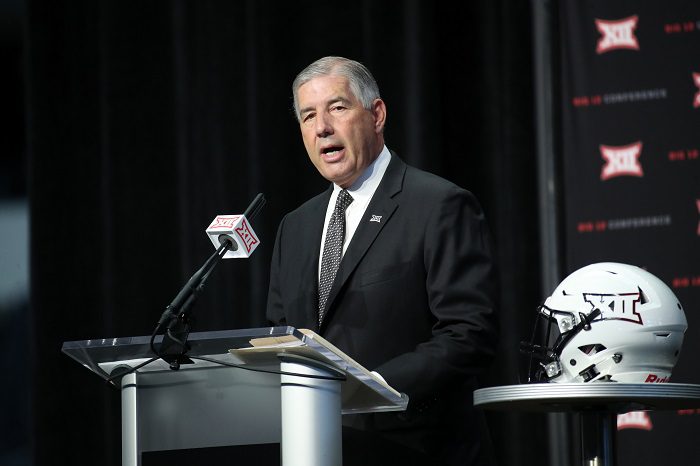 Bob Bowlsby has been "stabbed in the back twice" according to one unnamed athletic director in a story written by The Athletic's Max Olson and published on Wednesday.
The Big 12 commissioner has certainly been under fire since Oklahoma and Texas announced they were leaving for the Southeastern Conference in 2025, though at least one college football writer believes it could happen sooner.
Olson's story focused on the Big 12 and its path forward, including expansion, how to handle the Sooners' and Longhorns' remaining years in the league and whether the school presidents in the Big 12 have faith in Bowlsby's ability to move the conference forward.
Olsen's piece noted that there are Big 12 presidents who are 'frustrated' with Bowlsby's leadership, while others are not. But one quote from an unnamed athletic director showed some empathy for Bowlsby's position.
READ MORE: Oklahoma State is Being Massively Undervalued in Conference Realignment
READ MORE: These Week 1 Big 12 Conference Games Have Extra Importance
"He's been in this business for nearly 45 years and has always been a very honest, up-front businessperson," Olsen quoted one AD saying. "And now he's gotten stabbed in the back twice in the last month by people that were supposed to be his friends."
The fact is, Texas and Oklahoma kept this secret as long as they could, and Texas confirmed they had been having conversations with the SEC for up to six months before the leak. Tuesday's announcement of the Alliance between the Atlantic Coast Conference, the Big Ten and the Pac-12 came just a couple of weeks after Bowlsby and Pac-12 commissioner George Kliavkoff exchanged pleasantries. All three Alliance commissioner were highly complementary of Bowlsby during their Tuesday press conference, and said they had faith in Bowlsby's ability to reposition the Big 12 for the future. But they also acknowledged the fluidity of the situation.
Heck even ESPN's Paul Finebaum has blamed Bowlsby for the situation.
The question is whether enough people in the Big 12 have that same faith, or will Bowlsby eventually find that knife in his back for a third time?
You can find Matthew Postins on Twitter @PostinsPostcard.
**Want to win a $20 gift card? Go sign up here and join our conversation! The best poster each week wins a gift card to your favorite establishment!**