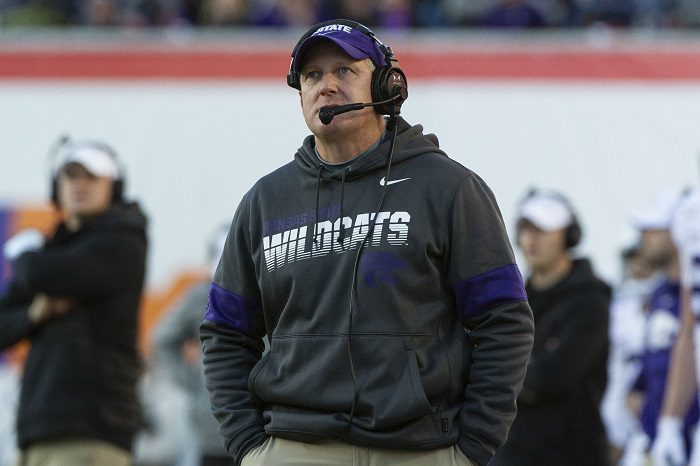 It's been almost a month since the University of Oklahoma and the University of Texas notified the Big 12 of their intentions to leave the Big 12 when the grant of rights expires in 2025. I've had a lot of time to sit and stew about this, wondering about the future of the Big 12 and, more specifically, the Kansas State Wildcats. I have a different feeling about it this time than during the first round of conference realignment ten years ago. This time I wasn't surprised at what was happening. I was surprised at the timing of it, but I believe it happened when it did because the story was leaked to the media. I am not angry at Oklahoma and Texas, but just a bit irritated at the underhanded tactics they used to get the deal done to join the SEC. I say good riddance. You don't really want to do business with people like that anyway. Colorado, Nebraska, Missouri, and Texas A&M all thought they would find greener pastures in other conferences and, other than A&M, they have all pretty much faded into oblivion. That will probably happen to Oklahoma and Texas as well. It's much easier to be a big fish in a small pond than to be a smaller fish in a bigger pond. That "bigger pond" is the SEC in their quest to become the first mega-conference. Oklahoma and Texas leaving the Big 12 does beg the question of what is to become of the remaining eight schools in the Big 12? More importantly to Wildcat fans, where will Kansas State end up when all is said and done?
We've heard Kansas State athletic director Gene Taylor, head football coach Chris Klieman, and various assistant coaches comment to the media that Kansas State will remain a Power 5 program that will continue to compete at the highest level of college athletics. It's nice to hear them say it, but is it lip service, or have they been assured that K-State will be in a Power 5 conference moving forward?
Kansas State's Attractiveness
I tend to believe they are confident that whenever things shake out, K-State will be just fine. I am less confident than they are, but all we can do is trust that they are doing enough behind the scenes to ensure that Kansas State ends up in a good spot. Conference realignment is about football, and K-State has had success on the field, winning two Big 12 championships and having teams ranked at the very top of college football. The athletic department is well-run and it makes money or at least breaks even. They have enhanced and expanded the football stadium over the years and aren't ignoring their minor sports, either. The athletic facilities in Manhattan are definitely "Power 5" worthy.
The University is not an AAU institution academically, but that only appears to be a hindrance to joining the Big 10. Academically, K-State would easily qualify to join any other conference. The football fan base is rabid when the team is winning, and there is a strong desire to compete at a high level on the football field. When the team is not winning, there is still a strong following of fans that attend games and spend their time and money on football. Having success in football is important to the University and the fan base. That matters in conference realignment.
Manhattan, Kansas is also under two hours from Kansas City. While the University of Kansas claims the Kansas City area as their fan base, K-State has a lot of alums in the area. They also have a lot of casual college football fans in Kansas City. Remember when K-State had one of the top football programs in the country? There were plenty of Kansas Citians with no college affiliation that flew a K-State flag during football season and a KU flag during basketball season. That can happen again. The point is, KU doesn't own Kansas City televisions like so many think that they do.
Next Move?
Kansas State has a great resume to remain a viable Power 5 program, but it still begs the question. Is it better to be a big fish in a small pond or a small fish in a big pond? For example, if Kansas State were to go to the Mountain West, would they compete for and win conference championships at a higher rate than they do in the Big 12, and would that placate the fan base? It's a question I've asked myself throughout all of this. There are some fans that don't care about what conference the school is in or who they play. They'll go to the games and support the team regardless of what conference they are in. I see where they are coming from, but part of the reason for attending a large state University is the cachet that it carries. It was a big deal to me to go to a Big 8 school, as it is to go to a Big 12 school today. Being a sports fan, seeing your school featured prominently on a national stage is very cool. Playing on ESPN or Fox or ABC is a big deal. Seeing and hearing national sports pundits talk about your athletic programs is awesome. As long as it's positive! K-State fans will always support their teams, but it will never be the same should the Big 12 dissolve and K-State end up in a group of five conference like the AAC or Mountain West.
Joining the AAC or Mountain West might be in the cards for K-State and the remaining eight schools should the Big 12 dissolve and they don't find a home in a Power 5 conference. Sure, I'll still be a fan, and 99% of my wardrobe will still be purple K-State gear, but much of the allure of following the teams closely and passionately is their role on the national stage. More specifically, a legitimate opportunity to make the college football playoff or to make a Final Four. Being in the Big 12 or one of the other Power 5 conferences provides a vehicle to make that a possibility assuming your athletic department does things right and makes the right hires. It will be less likely or maybe even impossible it ever happens should K-State be left out of the shuffle and find itself on the outside looking in.
Big 12 Should Go On Offense
If I were the commissioner of the Big 12, I'd go on the offense instead of sitting back and watching things happen. One of my biggest frustrations watching the Big 12 over the years is that they are not the innovators and the aggressors. They are always behind the eight-ball, and in this case, they are behind it once again. I'd do everything I could to build back up to 12 teams in the conference by asking existing Power 5 programs if they'd like to join up. Call Nebraska, Missouri, Arizona, Arizona State, and Colorado. They might laugh at you but call them anyway. In my opinion, adding four of the AAC's top teams diminishes the Big 12. The schools left in the Big 12 deserve to remain Power 5 and compete against schools that are already at the Power 5 level. If Plan A doesn't work, Plan B would be to join up with the Pac 12, Big 10, or ACC and create your own super conference. There are rumors that something like this is already in the works. I hope schools such as K-State don't get left behind in such a scenario.
The latest round of conference realignment has put a damper on the upcoming football season, but, hopefully, we'll find out what the future holds for the remaining eight schools sooner rather than later. I'm guessing the Wildcats will remain competing in the "Power 5," which may soon become the "Power 4," for the foreseeable future.