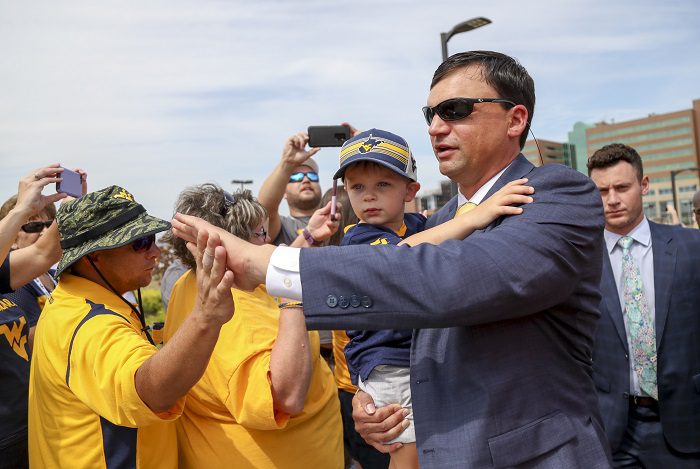 We're almost there. The 2021 college football season officially kicks off this weekend with a smattering of games that are not particularly enthralling but will give us all a little appetizer for September 4, when the season really gets rolling.
The first game of the season is always important for every team. A strong performance on opening day, even in a loss, can set a positive tone that resonates throughout the season while a lackluster performance can set off alarms that keep coaches and diehard fans up late at night.
However, some first games are more important than others simply because the risk of things going wrong is greater. Obviously, a loss to Tulane or Northern Iowa would be disastrous for Oklahoma or Iowa State, but chances of things going that wrong are too low for any real concern.
Of the Big 12's first week slate, half of the games are truly competitive, at least on paper. Here's a look at those games and why they're so important.  
South Dakota at Kansas
The Jayhawks kickoff the Lance Leipold era in a Friday night game that will be broadcast on ESPN+. It's a puzzling kickoff time that probably has helped to exasperate KU's concerns regarding attendance for what could be the most pivotal game of the season for Kansas.
Simply put, this is Kansas' best chance all season to get a win, and a loss would immediately cast a black cloud over a program looking for silver linings. South Dakota, which plays in the FCS Missouri Valley conference, is coming off a 1-3 shortened spring season that saw the Coyotes takedown #7 Illinois State and then lose three straight to respectable FCS programs: #4 North Dakota, Missouri State, and Youngstown State.
During that quick spring season, South Dakota's offense was often anemic, averaging just under 18 points per game, and the defense seemed to wear down at times. Kansas should be able to run the ball against South Dakota, which will take pressure off both the KU defense and the passing game.
There is every reason to believe Kansas can and should win this game, but opening day can be weird, and it is unlikely that KU will be very sharp given the new coaching staff got a late start in Lawrence. The pressure on Kansas to get the win will be high because a loss will likely mean KU is facing a second straight winless season.
Expect some mistakes from Kansas to keep South Dakota in the game well into the fourth quarter.   
Kansas State vs. Stanford
K-State plays Stanford in the Allstate Kickoff Classic at AT&T Stadium, aka, Jerry World, in Arlington, TX. The 11:00 AM kickoff time on FS1 irritated Stanford coach David Shaw as it amounts to a 9:00 AM kickoff for his team and its fans. The game was moved from Manhattan, KS, to Arlington in hopes of getting a featured timeslot with Fox, but a crowded week one slate pushed the game down the totem pole.
TV coverage notwithstanding, this might be one of the weekend's best games, and it's a pivotal one for K-State as the Cats have not won a game since blasting Kansas 55-14 on October 24, 2020. The Cats are desperate to wash away the bitter taste of losing five straight to close last season, and a win over Stanford feels essential for K-State to reach its goals this season.
A loss to Stanford could be devastating to K-State. Not only would K-State's losing streak continue, but the season would suddenly look very long as the Cats could start the season 1-5 with a dangerous Nevada team coming to Manhattan later in September before K-State kicks off Big 12 play at Oklahoma State followed by games against Oklahoma and Iowa State.
K-State doesn't need to panic yet, however, as it has every reason to believe it can beat Stanford. The Cardinal are replacing NFL draft pick Davis Mills at quarterback, and do not appear to have a defense capable of stopping K-State from running the ball and eating up clock. Stanford's secondary is suspect, particularly at corner, so this will be a good opportunity for K-State to get its revitalized receiving corps going.
Expect a low-scoring game as both teams try to grind it out on the ground with Skylar Thompson and Deuce Vaughn slicing up Stanford's defense just enough to give K-State the win.  
West Virginia at Maryland
The Mountaineers will step into ESPN's 2:30 CST spotlight in College Park, MD, to face a Terrapin squad that has a high ceiling and a low floor. Maryland will probably go the way of its quarterback, Taulia Tagovailoa this season, and it would behoove West Virginia to make sure the start of his season is a rough one.
A win at Maryland very well could set West Virginia up for a strong season and a possible Top 25 finish. If WVU can beat both Maryland and VA Tech, the Mountaineers may find themselves ranked when they travel to take on Oklahoma to open Big 12 play.
A loss to Maryland would not be disastrous, but it would open the door to disaster for West Virginia and make the clash with VA Tech in Morgantown feel like a must-win situation. If WVU were to drop games to Maryland and VA Tech to open the season 1-2, the trip to Oklahoma would likely land WVU at 1-3 a quarter of the way through the season, effectively killing all the buzz currently surrounding the program.
While I believe West Virginia should be able to control the defensive line of scrimmage and force Tagovailoa to try to win the game with his arm, Maryland's passing schemes can be difficult to defend if executed properly. Those schemes are complicated, however, and put a ton of onus on the quarterback, and while Tagovailoa should take a step forward for the Terrapins this season, facing WVU's defense on opening day is far from the ideal situation for him.
Expect a low-scoring game with WVU running back Leddie Brown being the difference in the fourth quarter.
#21 Texas vs #23 Louisiana
This is the big one. Texas kicks off the season against the Ragin' Cajuns at 3:30 on Fox in a game that will have considerable buzz as Louisiana attempts to put on an encore of their best season in history and Texas is kicking off the Steve Sarkisian era. It's a tough test for a Longhorns team that has everything to lose in facing Louisiana and not much to gain.
A win over the Ragin' Cajuns will look good enough on Texas' resume and build confidence, but it won't make any national headlines. Texas is supposed to beat Louisiana and failing to do so would have far more ramifications than notching the win.
A loss to Louisiana would cast an immediate shadow across the season and jeopardize any positive vibes heading out of fall camp. With a difficult schedule ahead, it would also set Texas up for a potentially disappointing season. While many believe Texas could contend for a spot in the Big 12 Championship game at the end of the season, a few key losses in difficult games such as this one could put Texas in a position where it is just good enough to reach a bowl game.
On the field, Texas's biggest concern with Louisiana will be establishing the run. The Ragin' Cajuns' strength is in the secondary, so being forced to put the game in the hands of a new starting quarterback and a mostly unproven receiving corps is something the Longhorns should avoid at all costs. Defensively, Texas will need to keep an eye on Louisiana's shifty dual-threat quarterback, Levi Lewis, who will be required to do more for the offense as the Cajuns try to replace a dynamic pair of running backs, Trey Ragas and Elijah Mitchell.
This game may be closer than Texas fans would like but expect Texas to be too much for Louisiana in the fourth quarter.
Texas Tech at Houston (in NRG Stadium)
The Red Raiders get the 6:00 PM slot on ESPN in a game that is probably as much of a must-win for Tech as a season-openrt can be. The Cougars will provide Tech with a tough test critical to the Red Raiders' bowl hopes.
A win against Houston will set Tech up for a 3-0 start and much needed confidence heading into the start of Big 12 play at Texas. Getting to 3-0 is probably a must for the Red Raiders to reach a bowl game this season and save head coach Matt Wells' job.
A loss to Houston would be deflating and put the Red Raiders behind the 8-ball. While Tech has two nearly sure-fire wins in nonconference contests against Stephen F. Austin and FIU, Tech could easily start Big 12 play 0-3 with games at Texas, at West Virginia, and versus TCU before the next likely win comes around at Kansas. With so much at stake for Texas Tech in a very stout Big 12, the Red Raiders need to start 3-0 or a bowl game may be just out of reach.
Texas Tech's Tyler Shough, the quarterback transfer from Oregon, will need to be on top of his game against Houston. Aside from Cincinnati, Houston's defense is likely the best in the AAC and features a strong pass rush and a stout defensive line. If Shough can get the ball out on time, however, there should be opportunities against a suspect Houston secondary.
Expect a close game with plenty of scoring. This one should come down to the fourth quarter with Tech's Erik Ezukanma being the difference maker at receiver.