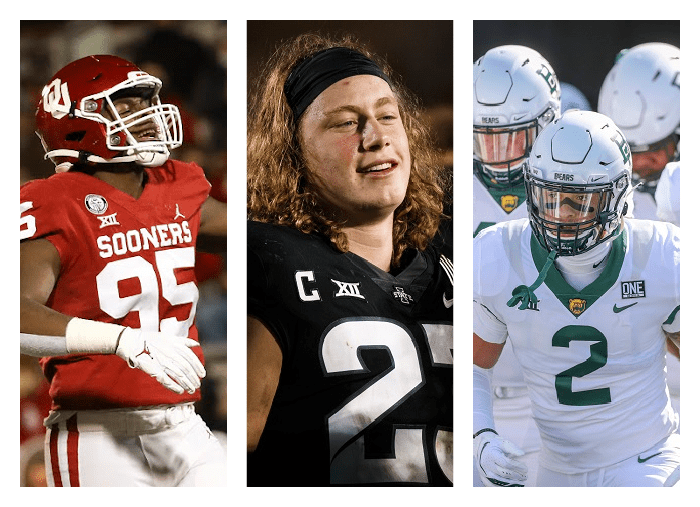 We are a week from kickoff and what better way to get ready for the new season than talking about the best players in the Big 12 conference?
I have already ranked the quarterbacks, running backs and wide receivers but now it is time to talk about some defense! So, I wanted to cap off the series ranking the ten best defensive players in the Big 12.
1. Iowa State LB Mike Rose
I really do not care what anyone tells me because this man is the best player on defense in the entire conference. He won Big 12 defensive player of the year last season and rightfully so. He was top five in tackles and was second in the conference with five interceptions last season. Wherever the football is on the field, Mike Rose will be around it. Mike is and old school linebacker who simply makes plays and is not afraid to get his hands dirty. You don't see many linebackers like that anymore and his style could fit in almost any decade. To me, he deserves the top spot on this list.
2. Iowa State DL Will McDonald IV
While Mike Rose is the reigning Big 12 defensive player of the year, I have Will McDonald IV as the 2021 defensive player of the year. Will led the conference in sacks last season with 10.5 and is a serious threat coming off the edge. Now in a full-time starting role, Will is going to have more opportunities this season and could once again led the Big 12 in sacks in 2021. To me, he may be the best pass rusher in the conference.
3. Oklahoma LB Nik Bonitto
As you can see, I put a premium on good pass rushers. Nik falls into that category alongside Will McDonald IV. Despite playing in just ten games last season, Bonitto still managed to get to opposing quarterbacks eight times in 2020. Sure, he is not your typical linebacker, but he does not really need to be if he can keep getting to the quarterback at a high rate.
4. Oklahoma DL Isaiah Thomas
This could be a player to watch out for when it comes to end of the year awards in the Big 12. Thomas had eight and a half sacks last season and out of all the good players on Oklahoma's defense, one could argue that Isaiah is the best one. He has all the tools necessary to take his game to the next level and with so many good players alongside him, that could help him even more this year.
5. TCU CB Tre'Vius Hodges-Tomlinson
We have our first defensive back on the list, and he is a good one. He was a first team All-Big 12 players last season and according to Pro Football Focus, he has the highest coverage grade not just in the Big 12 but in the entire country. Tre'Vius broke up 13 passes in 2020 and with his elite coverage skills, he may not get to see to many balls thrown on his side of the field.
6. Baylor DB Jalen Pitre
While may be listed as a safety, Jalen is one of those guys who can play not just as a defensive back but at linebacker as well. He moved down as a linebacker last season and was phenomenal. In just nine games last year, Jalen had 13 tackles for loss and racked up 60 tackles. Dave Aranda will use him all over the field this season and rightfully so. Pro Football Focus had one defensive player in all of college football have a grade above 80 not just against the run but in pass coverage as well. That player was none other than Jalen Pitre.
7. Baylor LB Terrel Bernard
Some people may forget about him since he was hurt last season, but you would be making a huge mistake if you did that. In 2019, Terrel racked up 107 tackles and was a second team All-Big 12 selection. Bernard is an excellent linebacker not just in terms of the Big 12 but in the entire country. Now fully healthy, I expect a big season from him as he will likely lead the Baylor defense once again.
8. TCU DL Ochaun Mathis
One could argue that he may not be the best TCU defensive lineman on the roster, but it would be hard to ignore the 2020 season he had. Ochaun had his big breakout year last season and finished second in the Big 12 in sacks with nine. Pass rushers are hard to come by but whenever you have a player that can get to opposing quarterbacks, it is hard to replace that. Mathis was on my preseason All-Big 12 for this year and I am excited to see if he can follow up his on 2020 season.
9. Oklahoma DL Perrion Winfrey
His numbers will not jump out off the screen to anyone and that is fair to say. However, playing in the interior defensive line, you won't likely find a player with mind boggling stats. Winfrey is a force against the run as he does a great job at eating up blocks to help his teammates make plays. He is capable of being a dominant player and while he has shown flashes of that at times, he just needs to be a little bit more consistent to be higher on this list. With that said, he is still a vey solid football player.
10. Oklahoma State DB Tre Sterling
I had to put Tre on here. He was snubbed of the All-Big 12 team last season, and he does not deserve that this year. By the way, he made my All-Big 12 team so don't feel too bad but still, he is a great player. Out of all the power five safeties, Tre had the most pass breakups in 2020 and is solid in pass coverage as well.
Honorable Mentions
Iowa State DB Greg Eisworth II
West Virginia DL Dante Stills
Oklahoma State DB Kolby Harvell-Peel