Big 12 News
Oklahoma Sooners Considering Contingency Plan For Tulane Game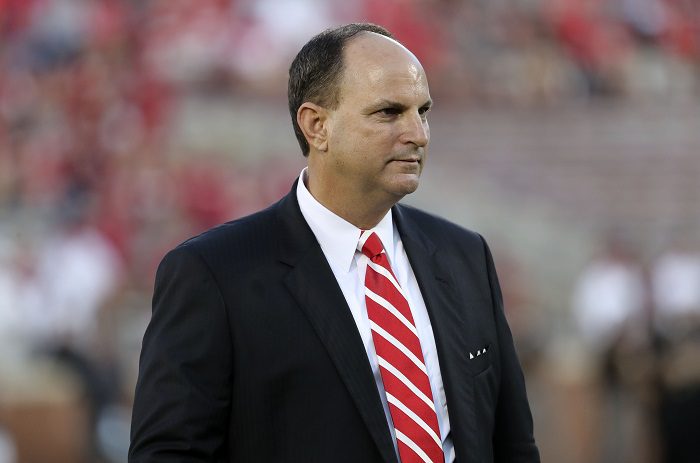 The Oklahoma Sooners are considering contingency plans for its season opener with Tulane, as Hurricane Ida prepares to make landfall this weekend in Louisiana.
That was what Sooners athletic director Joe Castiglione was preparing his fan base for when he tweeted out a statement about the game on Friday night.
While the opener is a week away, potential damage from Ida could force the Sooners and the Green Wave to make adjustments to their scheduled game at 11 a.m. on Sept. 4 at Yulman Stadium in New Orleans. But, for now, Castiglione noted that the game is still on as planned.
READ MORE: Oklahoma State is Being Massively Undervalued in Conference Realignment
READ MORE: These Week 1 Big 12 Conference Games Have Extra Importance
As the National Weather Service tracks tropical storm and hurricane activity in the Atlantic and Gulf Regions, and as predictive models are updated, we have received many inquiries from fans planning to follow the Sooners to New Orleans next week when we open the 2021 football season at Tulane University. In the spirit of proactive planning and communication, I have been in regular contact with Tulane athletics director Troy Dannen for the past month. In the past few days, we have stayed in even closer contact as we continue to monitor the development of Hurricane Ida, which is currently forecasted cast to arrive along the Gulf Coast this weekend. First and foremost, our concern is with any and all those in the path of the storm. We are praying for everyone's safety. At this time the games slated for Saturday, September 4, is still on as planned. However both universities are considering contingencies should post storm conditions warrant. It is too early to speculate, but we will continue to monitor the situation and be prepared to take necessary actions as appropriate. Again our concern rests with our friends at Tulane and all of those who could be impacted by the hurricane.
The National Hurricane Center updated its forecast after Ida passed through Cuba earlier on Friday. Ida had sustained winds of 80 miles per hour, but forecasters expect the storm to rapidly intensify before making landfall. Most forecasts have the storm reaching the Louisiana coast by sometime on Sunday. Nola.com reported that the storm could have sustained winds of 140 miles per hour by landfall, which would make it a Category 4 storm. Should Ida reach Louisiana, it would be the fifth hurricane to make landfall in Louisiana since the start of 2020.
You can find Matthew Postins on Twitter @PostinsPostcard.
**Want to win a $20 gift card? Go sign up here and join our conversation! The best poster each week wins a gift card to your favorite establishment!**