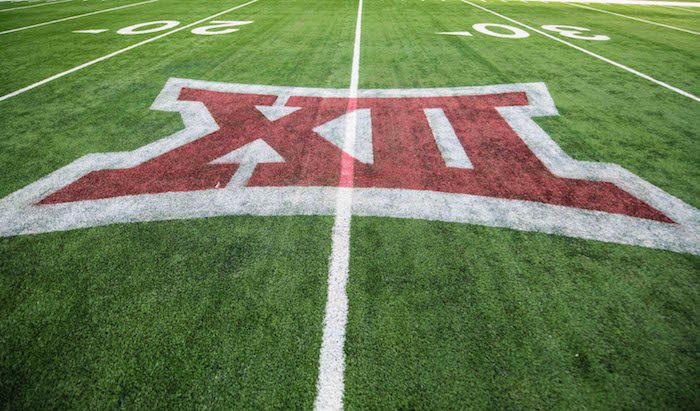 The win totals are out for every Big 12 football team entering the 2021 college football season. And while every fan base thinks their team can "hit the over", the reality is many won't. So with the season just days away from kicking off, here's my prediction as I pick the over/under for each team for the 2021 season.
Baylor: 5.5 Wins
Pick: OVER
I have concerns about the offensive line, but the non-conference is Texas State, Texas Southern and BYU. The Cougars are without Zach Wilson at QB (selected by the Jets in the NFL Draft), which leads me to believe BYU will take a step back. Even if the Bears lose that game, they would need to go 4-5 in conference play to hit the "over". Baylor's schedule is favorable as they only leave the state of Texas three times all season and a lot of their swing games like Texas Tech and West Virginia are at home, along with Texas and OU. I'm not predicting them to beat the latter two just yet, but I foresee a big jump in Year 2 under Dave Aranda who stepped in as a first year head coach with no spring or summer camp.
Iowa State: 8.5 Wins
Pick: OVER
The Cyclones' non-conference is 2-1 at worst as Matt Campbell has yet to beat Iowa. But then, they need to go 7-2 to hit the "over". If they beat Iowa, which is very possible, then it would just take 6-3 to hit the "over". The Cyclones are the clear No. 2 in this league after the Oklahoma Sooners and while going to Morgantown, Manhattan and Norman won't be easy, Matt Campbell and his veteran-laden team know this is their year to knock off OU. Give me the over for Iowa State.
Kansas: 1 Win
Pick: OVER
Do I say this with extreme confidence? NO. But I hate picking a "push". If they can beat South Dakota in Week 1, then it's just KU needing to pick up one win somewhere else in the schedule. They've been known to surprise a Big 12 team here and there (Texas Tech two years ago), and then maybe Coastal Carolina can be a "W", although Coastal is a very solid team. Regardless, I don't think picking the "under" is a good bet, and I hate giving you guys a push, so let's roll with the over.
Kansas State: 5.5 Wins
PICK: Over
Skylar Thompson is back at quarterback for the Wildcats. K-State is at worst 2-1 in the non-conference (Stanford, Southern IL, Nevada), but I believe the Wildcats will be 3-0 after these three match ups. They have three coin-flip games at home in Baylor, TCU and West Virginia. Plus, they've had Oklahoma's number who they get at home, while they should go on the road and beat KU. Farmageddon is at home and never discount KSU in that game, despite the fact that ISU will come in with the better team.
Oklahoma: 11 Wins
PICK: Over
Once again, I'm not going to cop out on a "push". Worst-case for Oklahoma I get my money back with a push, but there is no way this team is dropping more than one conference game. They will roll through their non-conference of Tulane, Western Carolina and Nebraska and then you get your money back if they go 8-1 in Big 12 play. Here's how I look at it: Is it more likely that OU goes 9-0 in Big 12 play or 7-2? Definitely the former, so give me the over on the Sooners.
Oklahoma State: 7.5 Wins
PICK: Under
The Cowboys are a tough team to pinpoint as they could finish as high as 3rd or as low as 7th in the Big 12. The non-conference features a solid Boise State team and then starting in October there is a grind of a four-week stretch that includes three road games outside the state against Texas, Iowa State and West Virginia, three teams that OSU needs to go 2-1 in to likely hit the over. That won't be easy, especially when you tack on two of the final three games against TCU and OU. Gary Patterson has won three of the last four vs. OSU and we know Mike Gundy's struggles against Oklahoma. I'm taking the under.
Texas: 8 Wins
PICK: Under
The Longhorns are rolling with a redshirt freshman QB in Hudson Card heading into a non-conference that isn't overly difficult, but isn't a walk in the park with Louisiana, Arkansas and Rice. But here's ultimately how I look at it: What is more likely for Texas, seven wins or nine wins? The answer is seven. Eight feels right, but seven is more likely than nine wins for Texas. Until Texas is "back", I can't say they're "back" with a new head coach breaking in a brand new freshman QB. They have a ton of talent, but three of their toss-up games in Baylor, Iowa State and West Virginia are on the road. So, once again, I'm leaning under.
TCU: 7 Wins
PICK: Over
The biggest reason for this pick is that TCU will go 3-0 in non-conference play against Duquesne, Cal and SMU. Then I'd at least get my money back with a 4-5 conference record, but firmly believe TCU will finish with a much better win total in conference play. The Horned Frogs only leave the state of Texas three times all season and Max Duggan is the first returning QB the program has had in almost half a decade. They've had a full offseason with Jerry Kill at the controls and now that side of the ball will carry enough of the load to match the defense.
Texas Tech: 4.5 Wins
PICK: Over
The Red Raiders' number sits on the Houston game in the season opener. If they win that game, they'll be 3-0 in non-conference play with Stephen F. Austin and FIU also on the schedule. If Tyler Shough is the real deal at QB, then getting two more conference wins should not be too difficult. They won three conference games last year, which leads me to believe that Texas Tech can hit the over considering they should be upgrading at the quarterback position and have sneaky good players on the defensive side as well.
West Virginia: 6.5 Wins
PICK: Under
It's a tough non-conference slate with Maryland and Virginia Tech. In the conference, it's the odd years when WVU had five road games and just four home games, which means even more considering how much travel they have to deal with. If they go 2-1 in conference play, they would need a record above .500 (5-4 or better) to hit the over. With how deep the Big 12 is, Jarret Doege is going to have to win this team some close games. I need to see that happen to believe it can happen with any kind of consistency. So I am going to go with the under.