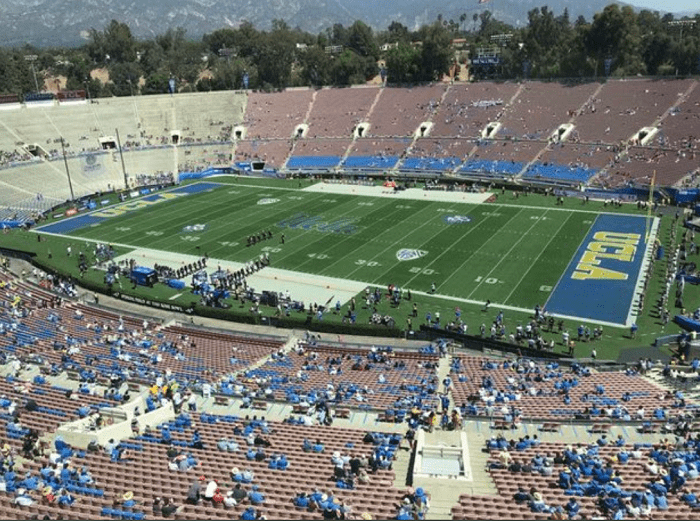 The national media has been calling the Big 12 a "dead man walking" conference for the better part of five weeks. Ever since Oklahoma and Texas announced they would be leaving the league for the SEC, many wanted to write the obituary for the Big 12 Conference. It was easy and cheap to simply pontificate on what league should take the "Big 12 leftovers".
But something funny happened when the 2021 college football season actually started on Saturday in what is called "Week 0", which is a soft rollout to the season with a handful of games on the schedule: The supposed "healthy" conferences looked far from healthy both on the field and in the stands.
Pac-12 Embarrassment
UCLA opened up its 2021 season against Hawaii in a season that should be Chip Kelly's best yet in Southern California. But this is the crowd that showed up for the game.
And of course right on cue, there were plenty of national media excuse makers out in full force.
There have been at least 30 beach weekends this summer, it's the first game UCLA fans can attend in nearly two years and The Athletic's Stewart Mandel is blaming heat (Californians aren't bothered by 90+), beaches and COVID. If it wasn't so shameless, I'd almost be embarrassed for him.
As our own Derek Duke pointed out on Twitter, do you think this would ever happen in Manhattan, Ames, Waco, Morgantown, Fort Worth, Lubbock or Stillwater?
Not. A. Chance.
But we are told it's the Big 12 that is hanging on by a thread and is on the verge of collapse, while the Pac-12 is joining an "alliance" with the Big Ten and ACC, which we should all be incredibly concerned about. I'm just not buying it.
And speaking of the Big Ten…
Illinois vs. Nebraska Debacle
The Big Ten season kicked off on Saturday with Illinois hosting Nebraska. When you look up "barn burner" in the Thesaurus, this game will be show up under "antonyms". In fact, the first score of the game, and as a result the first score of the college football season, was a safety.
Here's the video:
Illinois went on to win 30-22 in a game where the final score created the appearance that the game was a lot more interesting or well played than it actually was. There was the aforementioned safety, missed PATs and more as the Nebraska Huskers continue to disappoint since moving on from the Big 12 Conference.
What can the Big 12 Learn?
The decision makers in the Big 12, which right now include a subcommittee looking at expansion, new consultant Oliver Luck, along with all the ADs and University Presidents, need to realize that this conference is NOT dead. The media may want to kill it off, in part because higher ups at ESPN want it gone to expedite the process of OU and Texas leaving for the SEC, plus saving themselves the hundreds of millions of dollars they still owe the Big 12 through 2025.
But ESPN is not as powerful as it was even five years ago. The programming that it owns is meaningless (Do you know anyone who doesn't live in their mom's basement who watches "Get Up!"?). They've become the Blockbuster of sports media, basically paying big money to rent things of value (NFL, SEC) and hoping to drive people to the content that the own, but the latter isn't happening. SportsCenter is a fraction of what it was even a decade ago, nevermind a generation ago. Outlets like ours continue to have more and more influence reaching hundreds of thousands of college football fans every month, which was highly unlikely even 10 years ago.
The Conference needs to view itself as the valued product that it is with some of the most passionate fan bases in college sports from Ames, Iowa to Manhattan, Kansas, down through Stillwater, Oklahoma and Lubbock, Texas. These are great brands, universities and fan bases who can fill stadiums, drive revenue and, considering where college sports it heading, buy packages to watch their teams play a football game on a Saturday or a basketball game on a Tuesday night.
Considering UCLA fans don't even show up to their home opener to watch their team in person for the first time in two years and the Big Ten West is barely better than the AAC, the Big 12 needs to stop reading national headlines, stop feeling sorry for themselves and gameplan forward as a conference. It won't be on the SEC's level, but it certainly can maintain itself at legitimate Power 5 level.
Your move, Big 12. Let's go.