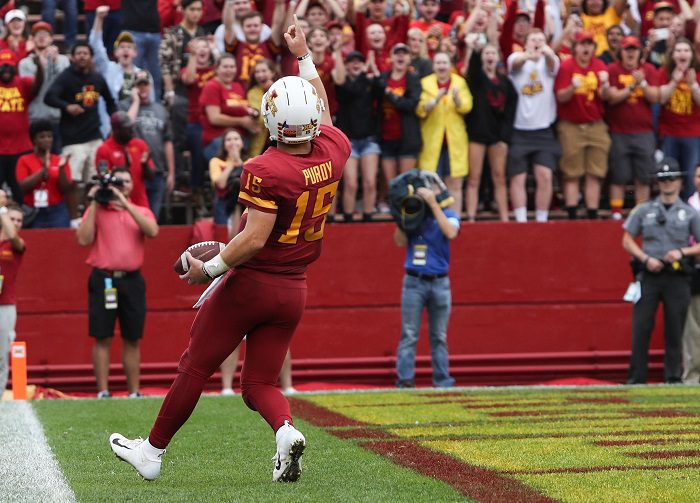 The Iowa State Cyclones are a trending pick to compete with Oklahoma for the Big 12 title, but how many are actually calling ISU to win the league and make the Playoff? Not too many. However, 247Sports' Josh Pate does not fall into that category.
Pate was actually a guest on our podcast in recent weeks, you can listen to that conversation here, but on Sunday night he announced his picks for the College Football Playoff and why Iowa State was included.
To explain his prediction he said the following on 247Sports, "I think I've got the angle pretty hard-wired. So I'm not changing on that. We are taking Iowa State over Oklahoma in the Big 12 championship game. That's not something I'm shifting on. Where I could shift is, I'm looking at the schedule right now. And I can easily see Iowa State being 11-1 and Oklahoma being 12-0 when they go into that game. Now think about that for a second, if the same outcome we just predicted plays itself out. That means that Oklahoma's beaten Iowa State in the regular season. Iowa State gets them back in the Big 12 title game."
Pate added, "Iowa State I have making the playoff at number four, which if it happened, I think a lot of folks would enjoy," Pate said. "Not just Texas fans, because it would mean Oklahoma didn't make the playoffs, I'm not talking about that crowd. I'm talking about the crowd that thinks there is this ceiling, or maybe even sort of an electric fence around a few programs. And no one else is allowed in the playoff and you've been told the system keeps everyone else out. Now, I love Iowa State. I have a heavy, heavy bias. I will not pretend otherwise. So I hope this happens selfishly. But I hope a lot of stuff happens selfishly, that I don't pick on this show, I can assure you. So I'm behind this for better or for worse. I'm behind this pick."
Why Iowa State?
"My whole feel behind this is regardless of what happens in that first go around, I think they're going to peak at the right time," Pate said. "I also think there's a lot to be said for the intangible factors that that team will have on their side this year, the chemistry aspect. You know, the stuff people talk a lot about in lieu of actual football. I think it actually matters with them this year, and they've got very good players. I think they'll have enough to win the Big 12."
Will Pate be proven correct? Regardless, I don't think Josh Pate will need to pay for a beer if he ends up in Ames, Iowa this season.