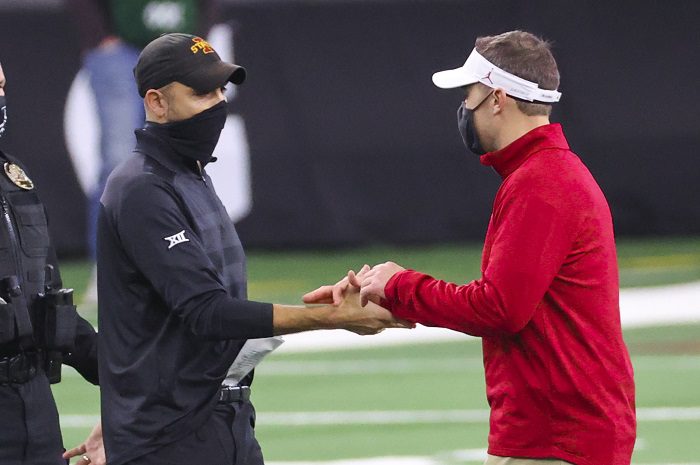 Ah yes, it's that time of year when the Big 12 Football Power Rankings return to Heartland College Sports. A reminder that these can change drastically from week to week. These are not supposed to be a mirror image of a given week's standings. It's based on the previous week's performance and the opponent when compared to the rest of the conference.
So with the 2021 season starting, let's get into this week's Big 12 Power Rankings.
1. Oklahoma Sooners (Last Week: N/A)
The Oklahoma Sooners are the class of the Big 12 heading into 2021 as the winners of six-straight conference titles. There is a team built to challenge them, but as we kick off the 2021 season, there's no justification to put anyone else in the No. 1 spot. Lincoln Riley returns his starting QB, something he hasn't had the luxury to do since Baker Mayfield, and under defensive coordinator Alex Grinch, he brings in arguably the best OU defense in over a decade. This is not the OU team of recent years with an explosive offense and run-of-the-mill defense. It's Lincoln Riley's chance to get over the hump in a CFB Playoff and play for a National Title.
2. Iowa State Cyclones (Last Week: N/A)
The Cyclones are that team that can challenge Oklahoma at the top of the Big 12. They have the experience, talent and depth to do it. Unfortunately for Iowa State, Oklahoma may have its most well-rounded team in over 10 years. But the Cyclones deserve this No. 2 spot with an offense led by Brock Purdy and Breece Hall, while Mike Rose captains the defense. This Iowa State team may be a Top 5 team in the country when all is said and done, but is that good enough to be the No. 1 team in the Big 12? We will find out.
3. TCU Horned Frogs (Last Week: N/A)
It's been three seasons of mediocrity in Fort Worth. That's not acceptable to Gary Patterson. However there is reason to believe TCU is ready to jump back to being a contender in the Big 12. The defense has been there under Coach P, it's the offense that has left the program hanging. Max Duggan returns at QB and has a full offense to get more comfortable with what Jerry Kill wants to do on that side of the ball. Last year was a tough year to try and get a new vision for that unit. He has underrated playmakers in WR Quentin Johnston and RB Zach Evans. If that side can flourish, TCU will be heard from by the end of the season.
4. Oklahoma State Cowboys (Last Week: N/A)
The battle for No. 3 through No. 6 could be fierce in the Big 12, with each of these teams having a case that they're the one that will jump to the top of this group. Oklahoma State has the defensive acumen to make that case, but does Spencer Sanders make that leap in Year 3? He didn't progress in 2020 like many of us expected him to. If he does, Oklahoma State can rapidly ascend up the Big 12 standings and possibly be the surprise team not enough people are talking about.
5. Texas Longhorns (Last Week: N/A)
New year, new coach, new expectations. That's what Texas has going on with Steve Sarkisian now at the helm. How does this team snap its decade-long stream of top-tier talent and mediocre results? Does Sarkisian bring that magic potion to Austin? These questions obviously can't be answered until the start of the season, but one thing we do know is he is rolling with redshirt freshman Hudson Card at quarterback over Casey Thompson. Combine that with a potential Heisman candidate at running back in Bijan Robinson and a defense that is turning over pieces but, as usual, has the talent, and no one will be shocked if Texas ends up in Big 12 contention. At the same time, no one will be shocked if it's another seven or eight-win season.
6. Kansas State Wildcats (Last Week: N/A)
The Kansas State Wildcats are being undervalued by many heading into the season, with a win total of just 5.5. The "over" feels solid there, but when it comes to rising up the Big 12 Power Rankings, they have a great chance to make a big-time statement this weekend against Stanford at Jerry World in Arlington. Skylar Thompson is back at QB, the offensive line is back after being rebuilt in 2020, Deuce Vaughn is one of the explosive players in the league and the defense has potential. Can they put it all together?
7. West Virginia Mountaineers (Last Week: N/A)
Speaking of putting it all together, that's what Neal Brown is hoping to do entering Year 3 with the Mountaineers. Brown seems very confident in this group, admittedly more confident than many of us, myself included. The defense lost some key pieces, but should return a solid unit and if Jarret Doege can become a top-half of the Big 12 QB, then this can be the surprise team in the Big 12. As for rising the Big 12 Power rankings, they play two Power 5 teams in non-conference play in Maryland and Virginia Tech, so WVU can rise up quickly.
8. Baylor Bears (Last Week: N/A)
Baylor slowly came on as last season went along, an incredibly difficult spot for a first-year head coach in Dave Aranda. In fact their best game may have come in a loss late in the season to Oklahoma. Gerry Bohanon gets the nod at QB and that remains a big question mark, as the last time we saw him get any significant playing time he got benched in the 2019 Big 12 Championship Game. However I expect the defense to be stout and if the offense can carry its end of the bargain, Baylor will surprise some folks this season.
9. Texas Tech Red Raiders (Last Week: N/A)
Is Tyler Shough really a potential Top 10 NFL Draft pick? He's getting odds to be as much. IF he performs like that, then Tech has middle-of-the-pack Big 12 potential. I still can't see the ceiling being much higher than that in this league. But there are pieces on both sides of the ball that are worth keeping an eye on, and for head coach Matt Wells, he knows he needs to get himself to a bowl game this season to take some of the heat off.
10. Kansas Jayhawks (Last Week: N/A)
It's the rebuild of all rebuilds for Lance Leipold. But hey, Kirk Herbstreit thinks KU will win more than one Big 12 game. Nuts? Maybe. But to me this season won't be about wins and losses, but more seeing more competitive this team is and how much fire they play with under their new coaching staff.