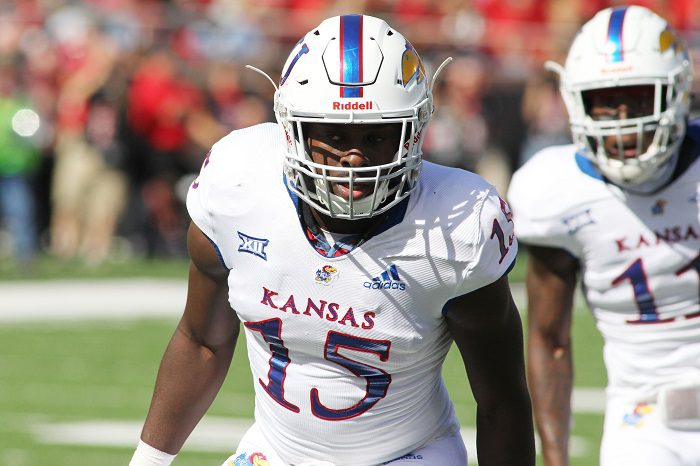 Here is everything you need to know about the Kansas Jayhawks season opener in our Kansas vs. South Dakota preview and prediction.
Game Info
7 p.m. Central Time, Friday, Sept. 3, 2021, David Booth Kansas Memorial Stadium, Lawrence, Kansas
TV: Big 12 ESPN+
Radio: Jayhawk Sports Network
Fun Fact: Kansas is 2-0 all-time against South Dakota
Key players
South Dakota
QB Carson Camp
Camp was the first true freshman quarterback to start a game in South Dakota's recorded football history when he led the Coyotes during their COVID-19-shortened spring season. Still, in that small sample size he averaged 241 yards passing per game. That earned him a spot on the All-Missouri Valley Football Conference All-Newcomer Team. Plus, in his debut he led the Coyotes to a win over then-No. 7 Illinois State. The Coyotes have to be curious how big a jump Camp takes in Year 2.
RBs Travis Theis, Mike Mansaray and Shomari Lawrence
It's weird to list three running backs, but it may take all of them to replace Kai Henry, who left the program after rushing for more than 2,000 career yards. Running back is the only spot on the offense without a returning starter. Theis is the leading returning rusher with 151 yards, so he'll likely get the first shot at seizing the starting job. Theis wouldn't mind having a big night, as he played at nearby Pratt High School.
LB Jack Cochrane
If there is a Coyote poised to claim postseason All-America honors at the FCS level, it's Cochrane, who is already a preseason All-American. Cochrane had 28 tackles in four games last season. But, previously, he's been a high producer. In 2019 he was a second-team all-MVFC honoree after recording 106 tackles, and in 2018 he had 79 tackles. Expect Cochrane to lead the Coyotes in tackles on Friday night.
Kansas
WR Kwamie Lassiter II
Whoever throws the ball for the Jayhawks this season would do well to get it in Lassiter's hands, who is coming back for an extra year due to the COVID-19 waiver. There has never been a question of Lassiter's talent. It's just a matter of getting him the ball, which has been a constant problem in Lawrence. Despite the QB issues, he was All-Big 12 Honorable Mention last season after 43 receptions and 458 yards, along with a couple of touchdowns. He led the Jayhawks in receiving last year.
S Kenny Logan Jr.
Logan could make a big jump this year, if the cards fall right. He was an All-Big 12 Honorable Mention as a returner last year but didn't get enough credit across the conference for leading the Jayhawks in tackles last season with 58. Granted, you usually don't want your safety leading the team in tackles. But the Jayhawks will take it where they can get it. Logan also had two interceptions a year ago and averaged 26.5 yards per kickoff return. He has the talent to jump into All-Big 12 First-Team or Second-Team contention this year.
DE Kyron Johnson
Johnson was an All-Big 12 Honorable Mention last season, but it came as a linebacker. This year the Jayhawks have him listed as a defensive end. But he could wreak just as much disruption. He tied for second on the team with 42 total tackles had 4 1/2 tackles for loss and three sacks. Like Lassiter, he's a super senior. Like Logan, he's poised to make a leap in 2021.
Key storylines
South Dakota
The Coyotes are coming off a 1-3 season that saw them play all of their games in March and split two games with Top 10 FCS teams (defeating Illinois State and losing to North Dakota). COVID-19 canceled their final four games. In 2019, the Coyotes went 5-7 and 4-4 in the Missouri Valley Football Conference. That included a 70-14 loss to Oklahoma in non-conference. Also, South Dakota managed a win over then-No. 5 ranked South Dakota State to end the 2019 season. The last time the Coyotes had a winning season was 2017, when they went 8-5 and reached the second round of the FCS playoffs, losing to Sam Houston. Head coach Bob Nielson had more than 200 career wins and has guided the Coyotes to two wins over FBS teams (Minnesota in 2010 and Bowling Green in 2017) in the last 10 years.
Kansas
Kansas had the worst offseason of any Big 12 program, and it had little to do with what happened on the field. The Jayhawks released Les Miles from his contract after news of his problems with female employees at LSU. Shortly after, Kansas did the same with the man who hired Miles, athletic director Jeff Long. Emmett Jones took over as the interim head coach while Kansas hired a new athletic director (Travis Goff) and a new head coach (Lance Leipold). Leipold brought in most of his own staff, but kept Jones, who will continue to coach wide receivers. Leipold missed spring football, so he and his staff have spent August installing their system. The opener with South Dakota gives Leipold and his staff their first chance to see if their installation has taken with a mix of holdovers from Miles' tenure and the transfers that came in with Leipold.
Oh, by the way, as of this writing the Jayhawks didn't have a starting quarterback. Leipold said on Monday that he's choosing from Miles Kendrick, Jason Bean and Jalon Daniels. But he may not announce his pick before kickoff on Friday.
Prediction: Kansas 27, South Dakota 20
Kansas has won two of its last three games over FCS opponents, defeating Southeast Missouri in 2017 and Indiana State in 2019, while falling to Nicholls State in 2018. There are plenty of reasons to take the upset here, not the least of which is that Nielson is an experienced head coach with nearly all of his returning starters on offense. Well, the thing is, Leipold is that same kind of experienced coach, with national championships at the Division III level and two Mid-American Conference East Division titles at Buffalo. Several of his Buffalo players followed him via transfer, including center Mike Novitsky. There IS talent in Lawrence, and even though Leipold didn't get much lead time thanks to his late hire, I think he and the Jayhawks will have just enough to squeeze out the win. But don't expect it to be easy.
You can find Matthew Postins on Twitter @PostinsPostcard.