Big 12 News
Steve Sarkisian Will 'Reevaluate' QB Competition After First Game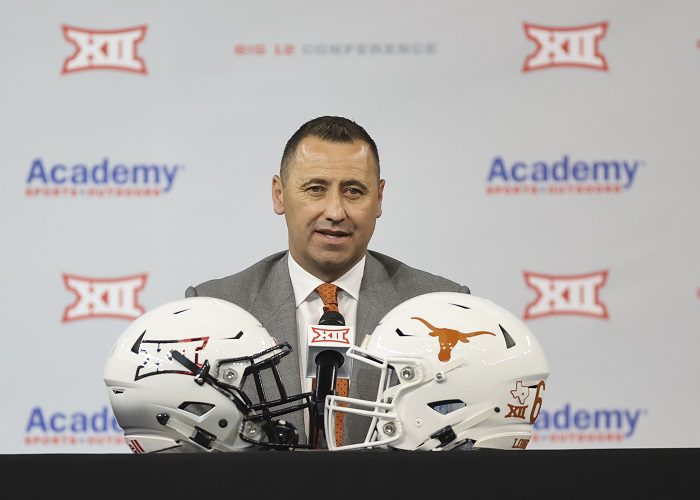 It's game week in college football for the first time in the 2021 season and one of the biggest storylines was who would be the QB of the Texas Longhorns. During Monday's press conference, new Texas head coach Steve Sarkisian confirmed that Hudson Card would be QB1 on Saturday vs. Louisiana Lafayette, but the competition may not be completely over.
Sarkisian said that while Card will start on Saturday, Casey Thompson will also play against Louisiana. He added it was a "tough call" and that "we will reevaluate" after the opener this weekend.
As for his expectations out of his quarterback, he tempered those, saying, "We're not having a starting quarterback to wow the crowd…we want to have one to manage the game, the game situations, and block out the outside noise."
It was quite the quarterback battle as Casey Thompson was the number one guy for the first half of camp, but Hudson Card made strides and by the end of camp, he was running with the ones.
Apparently, the biggest difference between the two quarterbacks has been the turnovers in practice. Horns247 says that was the biggest difference between the two as Hudson Card took care of the football better.
The turning point appeared to have happened after the scrimmage on August 14th. After that scrimmage, Hudson appeared to be the number one guy and it has stayed that way until a decision was made on Friday.
Also of note, Lousiana-Lafayette is far from a pushover season opener, so whoever is under center on Saturday will need to be playing up to their best ability against a very solid Group of 5 program.