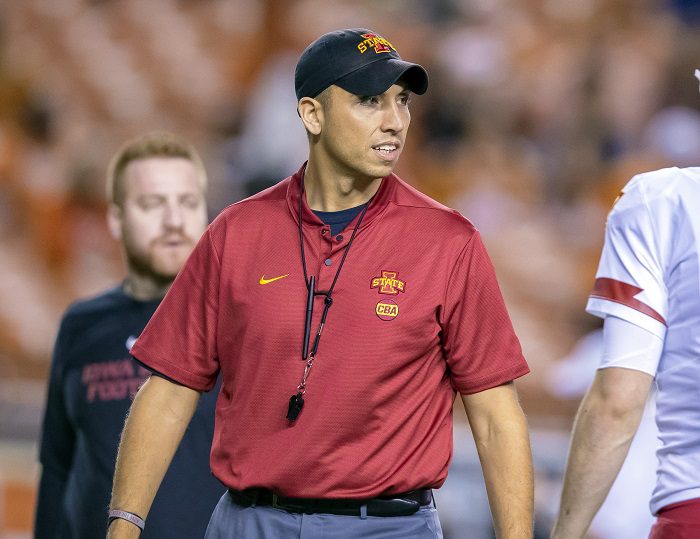 Expectations are high in Ames, IA going into 2021. Last fall Iowa State made their first appearance in the Big 12 Championship game after years of being a doormat in the league. Now that the season opener is less than a week away, Iowa State is expected to make a 2nd straight appearance, or at the very least contend for a 2nd straight appearance. We all know the hype behind this team, we know what they did last year, we know they have 3 Pre-Season 1st Team All-Americans. It's been talked about at length how good the Cyclones are. However, what are a few things that might hold ISU back from repeating their success in 2021?
The Kicking Game
This was probably the weakest part of the 2020 Cyclones. Kicker Connor Assalley returns for one more ride, and he is probably the one Cyclone that the ISU faithful weren't ecstatic about returning. No disrespect to Assalley, he has certainly made some really big kicks for the Cyclones including the walk-off winner against Texas in 2019. However, he missed two PAT's and only made 68% of his kicks last fall. He was 2-6 from 40 and beyond. If the Clones want to repeat success in 2021 they will certainly need to address their kicking game. 
The Defensive Line
Trust me I am certainly being very picky here, but with the departures of Jaquan Bailey, Josh Bailey, and Latrell Bankston just to name a few, Iowa State will have to find some solutions to keep this defense stingy. Iowa State does return the nation's sack leader from a year ago in Will McDonald IV. The biggest question with McDonald is can he be an every down player? He is known as a pass rusher but most believe he can be much much more. He will have to if ISU wants to keep rolling. 
Bad Brock Purdy Turnovers
The quarterback has widely been heralded as one of the best in the conference and in the country. With that said for those who don't always watch ISU play and only see the stats & numbers, many haven't seen some of the awful mistakes he has made. Don't get me wrong, this isn't me ragging on Brock Purdy. After all he is the best quarterback in the history of the school and it isn't close. That is saying something considering ISU has had the likes of Sage Rosenfels, Seneca Wallace, and Bret Meyer all wear the cardinal and gold. Purdy is a gunslinger. As much fun as that is, it can come with a lot of silly mistakes. Just to name a couple the interception he had against TCU in 2020 where he was getting sacked and just threw the ball to the side and it was returned for 6. He also had 3 1st half interceptions against Baylor that nearly cost ISU the game. 
These are just a few things that could prevent the Cyclones from living up to their potential. With that said I do expect ISU to take care of all of these potential "issues" and have a very successful year. Who knows if they make it back to Dallas, but they certainly have the capabilities of doing so. Stay tuned.