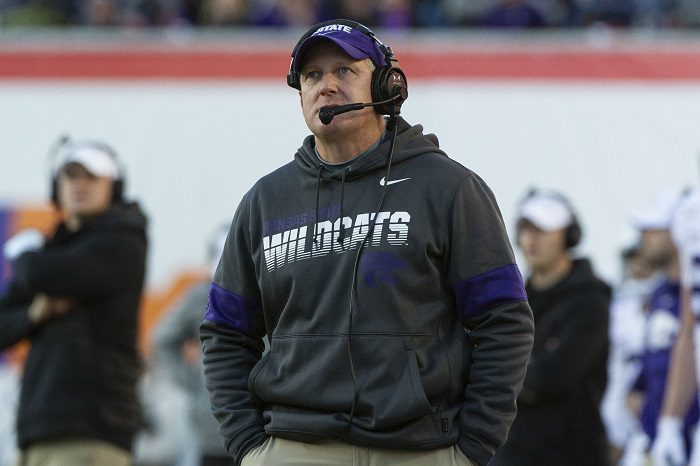 Football is back! Kansas State football returns Saturday to face Stanford in the Allstate Kickoff Classic in Arlington, Texas. The game is set for an 11:00 AM kick and will be broadcast on FS1. The Wildcats are a 2 1/2 point favorite. I tend to agree with the Vegas oddsmakers and believe this one will be close. What does Kansas State need to do to get the win against Stanford? Here are five keys to victory:
1. Run the Ball Successfully
It seems obvious.  Run the ball, control the clock, and score touchdowns.  Stanford ranked 112th in the country in rush defense last season, giving up 222 yards per game on average.  Stanford lost its top tackler (ILB Curtis Robinson), top pass rusher (DE Thomas Schaffer), and top defensive back (S Malik Antoine) from that squad.  They did sign some help in the off-season, when outside linebacker Wilfredo Aybar, the Connecticut Gatorade player of the year, committed to Stanford over Ohio State, Oklahoma, Notre Dame, and other top programs.  He will most definitely see the field as a true freshman.  Stanford has talent on their defense, so Deuce Vaughn, Joe Ervin, Jacardia Wright, and the K-State offensive line may have their work cut out for them.  We will see.
2. Stop the Run
Stanford, like K-State, wants to run the ball on offense. The focal point will be Stanford running back Austin Jones. The junior ran for 550 yards and nine touchdowns in six games last season, and also had the second-most receptions (21 for 156 yards) on the team. The Cardinal return a veteran and experienced offensive line, and their backup running back, Nathaniel Peat, averaged seven yards per carry in 2020. The Wildcats signed defensive tackle Timmy Horne as a transfer for the specific purpose of stopping the run, so it should be interesting to see who wins the battle up front.
3. Pressure the Quarterback(s)
As of this writing, Stanford coach David Shaw has yet to name a starting quarterback for the opener. Stanford is replacing last year's starter, Davis Mills, a third-round draft pick by the Houston Texans. Two quarterbacks, Jack West and Tanner McKee, are competing for the job and I predict that we are likely to see both on Saturday. Neither has a lot of experience.  West has made two career starts, and McKee played in one game last year after a two-year Mormon mission.  Both are tall and athletic.  West is 6'4" 215 lbs and McKee is 6'6" 225 lbs.  It will be important for the Wildcats not to let the inexperienced quarterbacks get into a rhythm and gain confidence.  They have to keep the pressure on.
4. Catch the Ball
Yes, I am being a bit facetious, but the Kansas State receiving corp has to catch the balls thrown by Skylar Thompson and make some plays.  They have had too many drops in the past.  Malik Knowles and Phillip Brooks will have to step up their games.  I don't know what to make of Landry Weber getting the start at the slot receiver position, but I hope he can be productive.  I know linebacker is a spot of concern for the Wildcats going into 2021, but there are concerns about the receiving corps as well.  If they can find success, this offense could roll.
5. Win the Special Teams Battle
We know both teams are going to try to run the ball and control the clock, which could result in a very fast game. The teams seem evenly matched, with a slight talent edge going to Stanford. Special teams could be the difference in this one. Brooks, Knowles, and Vaughn are set to return kicks and punts and a big return or a return touchdown could be the difference between winning and losing.
I think K-State will win a close game, but I don't feel strongly about it. The more I read up on Stanford the more I don't like K-State's chances, but I think in the end they'll have enough to get it done in front of a fan-friendly crowd in Jerry World.