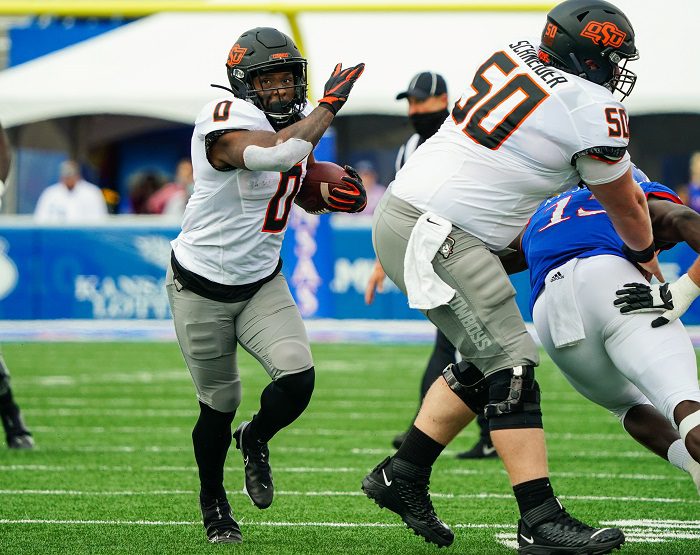 Oklahoma State released it's official game one depth chart last week, giving Cowboy fans a look at the rotations we'll see at each position group when OSU hosts Missouri State in Stillwater Saturday.
The depth chart includes the team's two-deep and even three and four-deep for some positions, indicating that some spots are not set in stone quite yet.
There weren't many surprises on the depth chart, but there were some things I noticed looking at it that prompted me to wonder and speculate. Whether it's players missing or newcomers making surprise starts, I have some questions about Oklahoma State's week one rotations.
Missing Players
I noticed a couple of players that are absent from the initial depth chart that I presumed would be included. Guys like sophomore defensive end Isreal Isuman-Hundley, junior linebacker Lamont Bishop, junior wide receiver Jonathan Shepherd and sophomore defensive tackle Collin Clay who got meaningful reps in the Cowboys' spring game, but for whatever reason didn't crack the rotation.
Israel Isuman-Hundley looked very good from what I could tell at the spring game. His dominating size at 6-foot-5, 260 pounds makes him an issue for opposing tackles, yet he is not listed at either defensive end spot. It looks as if incoming JUCO sophomore Nathan Latu edged out Isuman-Hundley for the backup role, but I wouldn't be surprised if he is a third-string guy and plays some valuable snaps this season
I expected Lamont Bishop to back up either of the linebacker spots. Instead he is absent in favor of sophomores Mason Cobb and Kamryn Farrar. Bishop does have a history of injuries from his time at Iowa Central Community College, so perhaps his health is the reason for his no-show on the depth chart.
Fourth-year wide receiver Jonathan Shepherd has been in the shadows his entire career at Oklahoma State. With his performance at the spring game that saw him catch multiple balls and targeted even more, I thought this season would be his turn to show what he can do. Instead, it seems he was jumped by four true freshmen at the receiver position, Jaden Bray, John Paul Richardson and twins Blaine and Bryson Green.
Former Arkansas transfer Collin Clay has yet to see any playing time since arriving in Stillwater due to a season-ending ACL tear before the 2020 season. He continued to recover throughout the spring, but is on track to be good to go once the season kicks off.
LD Brown at Kick Return?
Don't get me wrong, it's not that I think LD Brown won't be a good kick returner alongside Brennan Presley. I also get that OSU has crazy depth at the running back position, so they can afford to throw him out at kick return, but I still don't like the idea of putting the team's most experienced running back at risk of getting hurt on one of the most dangerous plays in football.
Unless Brown is such an elite kick returner that it would be a crime to keep him off the field, I say save him for offensive possessions. The redshirt senior running back already has a history of injuries, both minor and multiple games spanning. Put in someone who will not be relied on as much in the team's gameplan like freshman John Paul Richardson, who is slated as the backup punt returner.
Sibling Rivalry
As Oklahoma State rounded out its 2021 recruiting class, 247Sports had Allen, Texas, wide receiver Bryson Green rated higher than his twin brother, Blaine. Bryson was tabbed the No. 392 prospect in the country, while Blaine was No. 448. 
Since the two arrived on campus as early enrollees, Blaine has apparently overtaken his brother as the top Green. He is listed as the starting 'X' receiver on the initial depth chart, with Bryson backing him up.
It makes me wonder what must have happened over the offseason that caused Blaine to emerge as the better receiver than his brother, much less a starter as a true freshman. Perhaps he has a chip on his shoulder from his lower recruiting rankings? Whatever it is, it makes me intrigued to see him play and prove why he earned the starting job.