Big 12 News
Despite Comeback Win, KU Football Struggles in Lance Leipold's Debut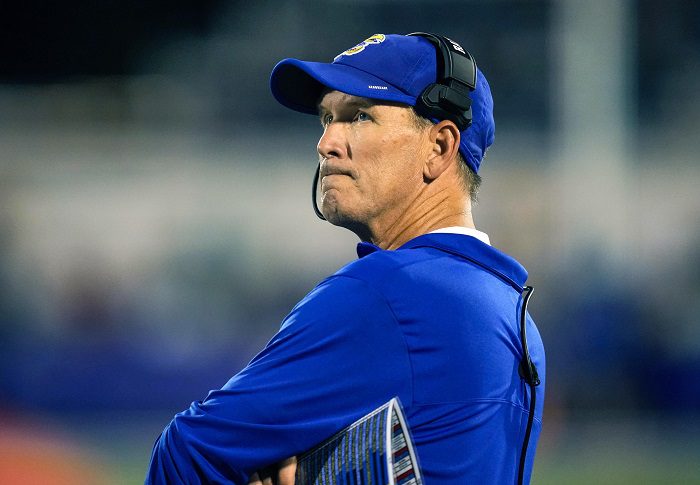 Winning is not something Kansas is familiar with. Well, at least not on the football field. However, head coach Lance Leipold is not accustomed to losing. He has been a proven winner at every single stop he has made.
From winning national titles at Wisconsin-Whitewater or building the Buffalo football program up, Lance is a winner through and through.
Now at Kansas, his biggest job started on Friday. The Jayhawks have yet to win more than three games in a season since 2009 and have not been to a bowl game since 2008 so when wins come along, you take them anyway you can get them.
What happened Friday night was not pretty by any stretch of the imagination, but the Jayhawks started the Lance Leipold era with a win which when it is all said and done, that is all that matters.
This was a game which they should have won with ease, however it turned into a late fourth quarter rally to win the game. With 5:13 left to play, South Dakota's Travis Theis scored on a 25-yard run to give the Coyotes a 14-10 lead.
Kansas had to go the length of the field to score and to my surprise, they did just that. Even when the pressure was on, it seemed like the Kansas offense stepped up to the challenge.
On a fourth and ten with the game on the line, quarterback Jason Bean found tight end Mason Fairchild for a big first down and then on a crazy third and long, Jason Bean was hit in the head due to a targeting call to give Kansas another big first down.
Just two plays later, Jason would find his favorite target of the night in Lawrence Arnold for the go-ahead touchdown with just 1:10 left to play. From there, the Kansas defense would get the game clinching stop to win the game 17-14.
As good as a win is, I would be a fool not to still have my doubts about this 2021 Kansas football team.
To start the game, Kansas would go three and out four times in a row before finally getting a first down. In fact, Kansas had less than 20 yards offense in the first quarter. Plus, there were plenty of mistakes as far as penalties go. Just when the Jayhawks would take a step forward, they would take another step back with a penalty.
It took the offense nearly and entire half to score and throughout the game, starting quarterback Jason Bean struggled with his accuracy. The box score won't show it, but I can assure you that he had a few easy throws that he just simply couldn't make. Of course, it does not help that his offensive line struggled to get any sort of push in the run game either.
With that said, we all know there is still plenty of work to do in Lawrence. I know that you know that, and Lance Leipold knows that. The question is how much can they improve from this game? For their sake, I hope a good amount because next week will be even tougher than Friday because the Jayhawks will be taking on a top 25 team as they travel to take on Coastal Carolina.