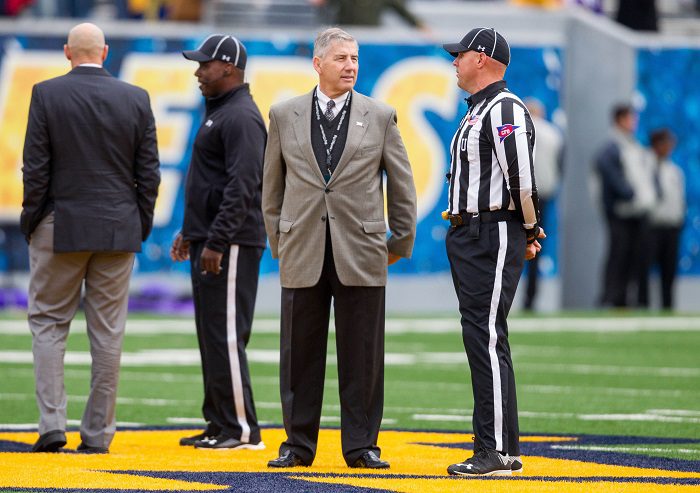 If you read my recent article about why the Big 12 should jump to 16 teams, you know that I'm in favor of adding San Diego State to the conference. Many Big 12 fans, however, question the value of adding the Aztecs. I've heard it said that San Diego State doesn't really bring much to the table. I believe such comments are due to a misconceptions and lack of understanding wher San Diego State is at and what it can become.
Here's a look some of the arguments I've heard against adding the Aztecs to the Big 12 and why I believe San Diego State presents an opportunity the Big 12 simply shouldn't miss. 
BIG MARKET VS PACIFIC APATHY
One of the main arguments against San Diego State involves a negative spin on the San Diego market. Sure, it's huge, the argument goes, but does anyone there even care about SDSU or college football? This argument often quickly involves a comparison to the rest of California: just look at how apathetic they are at UCLA, Stanford, etc.
The comparison to UCLA or Stanford is not apt, however. San Diego State isn't a marquee name that hasn't tasted big time success in years, like UCLA. It's not a west coast version of the Ivy League either, like Stanford or Cal. It's a state school with alumni (300,000 living) and fans hungry for recognition and advancement.
San Diego is city in need of big-time football. The Chargers left because San Diego taxpayers declined a bad investment to keep the team there, not because the city doesn't love football. While San Diego State doesn't have the cache of UCLA or Stanford, it has something far more important: hunger.
That hunger is currently being fed by the construction of a beautiful new $310 million stadium on the site of the Chargers' demolished former home, Qualcom Stadium. The opening seating capacity will only be 35,000, which still tops Wake Forest's capacity, but the plans include the ability increase capacity to 50,000+.
Moreover, the stadium is just part of a much larger project by San Diego State: the SDSU Mission Valley, which includes 4,000 residences, 400 hotel rooms, shopping, and 80 acres of parks and recreation space. In other words, SDSU isn't just building a stadium, it's building an entire stadium community that will reel-in residents of SoCal like theater majors to a Ren fair. That's the kind of vision and commitment to football a future-oriented Big 12 needs.
To put it another way, San Diego State is a growth stock with high upside. Investing today could be like buying Apple stock in 1982 at 8.5 cents a share. 
BYU NEEDS A TRAVEL PARTNER
Of all expansion candidates, BYU makes the most sense. The Cougars have a national brand, solid TV numbers and attendance, and what would be the largest stadium in the Big 12 after Oklahoma and Texas exit.
What BYU does not have is a travel partner or a regional rival currently in the Big 12. If WVU's presence in the league has taught the Big 12 anything besides how undervalued West Virginia athletics have been by the rest of the Power 5, it must be that teams need regional rivals.
I expect this problem to be solved for WVU with the additions of Cincinnati and UCF, but adding BYU alone out west only shifts the problem from right to left.
BYU and SDSU have history as both conference rivals and bowl foes. They know each other and at times have hated each other. Rebuilding the Big 12 for the new era of college football must be about more than adding teams with high growth potential; it also must be about creating the environment for fierce rivalries and games so bitterly fought that the nation cannot look away.  
WEST COAST WAVES
Beyond San Diego State's big market, commitment to building its football future, and rivalries with schools in the western states, it also offers two unique advantages not available with any other expansion candidate: California recruiting and the Pacific Time Zone.
If the Big 12 adds Cincinnati and UCF, it will plant flags in two more of the nation's biggest recruiting hotbeds, Ohio and Florida. Texas, of course, is already well staked out for the Big 12. That leaves a few recruiting hotbeds without flags, and the largest of those is California.
An argument I've heard regarding the potential of tapping California's recruiting hotbed by adding SDSU goes along the lines of "why would kids from California want to move to rural Kansas or Oklahoma to play football when they could go to USC or UCLA?"
This argument is fundamentally flawed in that it completely dismisses the meaning of "recruiting hotbed." It's not a recruiting hotbed because there's just enough talent for USC and UCLA, it's a recruiting hotbed because its overflowing with available talent. And SoCal recruits who will have the opportunity to play where mom and dad can come watch them are more likely to make a big move than if that opportunity wasn't there.
Big 12 schools in the Great Plains like Kansas State and Oklahoma State already recruit California at a rate of one to two players a year (both schools added two California recruits each in 2020), but with a Big 12 outpost in Southern California, the opportunities to recruit more heavily in the talent-rich state will improve.
Imagine a wave of California recruits washing over Big 12 country, making the conference's recruiting classes stronger as more recruits from Ohio and Florida also join the mix.
San Diego's position in the Pacific Time Zone is another advantage, and one that will help the Big 12 hit its primary competition in the Power 5, the Pac-12, right where it hurts.
In late July, Pac-12 commissioner Greg Kliavkoff touted the Pac-12's "unique position as the only Power 5 conference with teams in the Mountain and Pacific time zones." The Big 12 can literally hit the Pac-12's brand where it lives by adding San Diego State in addition to BYU and possibly Boise State and Colorado State.
Moreover, by having teams in all four time zones, the Big 12 can actually accomplish what the Big East once hoped to do under former commissioner John Marinatto, whose plan was to have conference games in four different time zone "back-to-back-to-back-to-back."
This would give any Big 12 telecast partners the opportunity to air Big 12 games all day on Saturdays with wave after Big 12 wave hitting screens from coast to coast. And with a large and diverse inventory, the Big 12's appeal to telecast partners and football fans would only grow with time.
CONCLUSION
Let me be completely honest with readers: I freaking love the Big 12. There is nothing I'd rather see become of conference realignment than for the Big 12 to not only succeed without Oklahoma and Texas but to thrive.
I've read and listened to a lot of smart people discuss the Big 12's path forward, and I've come to the conclusion that major expansion to at least 14 teams that include BYU, Cincinnati, Houston, San Diego State, and UCF is the best option. In fact, it's not just the best option, it's an exciting and future-focused option that would see the Big 12 retain its status as a power conference and create a product the nation wants to see.
Fans of other leagues may denigrate such a new Big 12 in the beginning, but they'll soon discover that league's unique mix of novelty and familiarity is something they can't ignore. It wouldn't be long until the fans of other conferences adopted the Big 12 as their official second favorite conference and the one they look forward most to watching when their team isn't playing.
San Diego State offers the Big 12 a unique opportunity to add a growth stock to its portfolio with tremendous upside borne on an enormous market hungry for success and a leadership team dedicated to creating the environment necessary for such success. The time for Big 12 timidity has passed. Now, is the time to be bold and invest in the future.