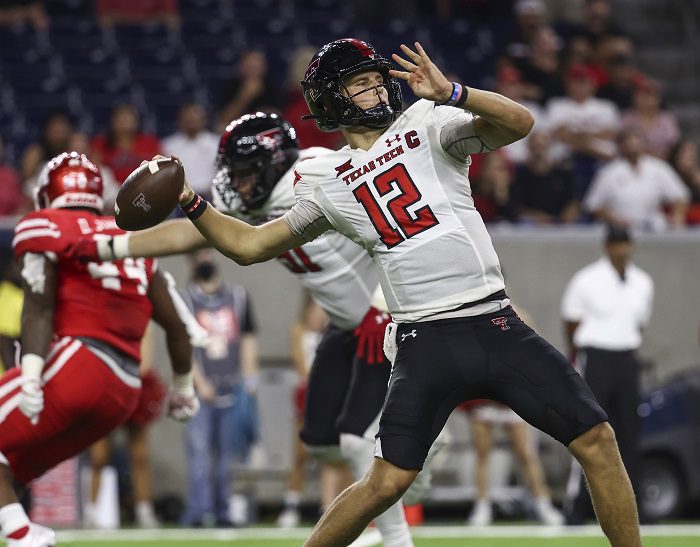 The Big 12 Conference is No.1.
Yes, this could all change next week if the schools get a big head. Some teams didn't play well. After the first full Saturday of college football, the Big 12 Conference is 9-1. It is also the only Power Five Conference to not boast a loss against an FCS school or a Group of Five school. The SEC's Vanderbilt lost to East Tennessee State. The Big Ten's Illinois, which defeated Nebraska last week, dropped a decision at home to UTSA. ACC schools dropped two games to Group of Five schools. Duke lost in the final minute at Charlotte. Northern Illinois also went to Atlanta and stole one against Georgia Tech on a controversial two-point conversion. Finally, is anyone surprised the Pac-12 had the worst week of the Power Five Conferences? Some of the lowest points came late at night Saturday. Nevada went to Berkeley and upset California. Washington State suffered a heartbreaking home opener in the final seconds at the hands of Utah State. Arizona dropped a neutral site game to BYU. Finally, a top-20 ranked Washington fell victim to FCS school Montana. Remember, the conference which snubbed its nose at Big 12 schools dropped four games to non-Power Five teams. One of those four victors are set to apply to be in the Big 12 Conference.
It wasn't just what the Big 12 didn't lose to though. The Big 12 are big winners too. Leading the pack is Kansas State. The Pac-12 rejected them among others. After an August with an uncertain future, the Wildcats stormed into Arlington, Texas and shut down the Stanford Cardinal, one of the Pac-12s historically premiere programs. It could have easily been a shutout, but Stanford scored in garbage time after being down 24-0. Texas started the Steve Sarkisian era by drubbing a ranked team in No.23 Louisiana-Lafayette. Also, Texas Tech scored 31 unanswered points against a motivated Houston team trying to prove themselves worthy of becoming a Big 12 Conference member. Las Vegas labeled this game a "pick 'em". If you added double digit points on Tech, kudos to you! It was also a crucial victory towards Matt Wells keeping his gig.
In a victory of itself, Kansas defeated South Dakota 17-14. Lance Leipold starts his Kansas tenure 1-0. Without this victory, the Big 12 can't boast that it did not lose to an FCS school. That's something the SEC and Pac-12 can't say. No matter how many points Alabama put up against Miami (FL), that conference will always boast Vanderbilt's loss to ETSU. 
The only loss the Big 12 suffered came on the road against a school which has won a conference championship and appeared in a BCS game. I mean, Maryland isn't coached by Ralph Friedgen anymore, but they have those credentials. West Virginia had the lead deep into this game too. It was a barnburner.
Week 2 Looms Large
While it was a good week, let's hold the celebration. The Big 12 is going to have to prove itself again in the coming weeks. Watch out because it is prime for a letdown. We've seen this happen before. After boasting a perfect record with marquee victories in the first week of 2019, the Big 12 went downhill in the coming weeks. Despite Kansas State and TCU earning road victories at Mississippi State and Purdue, many dropped marquee games. Texas lost at home to LSU. Texas Tech's offense stalled in a loss to Kevin Sumlin's Arizona team. TCU would drop a contest to rival SMU. Iowa State, again, dropped a one-point decision to Iowa. West Virginia was embarrassed at Missouri. Kansas also dropped a home game to Coastal Carolina.

Interestingly enough, Kansas visits Coastal next week. Iowa State will host Iowa. Texas travels north to Arkansas. Sound familiar to 2019?
Also, Oklahoma State will host Tulsa which is prime for a letdown. Tulsa just dropped a game to FCS school UC Davis. Oklahoma State squeaked by FCS school Missouri State. If the Cowboys walk into Boone-Pickens Stadium thinking this will be a cakewalk, they will lose. TCU could also slip up at home against California. Week two is going to be a major week for the Big 12 Conference in proving to the nation that it's not "just surviving", but is thriving. That chip should be on the shoulders of 8 of the current 10 teams next week.
Noticeably, Oklahoma didn't seem to have a chip on its shoulder in the fourth quarter against Tulane. Perhaps, someone should remind the Sooners any loss this month would haunt their CFB Playoff chances.

Regardless of what happens in the coming weeks, the Big 12 can say it is the premiere conference at this moment.