Iowa State Cyclones
Iowa State AD Jamie Pollard Releases Statement Ahead of Cy-Hawk College GameDay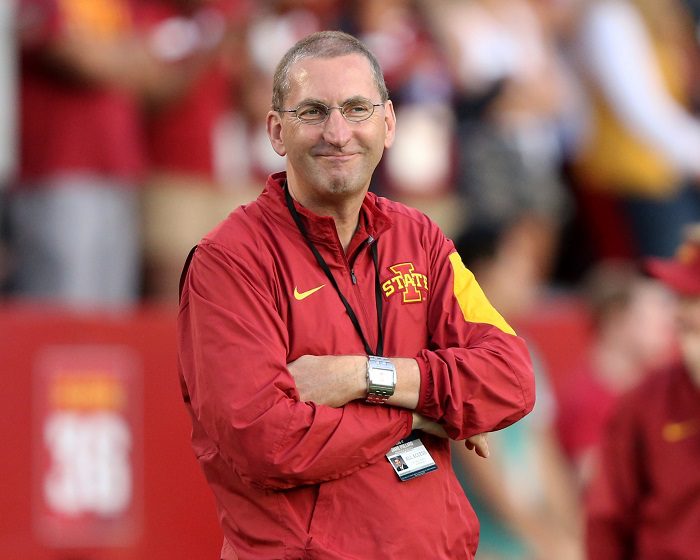 Late Saturday night ESPN announced that its popular college football pre-game show, College GameDay, would be heading to Ames, Iowa for Iowa State vs. Iowa on Saturday.
With the hype already building ahead of what is likely to be the most anticipated Cy-Hawk game in generations, if not ever, Iowa State AD Jamie Pollard released a statement ahead of the event.
Pollard said, "Tailgating and the environment at Jack Trice Stadium is phenomenal. We are clearly in the upper echelon of unique fan bases that are able to do that. It doesn't take much either, you offer it and the fans come calling. We've continued to grow while other fan bases shrink. We have a huge, huge opportunity because of what our football staff has done for us."
The enthusiasm, passion, and (hopefully) best behavior that will be on display in Ames will be college football at its best.
On the field, the Cyclones got off to their traditionally slow start on Saturday with a 16-10 win over Northern Iowa, but no doubt this is still a Top 10 team in the country and will feature a Top 25 match up with Iowa next week. Meantime, Iowa rolled over Indiana 34-6 on Saturday.
Just a couple of weeks ago, our own Derek Duke even speculated last week that Cy-Hawk would have been a great fit in Week 2 for College GameDay, writing:
"How about a little Cy-Hawk to kick off the GameDay party in the Big 12? This has been one of the most underrated rivalries in all of college football and the heat continues to turn up in this series with Matt Campbell brining Iowa State football to new heights. While Campbell has yet to beat the other team in the state, keep in mind that these two did not play last season due to COVID-19. No matter what happens, I know that Jack Trice will be rocking for this one as Iowa State will look to beat Iowa for the first time since 2014."
Well now, we will get just that. Something tells me if you want Busch Light in and around the Ames area next week, you better start stocking up now.