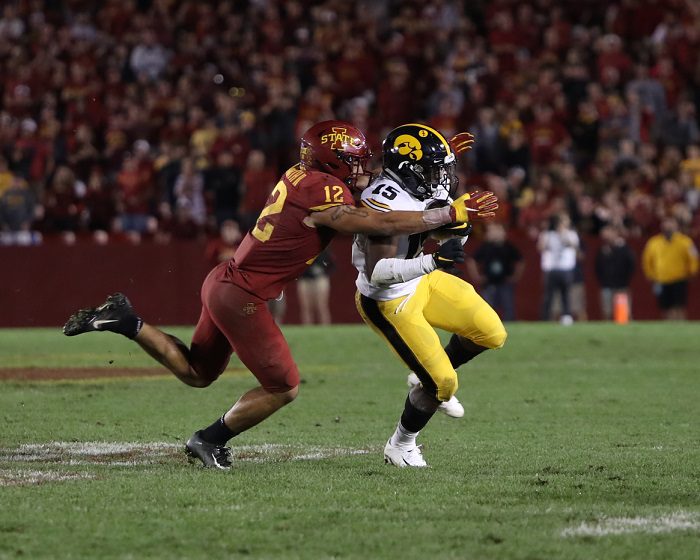 Cy-Hawk week got off to a roaring start on Tuesday courtesy of Iowa running back Tyler Goodson, who threw a little fuel on the fire for this rivalry that is already at a fever pitch with College GameDay heading to Ames and both teams ranked in the Top 10 of the AP Poll.
Goodson, one of the best players on the Hawkeyes, talking to the media on Tuesday and said the following about Iowa State:
"This is like their Super Bowl. They haven't beat us in a couple years (since 2014). I think them being at their home place knowing College GameDay is going to be there is a good distraction for them and allows us just to focus on us."
Talk about giving your opponent some bulletin board material. That's certainly what Goodson did with that comment. We've listed him as one of the most important players in this game in our Iowa State vs. Iowa preview and prediction ahead of Saturday. And now, his importance level has taken on a whole new meaning, as he will now have to put his money where his mouth is.
Goodson is a very solid player, as he's been named to the Doak Walker and Maxwell Award Preseason Watch Lists. He is averaging 109.6 yards per game (6.0 per carry) during Iowa's seven-game winning streak dating back to last season. He has eight rushing touchdowns in the last seven games. On Saturday in a win over Indiana, he had 19 carries for 99 yards and a touchdown.
But was this comment really worth it for an Iowa State team coming off a bad performance against Northern Iowa, with a team and coaching staff that has yet to beat Iowa, and let's not forget the Cyclones are favored in this match up.
Also, compare this to Iowa State's star running back Breece Hall. Cyclone Fanatic's Jared Stansbury did a good job quote-tweeting the Goodson quote with what Hall had to say. Professional, firm, and nothing for the bulletin board. Now let's see how it plays out on Saturday.