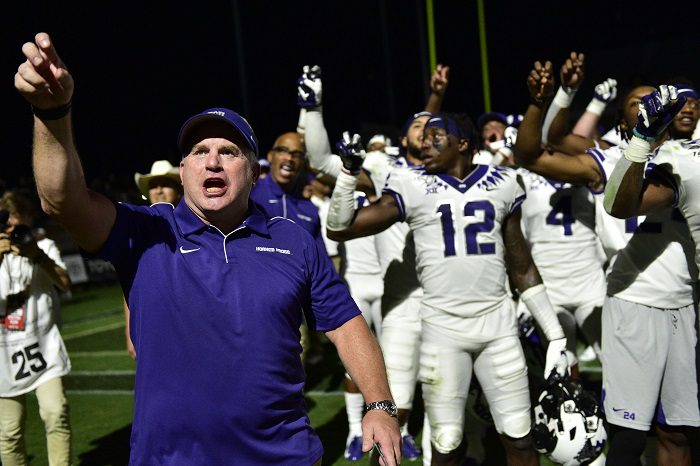 Here is everything you need to know about the TCU Horned Frogs in our California vs. TCU preview.
Game Info
2:30 p.m. Central Time, Saturday, Sept. 11, 2021, Amon G. Carter Stadium, Fort Worth, Texas
TV: ESPNU
Radio: Horned Frogs Radio Network, WBAP 820 AM, SiriusXM 83.
Records: California, 0-1; TCU, 1-0.
Ranking: California: None; TCU: None.
Last week: California lost to Nevada, 22-17; TCU def. Duquesne, 45-3.
Key players
California
QB Chase Garbers: The Golden Bears have an experienced QB in Garbers, who threw for 177 yards, a touchdown, and an interception against Nevada last week. Garbers has started 23 of the 25 games he has played in for the Golden Bears and gone 14-9 as a starter. His record improves to 14-5 when he plays at least half the contest. So the key for Garbers and the Golden Bears is to keep him upright and playing the whole game.
WR Nikko Remigio: He was the most productive pass-catcher for Cal against Nevada, catching seven passes (but only for 22 yards). But that's his role. He's a versatile player who is on the Paul Hornung Award Watch List, given to the nation's most versatile player. His totals going into the season included 59 receptions for 665 yards and five touchdowns, 34 punt returns for 274 yards, three kick returns for 55 yards, seven rushes for 18 yards and 1,012 all-purpose yards. TCU will need to keep an eye on him.
DE JH Tevis. The redshirt junior was in the mix against Nevada, with a team-high six tackles, including 2 1/2 tackles for loss. He played in just four games in 2020, but they were highly productive — 18 tackles, three tackles for loss and two sacks. He could take a big step this year.
TCU
QB Max Duggan: Even though he threw an interception, Duggan got his 2021 season off to a crisp start. Duggan was 14-of-19 for 207 yards and a touchdown in a game where the Horned Frogs had a 35-0 lead at halftime (Duggan also rushed for a touchdown). There wasn't much for Duggan to do after that, so the Horned Frogs focused on the run game and getting their backup quarterbacks some playing time. We should get a much better sense of how much further along Duggan is after last season when the Horned Frogs tangle with the Golden Bears on Saturday.
LB Dee Winters: TCU head coach Gary Patterson has been high on Winters this entire offseason, and the junior linebacker got off to a solid start last week as he ended up with seven tackles. Patterson believes Winters is ready to take a huge step in 2021. He's already coming off a good 2020, in which he had 60 tackles and nine tackles for loss for TCU. But the belief that he could take his game, and by extension the horned frog defense, to another level is testament to how hard Winters has worked to put himself in this position.
WR JD Spielman: It's worth noting that Spielman was a 2019 all-conference honorable mention … in the Big Ten. With Nebraska, he led the Cornhuskers in receptions (49), receiving yards (898), receiving touchdowns (5) and all-purpose yards (1,038) that season. He transferred to TCU for 2020 but ended up missing most of the season due to an injury. Against Duquesne, the Horned Frogs got a taste of his versatility. He rushed once for two yards, caught two passes for 26 yards and a touchdowns, and returned two kickoffs for 69 yards, including one for 50 yards. He could be an X-factor the Horned Frogs haven't had since KaVontae Turpin.
Key storylines
California
Cal ended up playing just four games last year due to COVID-19. So it's hard to get a feel for where the Golden Bears are at right now. In 2020, they were coming off a bowl appearance in 2019, so there's talent there. The loss to Nevada hurts, especially since Cal had a 14-0 lead in that game. But Nevada is a Mountain West Conference contender and returns one of these strongest rosters among the Group of Five conference teams. Cal must now find a way to bounce back from that loss and play a TCU team that excels at winning games when it holds the opponent under 17 points or fewer (119-5 under Gary Patterson). Cal needs to bring its offense to Fort Worth.
TCU
TCU was dominant against Duquesne. But, we all expected TCU to be dominant in that game. The Horned Frogs were crisp, they had a big halftime lead and they appeared to avoid any major injuries. That's exactly what you want when you have a money game opponent coming to your home stadium. Cal should prove to be a much stiffer test. But, TCU has done well against Pac-12 opponents under head coach Gary Patterson. In fact, in seven games against the Pac-12, the horned frogs have not lost under Patterson. We should get a much better feel for what TCU looks like in this one.
Fun Fact: The only other meeting between TCU and Cal came in the 2018 Cheez-It Bowl, where TCU won, 10-7, in overtime. The Horned Frogs have more home-and-home series with Pac-12 teams coming up against Colorado (2022-23) and Stanford (2024-27).
Prediction: TCU 33, Cal 21
Since TCU hasn't lost to a Pac-12 team under Patterson, the Frogs should have the advantage at home. TCU seeks to have another well rounded offensive game and get Duggan more reps to sharpen him up behind center. Spielman could have a big game in this one, and the TCU defense should be able to exert a level of discomfort on California's offense. This will be a much closer game than last week, but the Horned Frogs should have the ability to pull away in the fourth quarter.
**Want to win a $20 gift card? Go sign up here and join our conversation! The best poster each week wins a gift card to your favorite establishment!**
You can find Matthew Postins on Twitter @PostinsPostcard