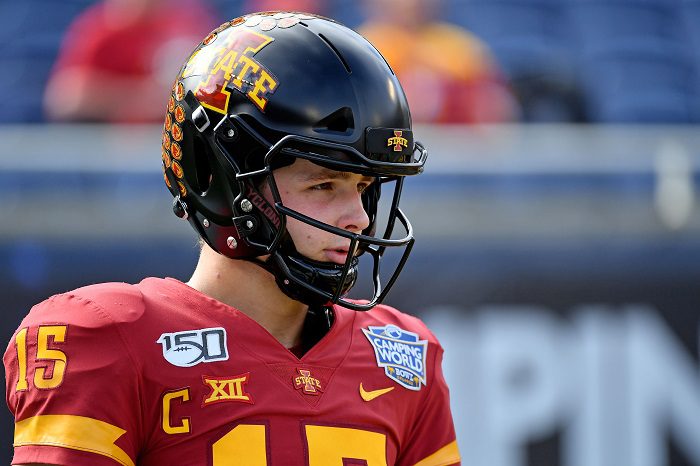 While Northern Iowa often seems to play Iowa State well and even beat ISU as recently as 2016, the Iowa State Cyclones' struggles against the Panthers to open the 2021 season with a narrow 16-10 victory are cause for some consternation. No, unlike Washington, which was ranked 20th in the AP, ISU did not lose to an FCS team, but no team ranked in the Top 10 of both the AP and Coaches polls should struggle to a six-point win over an FCS team.  
Despite a couple of key missed tackles on UNI's lone touchdown drive, the Cyclones' defense did what it was supposed to do in holding UNI to just 10 points. However, the fact that Cyclones' offense put its defense in a position where holding UNI to just 10 points was absolutely necessary to win the game is a bad look that left Big 12 fans wondering how an offense so loaded with experience and talent could have performed so poorly.  
Miscues
Some of ISU's struggles can be attributed to a handful of miscues. The Cyclones did not turn the ball over, but two fumbles out of bounds either put ISU behind on the chains or resulted in a 4th down. ISU only had four penalties on the day for 31 yards, all on offense, but those few penalties occurred at inopportune times and killed at least one drive.
However, zero turnovers and just four penalties hardly explains why a team that averaged just under 33 points per contest in 2020 opened 2021 with only 16 points against an FCS opponent.
Low Rotation
The first thing I noticed just glancing over the Cyclones offensive stat sheet against Northern Iowa is how few players saw the field.
Rotation along the offensive line was nearly non-existent. Five wide receivers, led by Xavier Hutchinson, and three tight ends played, but it was the tight end who was unavailable, Charlie Kolar, that may have had the biggest impact on ISU's performance as he is a good blocker and QB Brock Purdy's favorite escape valve.  
ISU has plenty of other experienced studs, however, and on day that should have seen the Cyclones reaching deep into their bench, they played their starters on almost every down. Running back Breece Hall, who led the NCAA in rushing yards last season, played 59 offensive snaps with Jirehl Brock getting just two carries.   
Breece's Bad Day
While it makes sense to want your stud running back in the game, the play-calling in the first quarter only gave Hall two carries. By the end of the day, he had 23 carries for 69 yards, a dismal 3 yards per carry.
I'm certainly not one to second-guess ISU head coach Matt Campbell, but I have to wonder if offensive coordinator Tom Manning's game plan was simply too vanilla. While it makes sense to want to give Iowa, ISU's Week 2 opponent, as little useful tape as possible, ISU might have been better served by opening-up the offense more and reducing the wear and tear on Hall and Purdy.  
Hall's struggles running the ball came in part from an inability to break tackles as he averaged just 1.91 yards after contact per carry. However, ISU's run blocking was the biggest problem, as it appeared Hall did not have many running lanes.
Kolar's absence may have been especially impactful here. It's notable that ISU's only regular season losses in 2020 came when Kolar was either unavailable (vs. Louisiana) or when Kolar had his worst performance as a run-blocker (at Oklahoma State). In the 2020 OSU game, Kolar turned in a Pro Football Focus run-blocking grade of 38.8, by far his worst of the season and well below his 59.4 season average.
However, the absence of one stud tight end still does not account for ISU and Hall's struggles against UNI. 
Too Vanilla?
As I said above, it might have made sense for ISU to open the offense up more in order to put the game away early and require less wear and tear on the starters.
Purdy dropped-back 31 times, completed 21 of 26 passes (80.8%), scrambled four times, and took one sack. Not counting QB scrambles and the one sack, Brock, Hall, and Purdy combined for 29 true rushing attempts for what appears to be nearly perfect run/pass balance.
Appearances can be deceiving, however.
Of Purdy's 26 passing attempts, only four were targeted 20+ yards downfield, and he connected on two of the four. Hutchins caught a 39-yard pass over the middle with 0 yards after the catch (YAC), and Tarique Milton caught a 24-yard strike on the left side and then picked up 10 YAC.
The medium passing game (passes targeted 10 – 19 yards downfield) was almost as infrequently used with only five targets and three receptions, which means that of Purdy's 26 attempts, 17 (over 65%) were targeted at either less than 10 yards downfield or behind the line of scrimmage. I'll give you one guess at which range of pass was most thrown by Purdy against UNI.
If you guessed behind the line of scrimmage, you were right. Nine (nearly 35%) of Purdy's 26 passes were targeted behind the line of scrimmage with eight of those coming on screen plays. Those eight screen plays netted a total of 30 yards (3.8 per play), which means ISU's screens were less effective than simple running plays.
So while ISU was extremely balanced between running and passing plays, UNI was given very little reason to not crowd the line of scrimmage as over one-third of ISU passing plays were essentially runs.
Obviously, I'm not a coach, but it stands to reason that with a weapon like Hall at running back, you'd prefer to stretch the field some more and make the opposing defense respect the passing game to create better running lanes.
UNI was clearly focused on containing Hall, and this is attested to by the fact that ISU had its most success on play-action-pass plays, netting 103 yards on 10 completions.
Was ISU too vanilla? The Magic 8 Ball says, "All signs point to yes."
Conclusion
ISU's run blocking was not up to snuff against UNI. However, the play-calling did little to stretch the field and punish the UNI defense for keying on Hall. ISU's offense was painfully conservative, and as a result the Cyclones only mustered a single touchdown and found themselves just one more busted play on defense away from disaster as UNI marched 57 yards on their final possession before time expired.
However, while all the above may be completely true, I still feel that this does not explain why a team ranked in the Top 10 with so much returning on both sides of the ball was playing with its defense's back to the wall on the final possession of a game against an FCS foe.
The argument that UNI always plays ISU tough doesn't work for me. Knowing that UNI tends to play ISU close is just good reason for ISU to take the game seriously and play hard. On opening day in the first game where fans could truly pack the stands since 2019, there seems little excuse for ISU to not be excited about the game, regardless of the opponent. However, the fact that the opponent was one that has been a thorn in ISU's side at times, should have motivated an even stronger performance.
Moreover, it not as if ISU never blows UNI out. The Cyclones are not simply destined to endure close calls and outright losses against UNI. ISU has beaten UNI in lopsided fashion before, and ever there was a season for ISU to swat UNI down without breaking a sweat, this should have been it.
Of course, we shouldn't read too much into one game. Just because ISU struggled against UNI doesn't mean that the Cyclones won't make the Big 12 Championship game or win the Cy-Hawk for the first time since 2014, but it doesn't necessarily instill a lot of confidence that those things will happen either.
While the points made in this article give some indication as to why ISU struggled so mightily against UNI, the elephant in the room remains: perhaps the Cyclones are overrated. On the other hand, perhaps they just need more time to gel.
Regardless how many players return, each season's team is a new team, and even highly experienced teams often take time to gel and hit their stride. ISU has clearly not hit its stride, but it will. There's no way a team as experienced and talented as the Cyclones won't.