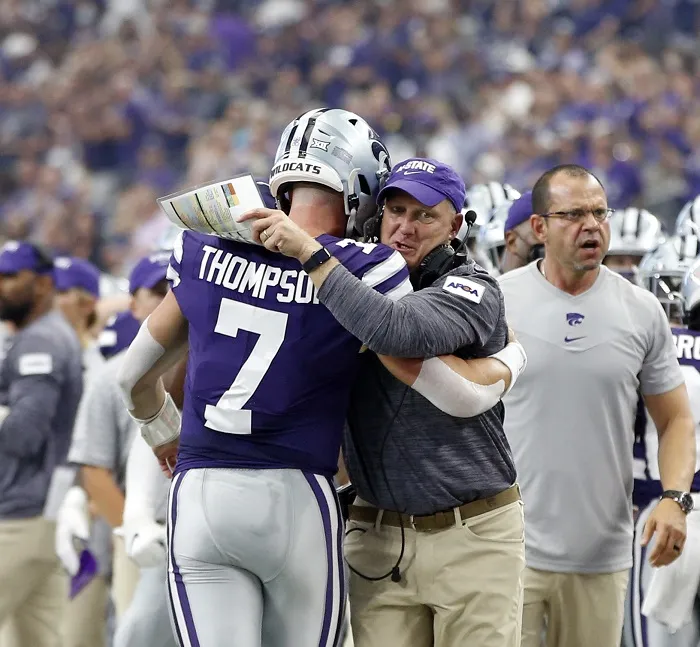 Speculative fiction is basically science fiction that proposes a possible future or reality: it may not be true or proven to be true yet, but it certainly could happen or be true. In other words, it's more The Martian than Sharknado.
Speculative fiction isn't limited to the realms of space movies, Kim Stanley Robinson novels, and Black Mirror episodes. It's also very much practiced by college football fans, particularly early in the season when there are just enough results and stats to begin building plausible narratives.
The primary question regarding every one of these early season speculations is whether it's an overreaction or a legit take. For example, in my recent Big 12 by the Numbers article, I proposed several facts accompanied by possible overreactions (speculations).
Let's take a closer look at some of the speculative fiction, the possible overreactions, for each team. Some of these I have already brought up in my aforementioned Numbers article and some are new.
BAYLOR
FACT: The Bears led the Big 12 in rushing offense in Week 1 with 238 yards.
SPECULATION: BU's offensive line is greatly improved under new OC Jeff Grimes.
ANALYSIS:
Not only did the Bears lead the Big 12 in rushing yards in Week 1, they only allowed new starting QB Gerry Bohanon to be hit (not sacked) once the entire game, and Bohanon was forced to throw the ball away just once.
Baylor received Pro Football Focus' highest grade for pass blocking among Big 12 teams (89.8), and it's run blocking grade (77.6) was third in the league after TCU (87.9) and K-State (82.1).
The caveat, of course, is that Baylor's opponent, Texas State, is picked to finish near the bottom of the Sun Belt (4th in the five-team Sun Belt West). However, only two Big 12 teams faced Power 5 opponents (K-State and WVU), Texas faced the only ranked opponent (#23 Louisiana), and four teams (ISU, KU, OSU, and TCU) faced FCS opponents.
Jeff Sagarin, whose computer rankings include FBS and FCS teams, has Texas State ranked 146th in the nation after Week 1, one spot behind KU's Week 1 opponent South Dakota. Among all Big 12 opponents, only Duquesne is ranked lower by Sagarin than Texas State (Duquesne is ranked 197th).
Of course, the Sagarin rankings are just one data point comprised of the limited data from one week of football. And while the Sagarin rankings look solid to me based on Week 1, it does contradict at least one on-the-field result by ranking West Virginia (#41) ahead of Maryland (#49).
Despite the fact that Texas State is not a strong team and its defense should not pose much of a threat for any Power 5 team, the numbers reveal that Baylor's offensive line did everything that a Power 5 team should do against Texas State. Given that the offensive line was perhaps the biggest question mark facing the Bears entering the season, the results are very positive.
It is still too soon to tell if Baylor's offensive line has suddenly turned from a liability into a strength, but signs indicate that the offensive line is improved from last season. Of course, so much will depend on the unit's injury luck as the season plays out. 
IOWA STATE
FACT: The Cyclones got off to another slow start and struggled to defeat Northern Iowa, 16-10.
SPECULATION: ISU is overrated.
ANALYSIS:
The Cyclone defense had two lapses in UNI's lone touchdown drive but otherwise played well all day and finished the game without logging a single penalty. The concerns regarding ISU are all on the offensive side of the ball where last season's NCAA-leading rusher, Breece Hall, only gained 69 yards on 23 carries.
Two objective facts begin to explain ISU's lackluster offensive performance: The offensive line did not play well and the play-calling was too vanilla, allowing UNI's defense to crowd the line of scrimmage.
The play-calling, which included nine passes behind the line of scrimmage, was obviously vanilla by design. There's little doubt that ISU's offensive coordinator, Tom Manning, will start adding all kinds of flavors and toppings to the offense this Saturday when Iowa visits Ames, and better play-calling will certainly improve the offense.
The main question is how much of ISU's blocking struggles were a side-effect of the play-calling. Is ISU's offensive line a weakness or simply in need of a better game plan and perhaps some time to gel?
Iowa State's grades for run and pass blocking from Pro Football Focus came in as the 6th and 7th best in the Big 12, but I'm not sure much better could be expected given how predictable the Cyclones were. For reference, some of the worst blocking numbers in the Big 12 came from Week 1's big winners: In pass-blocking, K-State ranked last with a grade of 32.6 and Texas was 9th with a grade of 45.1; in run-blocking, Texas ranked 8th with a grade of 56.6 while the two lowest scores came from teams that also defeated FCS opponents – Oklahoma State (56.0) and Kansas (44.9).
Is ISU overrated? The answer is probably "a little." The Cyclones may well be a Top 10 team by the end of the season, but they probably aren't a Top 10 team heading into Week 2. They are, however, certainly a Top 20 team with the potential to become a Top 10 team or better.
KANSAS
FACT: Kansas used a fourth quarter touchdown and defensive stop to beat South Dakota.
SPECULATION: New KU head coach Lance Leipold has KU ready to be competitive this season.
ANALYSIS:
I have little doubt that the way in which Kansas beat South Dakota by making plays late in the fourth quarter signals a step forward for the Jayhawks. That step forward can be summed up with two words: competent coaching.
The Jayhawks did not look good against South Dakota, however. They still have a long way to go before they'll be competitive week in and week out. 
KANSAS STATE
Fact: Kansas State dominated the Stanford Cardinal in a 24-7 win that was more lopsided than the score indicates.
SPECULATION: Kansas State is a dark horse contender for the Big 12 championship game.
ANALYSIS:
Kansas State's performance on defense was impressive, particularly against Stanford's bread and butter run game. However, the Cardinal spent the game cycling between two quarterbacks, and you know the saying about having two quarterbacks.
While KSU's run defense was impressive, and the Cats' revamped defensive front pushed around a veteran Stanford O-line, better quarterback play by the Cardinal could have changed the outlook of the game considerably: there were opportunities in the passing game that Stanford simply couldn't capitalize on given its quarterback situation.
Moreover, while the defense was impressive, Kansas State's offense left a lot on the table against Stanford, particularly in the passing game. Quarterback Skylar Thompson often didn't see open receivers. He also made a few suspect throws, including the interception at the back of the endzone on the Cats' opening drive.
K-State's offensive line dominated the first half, but the tables were turned in the third quarter when KSU's O-line suddenly looked pedestrian. The O-line got back on track in the fourth quarter, but KSU's third quarter struggles stretch back to last season. The Cats seem to lose focus at halftime and need to become a better third quarter team.
K-State certainly looks more athletic as a whole this season, and its defense is probably light years ahead of the defense that surrendered 69 points to Texas to close out the 2020 season. However, the sledding will be a lot rougher when KSU faces better quarterbacks, and the offense will need to be more consistent and diverse to win games in the Big 12. More improvement is needed for the Cats to have a shot at crashing the Big 12 Championship Arlington.
OKLAHOMA
FACT: The Sooners suffered serious lapses on offense and defense as they allowed Tulane to come from back from 23 points down at halftime to have a chance to win the game late in the fourth quarter.
SPECULATION: All the offseason hype about Oklahoma was just hype.
ANALYSIS:
Oklahoma's second half lapse against Tulane was somewhat reminiscent of the Sooner's 2020 loss to Kansas State. Some people may describe these games as indicative of Oklahoma "overlooking" its opponent; however, I think that description is off target.
You can't say Oklahoma overlooked a team when it comes out of the gate and builds a huge lead. Rather, it seems more a matter of taking the foot off the gas, losing focus, and then melting down when things start sliding the wrong way.
In other words, it's a mental toughness issue. Oklahoma isn't overlooking opponents; it's losing focus after building a big lead. These things don't happen when the game stays close throughout. These things also don't happen when Oklahoma already has a loss or two and another loss will sink the season. These things happen when everything has gone perfectly according to plan.
The Oklahoma hype isn't just hype, but it seems unlikely this issue will go away until Oklahoma has lost a game. It might be versus West Virginia; it might be at Kansas State; it might be any game against any solid team that won't give up, but the Sooners are probably going to drop a game they shouldn't this season.
OKLAHOMA STATE
FACT: Oklahoma State averaged just over 1.9 yards per carry against Missouri State.
SPECULATION: The Cowboys' offensive line is a complete mess.
ANALYSIS:
According to Pro Football Focus, the only Big 12 team that was worse than OSU at run-blocking in Week 1 was Kansas. However, the Cowboys posted the third-best pass-blocking grade in the Big 12, so it's not all doom and gloom regarding the Cowboys' offensive line.
Nonetheless, without the ability to run the ball, the passing game will only become more difficult as the season progresses.
OSU's guards, Josh Sills and Cole Birmingham graded out the best blockers in the run game, but the drop off among linemen is pretty steep after that. In fact, all five of the wide receivers who played versus Missouri State graded as better run-blockers than OSU's center, tackles, and tight ends. Moreover, only Sills had a run-blocking grade near 70 (69.7). That's not good.
Oklahoma State's offensive line woes date back to last season, and it appears the loss of tackle Teven Jenkins to the Chicago Bears has set the unit even further back. The absence of Hunter Woodard didn't help matters against Missouri State either.
OSU head coach Mike Gundy attributed his team's run-blocking woes to his players simply getting beat and not finishing blocks; however, he stated that the errors are fixable with more practice and reps.
This is a story to continue to monitor. The Cowboys' pass-blocking against Missouri State was solid, and OSU QB2 Shane Illingworth had the passing numbers to back-up that up, so the offensive line is not without potential. The run-blocking obviously is going to require a good deal of work, but Gundy implied that the unit isn't that far from where it needs to be. File this story under to be continued.
TCU
FACT: TCU leads the league in scoring offense and scoring defense.
SPECULATION: TCU is ready to compete for a Big 12 championship.
ANALYSIS:
TCU completely dominated Duquesne, and while it's easy to say that we can't read too much into dominating an FCS team, such complete and utter domination should not be simply dismissed. TCU was not perfect against Duquesne, but its mistakes ultimately didn't matter a bit.
There is no way to tell this early if the Horned Frogs are ready to compete for a Big 12 championship this season. Maybe they are. That's the most we can take away from TCU's Week 1 demolition, but "maybe they are ready to compete for a Big 12 championship" is more than we can say about most of the other teams who played FCS schools in Week 1.
TEXAS
FACT: Texas beat a Top 25 team in new head coach Steve Sarkisian's debut.
SPECULATION: Texas is back.
The Longhorns certainly looked impressive in their 38-18 victory against #23 Louisiana. The offense made big plays, the coaches made sure they got the ball in the hands of running back Bijan Robinson on more than 20 snaps, and the defense tackled well.
The only major knock against Texas' performance is that the offensive line graded out poorly in run and pass blocking, giving up three sacks, five tackles for loss, and QB Hudson Card was forced to throw two balls away and scramble twice. The counterargument is that Texas may well have faced the toughest Week 1 foe among Big 12 teams and still made enough plays to win the game comfortably.
Regardless of the Week 1 score or stat sheet, it is still too soon to tell whether or not Texas is back. Given a new coaching staff and how young the team is at quarterback and wide receiver, the odds still seem stacked against Texas being truly "back." That is, I doubt Texas contends for a national championship this season. However, the Longhorns very well could contend for a Big 12 championship.
TEXAS TECH
FACT: Texas Tech scored 31 unanswered points to beat Houston.
SPECULATION: Texas Tech will finish in the top half of the league.
ANALYSIS:
Between wide receiver Erik Ezukanma, who leads the Big 12 in receiving yards, running back Tahj Brooks, who leads the Big 12 in rushing yards, and quarterback Tyler Shough, who posted an NFL passer rating of 116.1 against Houston in Week 1, Texas Tech looks like a very dangerous team. Add to that a masterful defensive performance in the second half against Houston, and it's easy to see why people in Lubbock are excited about this season.
Based on Week 1 performances, it's difficult to imagine Tech finishing worse than sixth in the league. There's a lot of football yet to played, however, and Week 1 of any season can be deceptive.
That said, while it is too soon to say whether Texas Tech will escape the bottom half of the league, I'm willing to bet that Tech will finish higher than it was projected to by media (9th). In fact, I think Tech will make a bowl game and finish no worse than 7th in the Big 12.
WEST VIRGINIA
FACT: West Virginia QB Jarret Doege threw 2 interceptions, completed 58.5% of his passes, and took 3 sacks against Maryland.
SPECULATION: WVU needs to start playing RS freshman QB Garrett Greene.
ANALYSIS:
Doege finished with -25 yards "rushing" on three sacks and one scramble. As Pete Mundo said in the HCS Week 1 Review podcast, "Doege is a statue." He is simply not mobile enough to give West Virginia a chance in tight games.
Granted, WVU's offensive line needs to pass block better, but the Mountaineers' O-line was not awful against Maryland. In fact, KSU' Skylar Thompson, Texas' Hudson Card, and Iowa State's Brock Purdy all received pass protection that graded lower than the protection Doege received. The major difference between Doege and those other three quarterbacks is that Thompson, Card, and Purdy are mobile and can hurt defenses with their legs.
Doege posted an NFL passer rating of 67.7 against Maryland, and with WVU's defense looking like it has regressed from last season, WVU needs a passer who can extend plays with his legs and stretch the field with his arm. Doege is not that passer.
WVU plays Long Island in Week 2 before taking on VA Tech and Oklahoma in Weeks 3 and 4. In my opinion, the Mountaineers should start Greene against Long Island and at least see how it goes. If he looks completely over his head, maybe the wake-up call will help Doege get going.
If Greene plays well against Long Island, it's time to start building for the future. An inexperienced quarterback isn't likely to lead WVU to a big season in 2021, but Doege doesn't appear capable of doing that either.