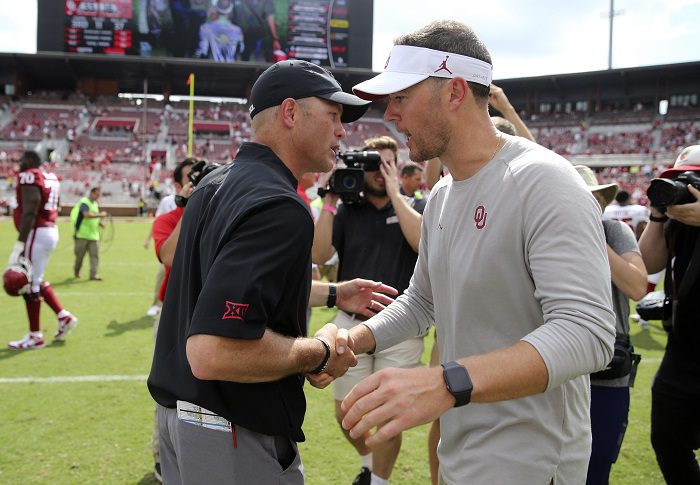 Welcome to the HCS Big 12 mailbag! This mailbag is for all you football junkies out there who root for a Big 12 school who not only have questions about your team, but other teams in the conference as well. So, join me, grab your favorite drink, and relax as I answer all your Big 12 questions. For those interested, I will send out a tweet (@Derekduke25) every Monday until 8 PM CT for you to send in your questions to be answered every Tuesday right here at Heartland College Sports.
I want to thank each one of you who submitted a question this week and for those reading, I am glad you could join me. I am actually on vacation this week, but I have a killer view as I am typing this. Usually, I have a beverage but since it is early in the morning, coffee it the drink of choice. Cheers!
Note: We have a lot of questions this week so I will do my best to keep the answers short and sweet today to make sure we can get all the questions in.
@troyboy8ball asks: What are your knee jerk reactions after one week of Big 12 action? Concerned about OU and Iowa State? Ready to move Texas higher up in your Big 12 rankings? K State and Texas Tech look kind of good?
Duke: I think anything I would do after week one would be kind of a knee jerk reaction. Yes, Oklahoma worried me and so did Iowa State as well as well as a few other Big 12 teams. However, it has just been one week, and it is hard to judge a team after their first game. By week three or four, we will know much more about these teams and by then, I will have a better gauge as to where these teams are.
@Schmitty27 asks: The Big 12 has landed one game day with them going to Ames this week. Assuming the red river rivalry will the big 12 get a third game day somewhere? Presumably OU ISU, Texas ISU or bedlam are the choices.
Duke: Believe it or not, I actually had an article about this a couple weeks ago. I listed my top six choices, and you can find them here.
@Fraseriii asks: If the Big 12 accepts the rumored 4 other university's applications into the conference will it affect when Oklahoma and Texas leave?
Duke: You know, I have not really heard much from their side of the table but from what I understand, they are under contract until 2025. So as long as there is a Big 12, they will be in it from a legal perspective, unless they want to pay the $80 million exit fee, which of course they can do at any time. However, will they try to find a legal way out of the Big 12 without paying the massive exit fee? You better believe it.
@GbrLevi asks: Kansas won a football game. Can they win a conference game in the same year?
Duke: Let me start by saying, I expected Kansas to beat South Dakota. That did not surprise me at all. However, South Dakota is by far the easiest game on the Jayhawks schedule. Do I think they can beat a fellow Big 12 team in 2021? My answer to that is no.
@CajunCy asks: Why did ESPN+ cut off the feed for the ISU game?
Duke: I will be honest with you; I could not watch a ton of the Iowa State game due to the fact that I was flying offshore, and my Wi-Fi feed cut off when that happened. I know the Baylor/Texas State game had some issues as well and I am sure it is obvious the budgets and technology for these ESPN+ games are not what they are for other games on normal ESPN channels. My advice would be to complain to ESPN and just hope they can get these issues fixed.
@FireWellsTTU asks: I think Texas Tech's ceiling is 9-3. But their floor is also 3-9. Thoughts?
Duke: Well, that is a big drop off from the ceiling to the floor there. I picked Texas Tech to finish ninth this year in the Big 12. After week one and watching them play, I could see them move up a spot or two but there is no way I am ready to stick Tech at 9-3 and as a serious Big 12 title threat. I think Houston is not a very good football team and if we are being honest, the Cougars played extremely sloppy in that second half with all the turnovers. Before that, I was not too impressed with the Tech offense, but the defense is what caught me off guard there. I really like wide receiver Erik Ezukanma, but I still want to see more from quarterback Tyler Shough before I throw them in my top five Big 12 teams.
@DwainR11 asks: If every Week 1 top performer in the Big 12 was draft eligible, who would you take first and why?
Duke: There were not a ton of performances in the Big 12 that blew me away from week one. But there were two players that really stuck out to me after the first weekend. Kansas State running back Deuce Vaughn and Texas Tech wide receiver Erik Ezukanma. I don't know who I would take first but both players will be a force to be reckoned with at the next level.
@Big12clone asks: Just watched the replay of Indiana at Iowa. Can Iowa stop the Cyclones passing game when Purdy is running as well?
Duke: I do not too much about Iowa, but I will say this, Indiana is not that good of a football team in my opinion and do not let the score of that Iowa/Indiana game worry you too much. I know Iowa State did not look too good on offense on Saturday, but I do think Brock Purdy played a good, clean game. He was able to connect with Xavier Hutchinson and Tarqiue Milton a few times and if not for a few mistakes penalty wise, I think they could have had better numbers on Saturday. I don't know if Iowa can stop the Cyclones passing game but if Brock Purdy plays a clean game, watch out.
@DBSportsYT asks: Any cause for panic for Oklahoma and Iowa State after escaping with a win?
Duke: No. We should all take a deep breath and relax a little bit. It was the first game of the year and let's wait another week or two before we start hitting the panic button.