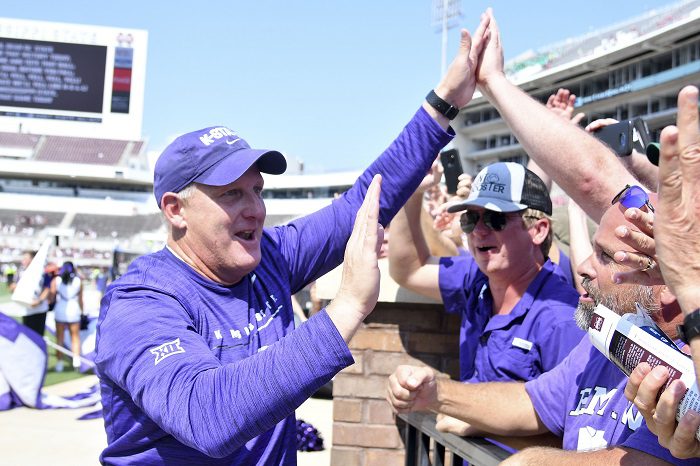 This past weekend I took a trip down to Arlington to watch the kickoff classic between K-State and Stanford. It was awesome to see so much purple everywhere. I estimate about 25,000 K-State fans made the trip and they were loud, boisterous, and thrilled to see their Wildcats in action.
The atmosphere at the game was amazing. K-State fans also packed the Texas Live bar and restaurant district near the stadium both Friday night and Saturday after the game. It was a bowl game environment and it was a blast. It helped that K-State got a big victory.
Here is the Good, the Bad, and the Ugly from the K-State/Stanford game. There was a lot of good and not much bad and ugly.
The Good
1)  Skylar Thompson successfully running the ball
Thompson scored the first touchdown of the game, keeping the ball on a zone-read and running right over and through Stanford defensive back Kyu Blu Kelly on a six yard run. Kelly is not a small defensive back. He's listed at 6'1" and 185 pounds. Skylar ran through him and dropped him to the turf on the run, which was probably Thompson's best play of the day. An EXCELLENT block by tight end Nick Lenners allowed Thompson a wide-open lane to the end zone. Thompson scored his second rushing touchdown, a 13-yarder, in the 4th quarter after an interception by the Wildcat defense to put the Cats up 24-0. Thompson finished the game with 54 yards rushing on 10 attempts.
2) Deuce Vaughn
Not only is Deuce Vaughn similar to Darren Sproles in size and stature, but the Wildcats have not had a menace like this at running back since number 43 ran the ball for K-State. Every time he touches the ball, Vaughn is a threat to run for a touchdown. Once he is in the open, nobody is catching him from behind.
In the second quarter, the Cats were stuffed on two straight run plays and had a 3rd and 13 from their own 41. They called a running play to Vaughn, who ran 59 yards for a touchdown to put the Cats up 14-0. According to Vaughn, the K-State coaching staff was waiting for this look on the Stanford defense and took advantage of it.
"Yes, sir. The coaches – all throughout the week, we had seen that look, whenever it was a third-and-long, they would really be in a really soft coverage to the point where it kind of dropped everybody outside. Just kind of like drop back into a zone to the point where you can't get to the outside or anything like that. So left the open in the middle. And then whenever you get it through, it's one-on-one with the safety. All week we've been saying obviously they're going to make somebody miss in the middle. And it presented itself, and they put me in a great position to go make a play."
Kudos to the coaching staff and Vaughn for taking advantage of the Stanford defense and scoring a touchdown on this play to go up by 14 points.
3) The K-State run defense
K-State had two interceptions of Stanford quarterback Jack West, but the rush defense is what got it done for the Wildcats. They held Stanford to 39 rushing yards on 22 attempts, which is good enough to rank number 12 in the country in rush defense. If they can keep this up, good things will happen for the Wildcats this season.
4) Kansas State fans
K-State fans greatly outnumbered Stanford fans at AT&T Stadium. Granted, it's a longer trip from Stanford than from Manhattan, but K-State fans always travel well and this neutral site game was no exception. I thought Stanford fans might have been there to watch a tennis match or a golf tournament. They were silent most of the game. There was no cheering or making noise for their defense. They cheered a little bit when they scored their lone touchdown, but that was about it. It made me wonder if the fans of other Pac-12 teams sit on their hands like that as well. K-State fans cheered loudly from the beginning of the game to the end.
The Bad
There wasn't a lot to complain about in this game, but if I had to choose something, it would be Skylar Thompson's mediocre day passing the football.  He outperformed both Stanford quarterbacks, but both Jack West and Tanner McKee played pretty poorly.  Skylar Thompson completed nine of 14 passes for 144 yards and had a bad interception in the red zone.  He was sacked three times and on a couple of the throws, he had ample time to throw the ball away instead of taking the sack.  I expect he will get better as the season progresses, but I expected a sixth-year senior quarterback to be a bit sharper passing the ball than he was.
The Ugly
K-State linebacker Daniel Green's targeting call was pretty ugly. The huge Jumbotron at AT&T Stadium caught Chris Klieman just as he was chewing out the referee after Green was called for targeting. The call meant that Green was kicked out of the game and will be forced to miss the first half of next week's game. It was a tough call because Green lowered his head to make the tackle and the receiver then lowered his head. The two hit helmet to helmet. It was probably an unavoidable call, but it sure didn't look intentional on Green's part. Klieman has since reversed course and said it was the right call to make. In general, defensive players lower their head and lead with their head far too often in order to make a tackle. This isn't just a problem at K-State, but around college football. Pee-Wee, middle school, and high school coaches around the country must be teaching kids to tackle like this, which is dangerous not only to the offensive player but the player making the tackle as well. Luckily, neither player was injured on this particular play.

K-State's next game is Saturday at home against Southern Illinois, who made the FCS playoffs this spring and lost in the quarterfinals to top seed South Dakota State. They are ranked 9th in the FCS poll after beating Southeast Missouri State 47-21 last week. Their quarterback and top playmakers are all back from the 2020-21 season. This game may not be as easy as we think, but K-State should be able to get the victory to go to 2-0 on the season.