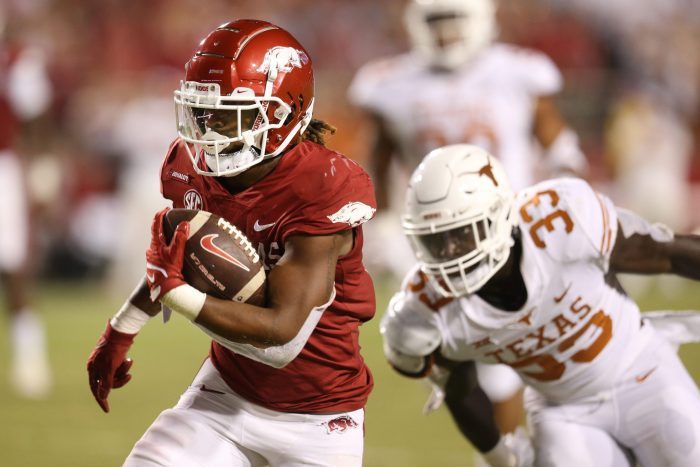 At some point, the Texas Longhorns are headed to the SEC but for now, they remain in the Big 12 conference. This was a chance for the Longhorns to show the rest of the country what they could do against an SEC opponent, and it was a show for all of the wrong reasons.
In front of a national audience on ESPN, with children watching, the Arkansas Razorbacks demolished the Texas Longhorns to a tune of 40-21. And if we are being honest with ourselves, that score doesn't even tell the story because it could have easily been worse than that.
After beating a ranked Louisiana team last weekend, the number fifteen team in the country went to Fayetteville and got embarrassed and that may be an understatement.
The Longhorns had no answer for the Arkansas ground game as the Hogs piled up 333 rushing yards on Saturday. At halftime, Texas trailed 16-0 and had just 78 total yards of offense in the first half. Nothing was working and Texas was getting bullied around.
Texas would be lucky to score in the third quarter in large part to a short field due to a B.J. Foster interception. Eventually, starting quarterback Hudson Card would be replaced by backup Casey Thompson.
While it may have been too little too late, Thompson was able to lead the Longhorns to two scoring drives when the game was well in hand. Maybe it was due to the fact Arkansas called off the dogs or maybe the offense fits better with Thompson and the pieces around him.
Either way, the final result is not what Texas wanted and quite frankly, I am not sure if anyone saw a performance like this coming. Listening to head coach Steve Sarkisian after the game, he had no answers for his team's performance on Saturday night. As to what happened tonight, Sarkisian said "I don't know how much of it was what they did as opposed to what we didn't do." — "I think the majority of what happened was, we didn't play great."
One could argue that Texas did not play great, and they never even showed up to the stadium and it would be hard to argue against that. Texas was picked to finish third in the Big 12 conference this year by the media and while the Big 12 has struggled a bit so far in non-conference games, Texas did not look like a top five Big 12 team on Saturday.
In fact, Saturday looked like a Charlie Strong coached team. The one that gets blown out and embarrassed. Heck, even ESPN announcer Joe Tessitore took a shot at the Longhorns saying that Tom Herman never trailed by 26 points at any time during his tenure in Austin.
As bad as that sounds, it is true. This team on Saturday look defeated and got pushed around. There was zero fight and effort on the Texas side and that is a reflection of the head coach. Steve Sarkisian better figure out some things quickly or else he will find out firsthand just how miserable it can be to be the man in charge at Texas while losing football games.