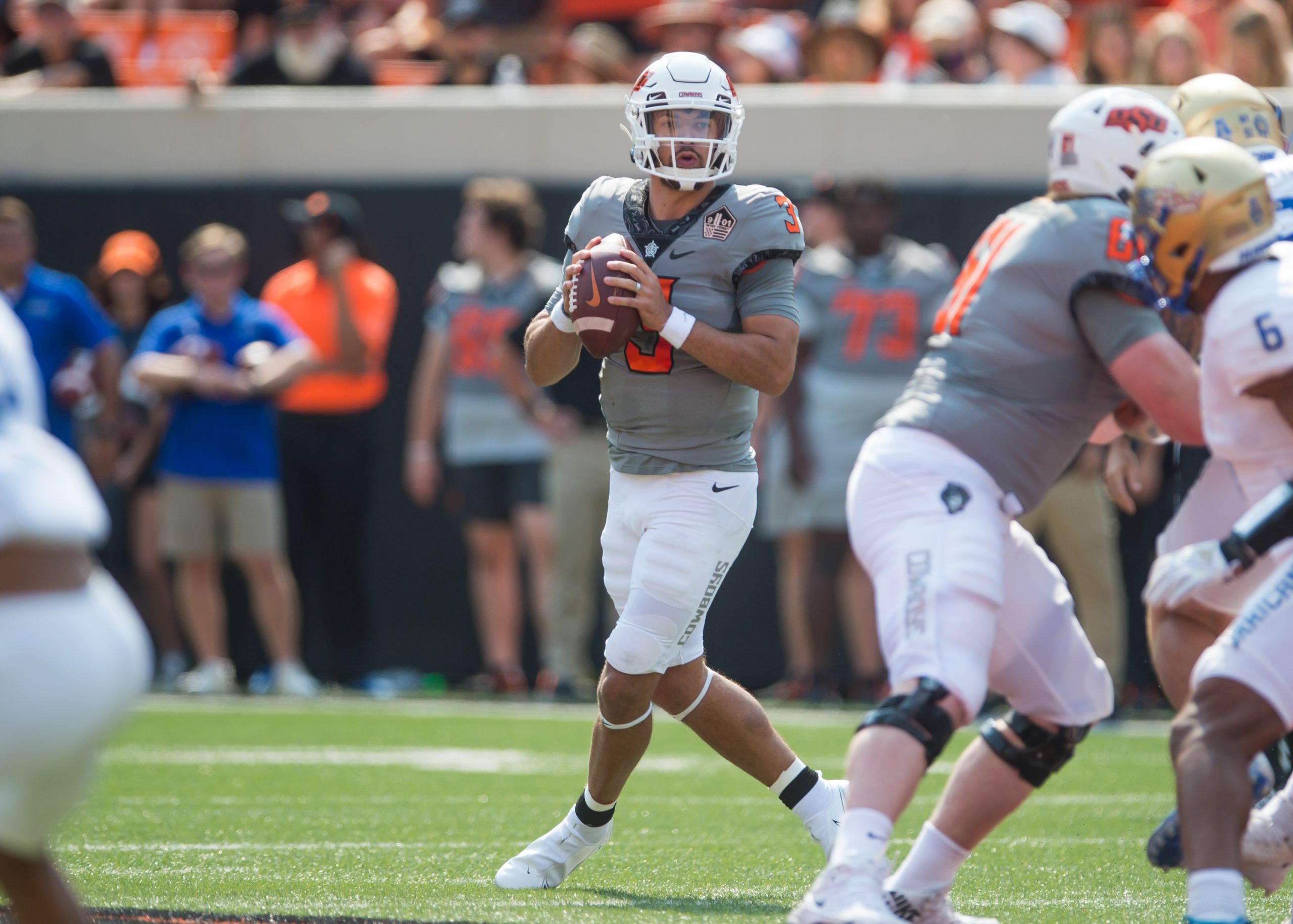 It certainly was not the prettiest of performances, but Oklahoma State walked out of the Tulsa game with a 28-23 victory to move to 2-0. Although they won the game, there are still plenty of question marks surrounding this Oklahoma State football team.
Last week, the Cowboys were missing starting quarterback Spencer Sanders and they managed to squeak by Missouri State a 23-16 win. Now on Saturday, the result was the same but there should not be a ton of smiles in Stillwater right now.
Spencer Sanders made his season debut on Saturday, but the Cowboys were missing wide receivers Tay Martin and Braydon Johnson. With those two out of the lineup, some younger guys would need to step up and fill in.
The first half was about as ugly as ugly could be ending in a 7-7 tie. While the defense did their part, the offense was abysmal. Spencer Sanders completed just 50% of his passes in the first two quarters and the run game was non-existent. In fact, Oklahoma State had just 28 rushing yards on 18 attempts for a whopping 1.6 yards per carry.
Tulsa would score first in the second half taking a 14-7 lead and then Oklahoma State woke up a little bit on offense. The Cowboys finally showed some life putting together a 13-play drive resulting in a spectacular Bryson Green touchdown catch to tie the game.
Then the special teams came up big in the fourth quarter for the Cowboys. After a Tulsa field goal, LD Brown took the ensuing kickoff back for a 98-yard score to give Oklahoma State a 21-17 lead.
The Cowboys would extend their lead with less than five minutes left to go when running back Jaylen Warren made a Barry Sanders like touchdown run from 11-yards out. Tulsa would score late to make it interesting again, but Spencer Sanders used his legs to ice the game.
Yes, the Cowboys won but this team has a lot of question marks that need o be answered before Big 12 play. Despite improving in the second half, this offense still averaged just 3.3 yards per carry after averaging just 1.9 from the week before.
To me that shows the offensive line is struggling to get any sort of push up front because the Cowboys are not lacking in the talent department when it comes to the running back position. Also, Spencer Sanders isn't looking too comfortable out there either. I know it was his first game of the season, but he still needs to work on ball protection and being a more consistent passer.
Perhaps a bigger question does loom for this Oklahoma State offense. It isn't brought up much, but offensive coordinator Kasey Dunn should be held accountable for these first two games. The offense was trying to force the run game when it just wasn't there, and the one big advantage Oklahoma State had over Tulsa was at receiver. The Cowboys are far more talented at receiver than the Tulsa defensive backs and I felt like they did not do a good job involving some of their young playmakers on the outside.
The first game jitters should be gone and there is no reason that this team is not winning comfortably over teams like Tulsa and Missouri State. We heard nothing but positive things in the offseason about this Oklahoma State offense but now it is time to show it. From the play calling to the performance on the field, this offense better find themselves quickly before making the trip to the blue turf at Boise State next weekend.