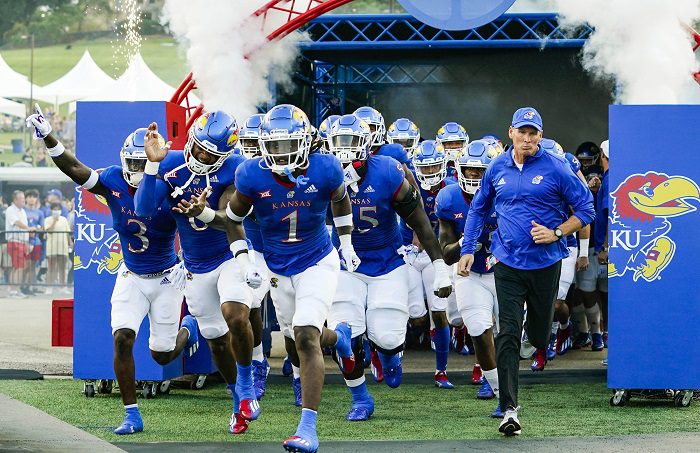 The good vibrations lasted seven days for the Kansas Jayhawks. But, that's OK. Seven days of good vibrations has been in short supply for the Jayhawks football team the past few years.
Kansas fell to Coastal Carolina on Friday night, a week after beating South Dakota in its home opener. That win was the Jayhawks' first in football since defeating Texas Tech on Oct. 26, 2019.
The win over South Dakota wasn't pretty. I should know. I was there, shooting the game for the College Football America Yearbook and taking in David Booth Kansas Memorial Stadium for the first time. I just realized — I forgot to get one of those 'Kansas Comet' T-shirts. When you have 100 T-shirts from college football programs around the country, you try to find ways to cut down. But can someone up in Lawrence send me one of those in large? I can Venmo you?
I wasn't sure if the Jayhawks would beat South Dakota that night. After all, the Coyotes are a solid FCS program that beat a Top 10 team in FCS last spring (Southern Illinois). And, as you know, the Jayhawks had to pull out a 17-14 win in the final minutes.
Frankly, I wasn't interested in the final result against South Dakota. I'm wasn't terribly interested in the result against Coastal Carolina, either (49-22, if you're keeping track). With Kansas football, right now, you can't measure success by wins and losses. You have to measure it by what you see.
And, what I saw against South Dakota, I liked. What I saw against Coastal Carolina, I liked.
There was energy on that field last Friday night and this past Friday night. There was focus. There was new head coach Lance Leipold staring down officials like he was scolding one of his children for breaking curfew. It wasn't perfect, of course. But the Jayhawks were into it. There was something just a little bit different.
Last September, I was the one that drew the short straw and had to watch the KU game with Coastal on TV. I wasn't impressed with KU that night. Coastal was a Sun Belt team that had only been in FBS for four years at the time. The Chanticleers shouldn't have gone into any Power 5 stadium and won a game at that point. But there they were last season. And the Chants had now done it twice in a row against Kansas. The Chants wrapped up the current contract with KU on Friday. Their record? 3-0.
Turns out, that was a portent. Kansas went winless and Les Miles lost his job (for reasons that had nothing to do with what was happening on the field, of course). But, this week, The Athletic's Matt Fortuna put together a list of the The five most confounding head coach hires of the past 10 years and, wouldn't you know it? Two Kansas hires made the list.
Charlie Weis and Les Miles. That's a list you want to be on, right?
Truthfully, Fortuna could have named the entire Kansas head-coaching roster since Mark Mangino departed and been fine. Since Mangino left the program after the 2009 season, the Jayhawks haven't won more than three games in a single season. The program won a grand total of 21 games from 2010-2020, with two winless seasons.
So, what makes Leipold different? Well, it's hard to make a value judgment after one game (or, two, now that Coastal is behind us). But I saw a team during warm-ups and during the game that appeared to be bought into what Leipold was selling. I saw a head coach who wasn't trying to 'win the season' in one game (and I felt like Miles was trying to do that at Big 12 Media Days in July of 2019). I saw a head coach trying to build a foundation, knowing full well that foundation may not lead to anything more than what Turner Gill, Weis, David Beaty and Miles tried to build before him.
But one has to try, right? And one shouldn't read THAT much into the fact that Gill also came to the Jayhawks from Buffalo, as Leipold did. Buffalo was Gill's first head-coaching job, and he topped out at 8-6 and an International Bowl berth in 2008 before taking the Kansas job in 2010. Leipold, meanwhile, has six Division III national championships at Wisconsin-Whitewater and rebuilt that Buffalo program Gill left, taking it to a pair of MAC East Division titles and going 37-33 in six seasons with the Bulls.
Leipold also had the transfer portal, and with that he brought a few former Bulls with him, including center Mike Novitsky. The transfer portal could be a useful tool for Leipold and the Jayhawks to attract players at the Group of 5 level that want to prove they can compete at the Power 5 level. Novitsky is about to show that to NFL scouts in 2021.
Will Kansas win a Big 12 game this season? Well, I'm not sure. It wouldn't surprise me if they went winless in Big 12 play. But, again, the record matters little this season. Or, perhaps, even next season.
We have to measure Leipold's progress with the 'eye test' right now. And, based on what I saw in Lawrence last week, and on TV Friday night, the Jayhawks pass the eye test … for now.
READ MORE: HCS Mailbag: Oklahoma, Iowa State Concerns, Big 12 Expansion and More!
READ MORE: Mike Gundy Shows Full Support for Reported Big 12 Expansion Teams
You can find Matthew Postins on Twitter @PostinsPostcard.
**Want to win a $20 gift card? Go sign up here and join our conversation! The best poster each week wins a gift card to your favorite establishment!**