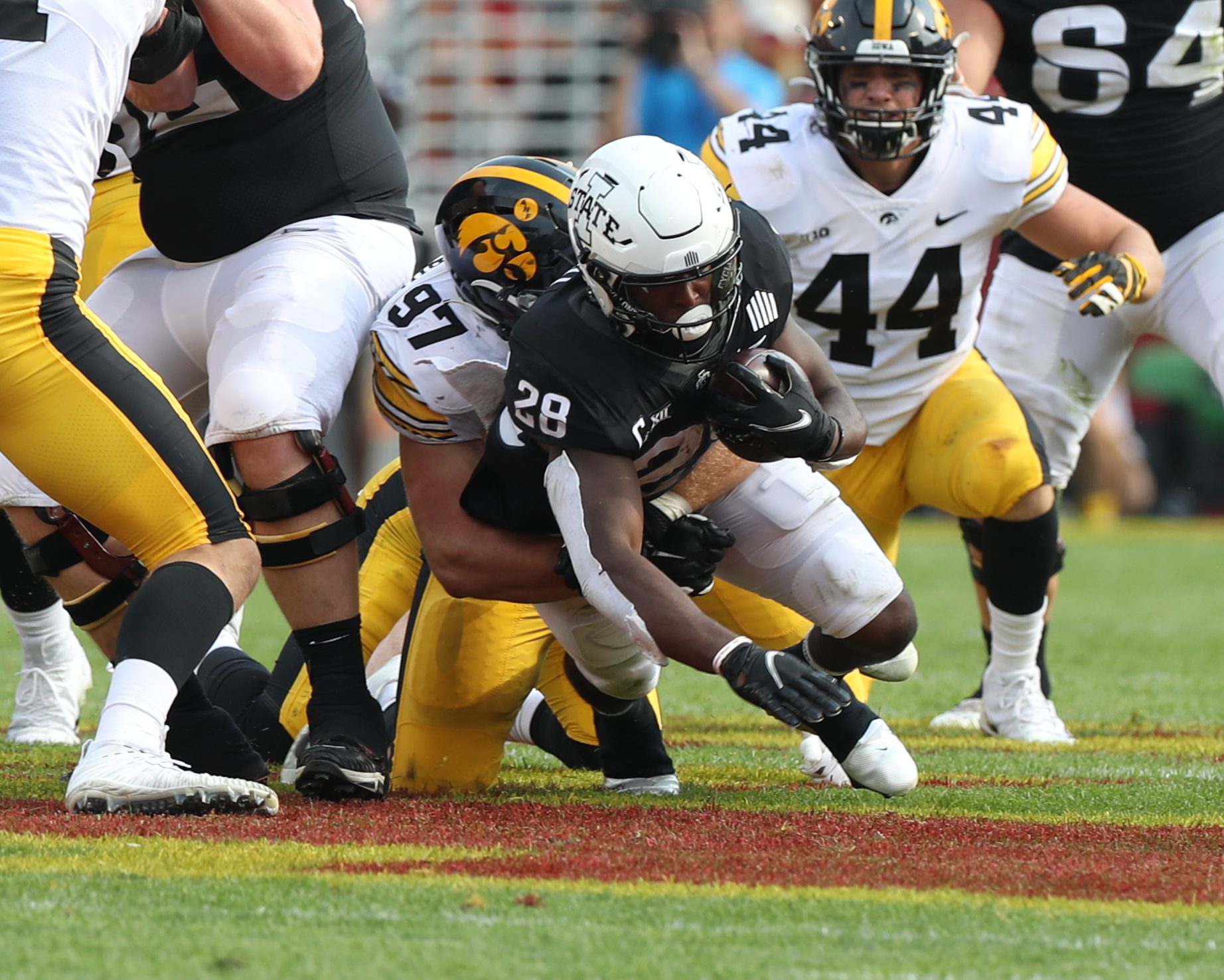 Everything was set up perfectly for Iowa State. From being a top ten team, to hosting College GameDay and in-state rival, Iowa, this was supposed to be a day to remember for Iowa State fans.
Instead, it turned into a day to forget. The 68th meeting of the Cy-Hawk game started like a classic battle from back in the old days. Both teams fought like hell for field position as both defenses made their presence known early as the first quarter ended with Iowa State on top 3-0.
The game started to turn when Brock Purdy threw his first interception of the game and eight plays later, Iowa turned that mistake into seven points. The Hawkeyes would follow up their scoring drive by another to make it a 14-3 game with just 1:01 left in the first half.
The Cyclones could have easily called it a half and instead, Brock Purdy led them down the field in short time as Breece Hall capped off the quick drive with a 4-yard touchdown run with less than ten seconds left in the first half.
I thought maybe the end of the first half would be a start of something for the Cyclones offense but that was not the case. Both teams traded a pair of punts before Iowa State made a big-time mistake when Breece Hall fumbled near his own goal line as Iowa's Jack Campbell picked it up for the scoop and score.
On the very next drive, Purdy was picked off yet again and it cost the Cyclones three more points as the Hawkeyes took a 24-10 lead in the third quarter.
However, Brock Purdy was not done with the turnovers as he was picked off for the third and final time on the ensuing drive and to my surprise, he would be pulled as backup quarterback Hunter Dekkers would finish the game.
Dekkers would lead a late touchdown drive, but it was already too late by then as Iowa would go on to win their sixth straight against Iowa State.
This game felt like the few Cy-Hawk games before it. Mistakes have burned the Cyclones time and time again. Two years ago, the mishandled punt cost the Cyclones the game and this time, it was multiple mistakes that proved to be costly.
There is no question that the Iowa State defense held up their end of the bargain on Saturday. They were put into tough spots throughout the game and were clearly not the reason for the loss. In fact, Iowa had only 173 total yards of offense and according to Brent Bloom of Cyclone Fanatic, that makes Iowa the fourth team in college football since 2016 to have 173 yards or less and win a game.
Offensively, this game was a disaster for the Cyclones. After scoring just 16 points against Northern Iowa last week, Saturday was not much better. It's no secret that the offense has not looked good at all so far this season. Today, turnovers and field position were the difference in this game.
Iowa did not have a singe turnover and Iowa State had four. Iowa is not a team that beats themselves and today it was Iowa State who beat themselves. They turned the football over and Iowa made them pay for it.
If there is any bright spot that came from this, it is that this was not a conference game. Just like last year, the Cyclones had a bad loss in the non-conference and still made a Big 12 title appearance and won a Fiesta Bowl. Their goals are still on the table and despite this ugly loss, they can still reach those goals. The question is, can they build upon this and move on? Only time will tell.