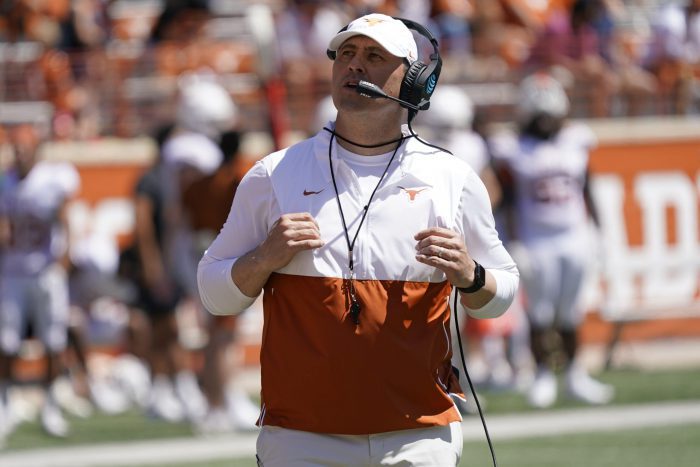 Off the field, it was an exciting week for the Big 12 Conference. The league, which many predicted as "dead" just a few weeks ago, announced it would be expanding with four teams joining the conference. UCF, BYU, Cincinnati and Houston all accepted Big 12 invitations on Friday.
This was a complete 180 from where the Conference was in late July, when Oklahoma and Texas shockingly announced their plans to leave the Big 12 for the SEC. But after the Pac-12 decided not to expand, the Big 12 then made moves, which culminated two days ago.
However, then the Big 12 took the field, starting on Friday night, and the party ended. Week 2 turned into a forgettable disaster for the conference.
On Friday night, the Kansas Jayhawks lost to Coastal Carolina 49-22, in a game that actually wasn't as bad for KU as the final score might indicate. The early returns show that Lance Leipold is slowly and steadily building something at Kansas that deserves to be watched.
But then came Saturday. And the highlight was getting to show off Ames, Iowa to the nation during College GameDay. Then once the games started, it was all downhill.
Oklahoma State brought back starting QB Spencer Sanders, but for a second-straight week, the Cowboys struggled against an inferior opponent, holding on to beat Tulsa 28-23. That game roll into TCU vs. Cal, where the Horned Frogs were an 11-point favorite against a team who was coming off a loss to Nevada, and hung on for a 34-32 win.
Yes, they were both victories, but neither were as impressive as they should have been.
However the real mess then began in Ames, Iowa, where the Cyclones, who have College Football Playoff hopes, were embarrassed by their in-state rival Iowa in a 27-17 loss, dropping head coach Matt Campbell to 0-5 against the Hawkeyes. The Cyclones lost the turnover battle 4-0, leading to 20 Hawkeyes points. This was supposed to be Iowa State's day. This was their day to show off the program to the nation, show off the future of the Big 12, and prove they're a contender worthy of the national discussion.
None of that happened. In fact, the opposite did.
Then as nightfall came, the Big 12's problem got worse. While most Big 12 fans weren't necessarily going to be upset about it, Texas got run out of the building by Arkansas in a 40-21 loss, showing that those who predicted Texas as "back", were once again, suckers until proven otherwise. Understandably many Big 12 fans took joy in this, but for those thinking short-term, and the credibility of the league in 2021, it was a disaster.
Out in West Texas, the Red Raiders found themselves in a dog fight with Stephen F. Austin, who they were favored over by 32.5 points. Tech would hang on for a 28-22 win, but considering how this team bounced back last week against Houston and rolled over their future Big 12 foe, this was a dud of a performance for Matt Wells' team.
Then, the injury bug also bit the league, when Kansas State QB Skylar Thompson left the game against Southern Illinois with a non-contact knee injury that now has him out indefinitely. Thompson is arguably the second-best QB in the league, and given how strong Kansas State looked in Week 1 vs. Stanford, this is a huge blow for the program. Plus, it could signal the end of Thompson's career.
This was the weekend for the Big 12, at least as it's currently constructed, to prove that it is worthy of being in the discussion as one one of the best conferences in the country, with multiple CFB Playoff contenders and a conference defined by its depth. However, considering their performances, most notably against the Big Ten, SEC and Pac-12, combined with the mediocrity against inferior opponents, this weekend couldn't have gone any worse for the league.
If you're looking for a silver lining, the four future new Big 12 teams had themselves great weekends. BYU upset No. 21 Utah 26-17, No. 7 Cincinnati rolled Murray State 42-7, Houston crushed Rice 44-7 and UCF smoked Bethune-Cookman 63-14.
But for the Big 12's 2021 credibility and stature in the national discourse, that is of course meaningless. And now as the 2021 season moves ahead, the Big 12 is, once again, fighting an uphill battle in national media and relevancy, however this time it has no one to blame but itself.