Big 12 News
Kansas State AD Fires Back at Kansas for Considering Other Conferences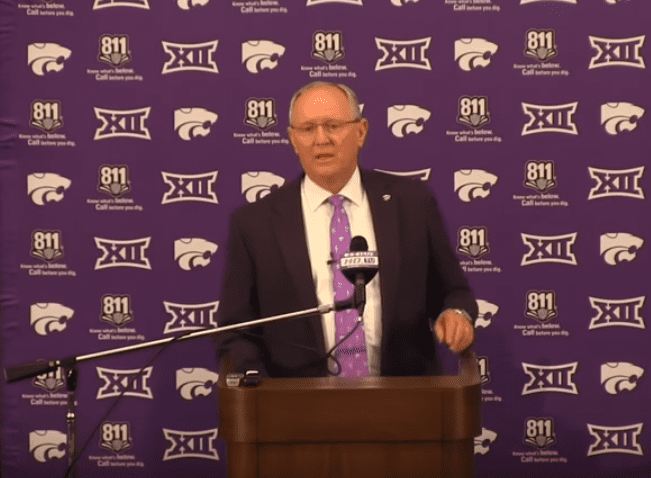 The drama is supposed to be over for the Big 12, at least for now. But one thing Big 12 fans all know is that the drama never seems to end.
This week the league officially added Cincinnati, UCF, BYU and Houston, as all four schools accepted invites on Friday. The "other 8" in the conference, sans OU and Texas, showed a united front and proved to the nation the Big 12 was not dead and would not be collapsing any time soon, much to the chagrin of some TV networks and national media members.
However, Kansas AD Travis Goff turned heads late this week when he said the Jayhawks would still be open to conversations with other conferences.
That led to a response from Kansas State AD Gene Taylor, who said on Saturday he was surprised that Goff publicly insinuated that KU remains open to other conference opportunities, adding, "That's the first I've heard of that. I don't think any other ADs are having those conversations."
Here's the video of Taylor's comments as well.
Considering Goff is the "new kid on the block" of Big 12 ADs in his first-year on the job, this may have been one of those comments that also annoyed a veteran like Taylor as much as anything else.
It's true that it looks bad for Goff to make those statements on the same day that the league announces it is expanding. However, if the Big Ten came calling KU tomorrow, of course they'd be foolish to not accept the invite for a plethora of reasons. But at this point, Kansas is dreaming if it thinks the Big Ten is going to come calling any time soon.
While "The Alliance" between the Big Ten, Pac-12 and ACC is not written in stone, it's clear the three leagues aren't looking to expand at this point in time. That can always change, but when, or if, it does, KU desperately needs its football program to be in a healthier position. Football is the driver of realignment, the economics continue to suggest that. Meantime, KU has five Big 12 football wins over the past decade.
So for now, the best bet for Goff and Co. would be to put your head down, keep fundraising, and try to give Lance Leipold whatever he needs to succeed. Then if conference realignment comes around again, KU might be in a more valuable position.