Big 12 News
Skylar Thompson Expected to Play Again in 2021: Report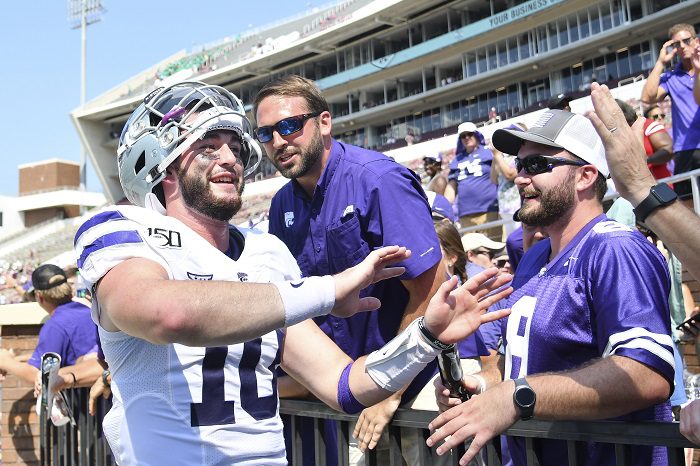 Despite suffering a scary, non-contact knee injury against Southern Illinois on Sunday, sources around the Kansas State football program expect QB Skylar Thompson to return this season, according to Kellis Robinett of the Kansas City Star.
It hasn't been clear what exactly Thompson's status was, as Chris Klieman kept it close to the vest after the game on Saturday night, saying, "We'll pray for the best and see what happens." He didn't share a specific injury update on Thompson, but added the Wildcats will be depending on backup quarterback Will Howard "for the foreseeable future."
Per Robinett, the injury is not nearly as severe as was originally believed to be the case, and his source added Thompson could return, "after only a few weeks of recovery".
Thompson was replaced on Saturday by Will Howard, who struggled and threw for just 76 yards. Howard was Thompson's replacement when he got injured early in the 2020 season, and the Cats couldn't get the offense together, losing five-straight games to end the year.
It was a big boost for Kansas State when Thompson announced after the season he would be returning for the 2021 campaign, as he returned as a sixth-year senior and one of the most experienced quarterbacks in college football.
Then throw in the Week 1 domination of Stanford at AT&T Stadium, and there was cautious optimism in Manhattan. But then Thompson's injury threw a wrench in the plans for Kansas State.
We know that Will Howard will start against Nevada this week, and after Saturday's game the Wildcats play Oklahoma State and Oklahoma before a bye week and then Iowa State on October 16th. And now we wait and see how quickly Thompson can return, because until proven otherwise, there appears to be a serious drop off from No. 1 to No. 2 QB at Kansas State.