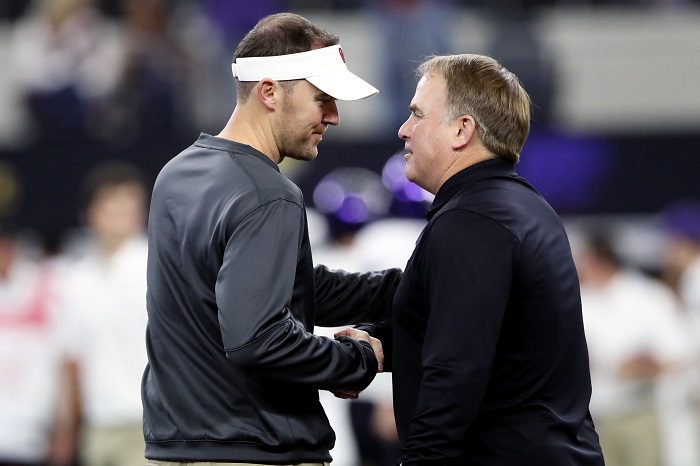 Week 2 of the Big 12 football season is in the books, and there is once again a ton of movement in our Big 12 Power Rankings. A weekly reminder that these rankings can fluctuate greatly on a week-by-week basis, based on how teams have performed in their most recent games and who they've beaten, not what we predict the final Big 12 standings to be and not what the preseason rankings were.
So with all that being said, here's a look at our Big 12 Football Power Rankings heading into Week 3 of the season.
1. TCU Horned Frogs (Last Week: 4)
The TCU Horned Frogs have played the most consistent football of the season thus far, with only one bad quarter, the first against Cal on Saturday. But they took care of Cal at home and improved to 2-0 on the season, preceded by a dominant win over Duquesne. With how Iowa State has looked through two weeks (more below), suddenly the case for the second-best team in the Big 12 can be much more debated than many of us might have thought before the season, and TCU's case is growing quickly.
2. Oklahoma Sooners (Last Week: 5)
The Sooners crushed Western Carolina 76-0 on Saturday, which was entirely expected. This followed a shaky Week 1 performance against Tulane, which saw the Sooners hang on for the win at home. There's no doubt OU is the favorite to win the Big 12 and are still the No. 3 team in the country, but simply crushing an FCS team after struggling against a Group of 5 is not worthy of the top spot just yet. Dominating Nebraska this weekend would be a good next step.
3. Kansas State Wildcats (Last Week: 2)
Well, Kansas State got out with a win over Southern Illinois, but the game felt like a loss after Skylar Thompson left the game with a non-contact knee injury that did not look good. However, reports came down Sunday night that Thompson may be able to return at some point this season, which would be huge for K-State. What makes the Wildcats look that much better is that Stanford rolled USC on Saturday, one week after KSU took them to the woodshed.
4. Texas Longhorns (Last Week: 1)
Week 1 was a Texas 20-point win over Louisiana, but Week 2 was a disaster in a loss to Arkansas that saw the Longhorns give up over 300 rushing yards for more than 7.00 yards per carry. Also, redshirt freshman QB Hudson Card did not look good and was replaced by Casey Thompson, who was an improvement. Maybe that was in part because Thompson played in garbage time, but regardless, Texas may have more of a QB battle than they had just a week ago. Also, UT got pushed around on both lines, which is concerning as we approach conference play.
5. Oklahoma State Cowboys (Last Week: 6)
The Cowboys snuck out with a home win for a second straight week, this time against Tulsa. The offense has not looked good, despite the return of Spencer Sanders at QB this week. There is still time for the Cowboys to start to get on track, but you're not going to find a less impressive 2-0 start than what Oklahoma State has accomplished these first two weeks.
6. West Virginia Mountaineers (Last Week: 9)
The Mountaineers followed up a loss to Maryland with a dominant win over LIU, an underwhelming FCS opponent. There was not much to take or learn from this game, so there's no point in overanalyzing the fact that this was a 60+ point win for WVU. None of it will matter come this weekend against Virginia Tech, where if the Mountaineers can pull off a win, they will shoot up these rankings.
7. Texas Tech Red Raiders (Last Week: 3)
Texas Tech came back from double digits down to win against Houston in Week 1 and then struggled on Saturday against their FCS opponent Stephen F. Austin. Sure there have been cases of Power 5 programs losing to FCS teams, most recently it was Florida State against Jacksonville State, but that shouldn't excuse a poor performance from Tech in their win on Saturday.
8. Iowa State Cyclones (Last Week: 8)
Iowa State hung on against Northern Iowa and then got rolled by Iowa in a game that wasn't as close as the score indicated. The offense is a real problem right now for Iowa State and some fans are wondering if it's time to check out Hunter Dekkers over Brock Purdy at QB. I'm not there and don't think that's fair to Purdy, who has helped lead this program into Big 12 contention. But everything on that side of the ball needs to improve: play-calling and execution. The defense has actually played really well through two weeks, but that unit can only do so much right now.
9. Baylor Bears (Last Week: 7)
Baylor may have played the worst FCS opponent of the weekend in the Big 12 (which is saying something), rolling to a 66-7 win over Texas Southern. Once again, through two weeks, we've seen the Bears struggled with Texas State and then steamroll Texas Southern. What have we learned? Not much, as far as I can tell. But they're 2-0 and open up Big 12 Conference play this weekend against the Kansas Jayhawks.
10. Kansas Jayhawks (Last Week: 10)
Kansas didn't look as bad as some might believe based on the final score against Coastal Carolina, who they lost to by 27 points on Friday. You're starting to see some glimpses from KU early in the Lance Leipold tenure that should encourage KU fans. It's still a very long road ahead, but it's a road worth watching for the fan base and those of us who are college football freaks. But for now, the No. 10 spot remains the place for Kansas.