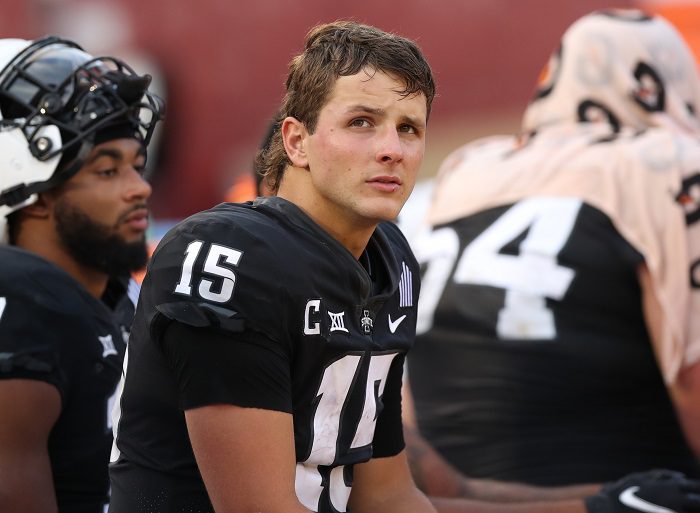 Week 2 of Big 12 action brought some surprising plot twists, and some things that appeared clear in Week 1 now seem either overly optimistic or overly pessimistic.  
I wrote about a number of facts and speculations after Week 1, so now let's follow-up on those story lines and/or look at the new ones that are developing.
Baylor Bears
FACT: Despite playing a soft schedule so far, the Bears' defense has only produced three sacks on the season.  
SPECULATION: Baylor's defense isn't as good as many thought it would be.  
Analysis
The Bears currently rank third in the Big 12 in total defense with 516 yards surrendered behind Iowa State (448 yards) and K-State (509 yards). Both ISU and KSU have played a significantly more difficult schedule than Baylor, as have several teams within striking distance of the Bears in total defense: Oklahoma (574 yards), TCU (579 yards), and West Virginia (591 yards). BU now leads the league in scoring defense (27 points), but they have yet to face an offense with a pulse or generate a menacing pass rush. If you, like me, thought Baylor's defense could be elite this season, so far it has disappointed.
Iowa State Cyclones
FACT: The Cyclones are dead last among Big 12 teams in scoring offense and ninth in total offense. 
SPECULATION: ISU's offense is bad this season.  
Analysis
While the Cyclones appear to have the defense to be a Top 10 team, the offense hasn't been able to hold up its end of the bargain. RB Breece Hall is averaging just 3.5 yards per carry, and QB Brock Purdy has thrown 3 INTs interceptions to 0 TDs.
The left side of the offensive line is strong with guard Trevor Downing and tackle Sean Foster; however, the blocking of center Colin Newell and right guard Darrell Simmons, Jr. needs to improve.
The Cyclones have faced two good defenses to begin the season; however, Purdy's game against Iowa is cause for concern. He posted a QB rating of 16.2 against the Hawkeyes and only completed 48.1% of his passes. We knew Iowa's defense was good, but we didn't expect ISU's offense to look that bad.
Ultimately, the best that can be said about ISU's offense thus far is that it has all the pieces to start putting together big games. That is, ISU's offense has been bad so far, but there's no doubt that it has yet to play to its potential.
Kansas Jayhawks
FACT: As Derek Duke writes, Kansas showed life in a 27-point loss at #17 Coastal Carolina.  
SPECULATION: New KU head coach Lance Leipold has KU ready to be competitive this season.  
Analysis
The Jayhawks led Coastal 9-7 after one quarter and hung around in the game until the fourth quarter. KU QB Jason Bean ripped off several long runs to finish with 102 rushing yards and two TDs to go along with 189 passing yards.
Right now, Bean and WR Kwame Lassiter II are the Jayhawks' offense, and the defense has been suspect in the running and passing games. Kansas has faced good competition this season, but the team has a ways to go before it will be able to compete in the Big 12 on week by week basis. This Saturday's home game against Baylor might be the Jayhawks' best chance for a win.
Kansas State Wildcats
FACT: Kansas State dominated the Stanford Cardinal in a 24-7 win that was more lopsided than the score indicates. The Cardinal went on in Week 2 to defeat #14 USC 42-28. 
SPECULATION: Kansas State is a dark horse contender for the Big 12 championship game. 
Analysis
The Cats' defense has been impressive thus far. Southern Illinois scored 23 points against KSU, all in the second quarter, but seven of those came off a pick-six thrown by QB2 Will Howard. Another 7 came after a fumble gave SIU the ball on KSU's 9-yard line. So only 9 of SIU's 23 points can really be held against the defense (16 on the season).
However, the offense has been painfully one-dimensional, and this became even more the case after KSU QB1 Skylar Thompson succumbed to injury in the first quarter against SIU. Despite all the praise Howard received from coaches during the offseason, he appeared to be very much the same quarterback he was last season as K-State struggled to an 0-5 finish. Not only did Howard throw a pick-six against SIU, he also threw a couple of other passes that could have been picked off as he completed just 8 of 17 and finished with a QB rating of 10.3.
Thompson will be out of the line-up for at least one week with a knee injury, and it seems unlikely that KSU can contend for a Big 12 title with Howard at the helm. In fact, unless Thompson returns or Howard can take a big step forward, KSU may not reach a bowl game for the second season in a row.
Oklahoma Sooners
FACT: The Sooners got back on track by destroying Western Carolina 76-0.   
SPECULATION: The Tulane game was a fluke – the Sooners will be just fine. 
Analysis
The Sooners will be just fine, but the Tulane game may not have been a fluke. Oklahoma has shown a tendency to take its foot off the gas and lose focus after building a big lead, which makes OU susceptible to comebacks by good teams that won't stop fighting. It seems likely that OU will drop a game it shouldn't at some point this season.  
Oklahoma State Cowboys
FACT: Oklahoma State averaged just 2.7 yards per rushing attempt through the first two games against Missouri State and Tulsa. 
SPECULATION: The Cowboys' offensive line is a complete mess.  
Analysis
The return of QB Spencer Sanders to the line-up gave OSU's running game a boost in Week 2, but the Cowboys have yet to have a rusher reach 100 yards on the season. The offensive line has received poor run-blocking grades from Pro Football Focus for two weeks in a row, but the pass-blocking has been good.
Neither Missouri State nor Tulsa can boast defense strong enough to keep a good Power 5 running game bottled-up. Oklahoma State's O-line should make strides as the season progresses, but it clearly has a long way to go.  
TCU Horned Frogs
FACT: TCU dominated Duquesne and got a huge game out of RB Zach Evans to defeat a dangerous Cal team.  
SPECULATION: TCU is ready to compete for a Big 12 championship.  
Analysis
Despite the fact that Cal lost at home to Nevada, which might be the best team in the Mountain West this season, the Bears are a dangerous team with a good quarterback. TCU's home win against Cal proved that Evans and TCU's run game can be a force in the Big 12 this season. Couple that with TCU's dangerous wide receivers, and it's not out of the realm of possibility that TCU could find its way to the Big 12 championship game.
TCU's defense, however, showed some vulnerabilities against Cal, so it's not a foregone conclusion that TCU can avoid a number of close games in conference play. However, given that ISU, KSU, OSU, UT, TTU, and WVU all look vulnerable, it's not a foregone conclusion that TCU can't win a bunch of close games and reach the Big 12 championship game.
Texas Longhorns
FACT: After beating a Top 25 team in Week 1, the Longhorns got shredded by Arkansas' offense and have now given up a whopping 829 yards on defense in just two games.  
SPECULATION: Texas' defense is not good enough to make the Longhorns a Big 12 title contender. 
Analysis
Texas is definitely not back. While the offense has weapons, particularly RB Bijan Robinson, Arkansas exposed the Texas defense by rushing for 333 yards and four touchdowns a week after the Razorbacks struggled until the fourth quarter to put Rice away.
We don't know how good Arkansas' running game really is at this point, but I suspect that it's not as good as Texas made it look.
The Longhorns did a good job of getting off the field on third down, allowing Arkansas to convert just 5 of 12 attempts. However, Arkansas also had 21 first downs in the game and picked up 7.1 yards per carry.
Given the number of good to great running backs in the Big 12 to go along with the problems that come with a new starting QB, new wide receivers, and a new coaching staff, it seems unlikely that Texas will be able to contend for a spot in the Big 12 championship game.
Texas Tech Red Raiders
FACT: A week after Tyler Shough completed 70.8% of his passes for 231 yards and a TD, he struggled against FCS Stephen F. Austin, completing just 52.4% of his passes for 163 yards, 1 TD, and 2 INTs, including a pick-six. 
SPECULATION: Shough isn't the quarterback Texas Tech hoped he would be.   
Analysis
It was a rough outing against Stephen F. Austin, but the struggles in the passing game aren't all on Shough. There were dropped passes and some breakdowns in pass protection.
As with the game against Houston, Shough was sharper in the second half against the Lumberjacks, but he and the Tech offense never looked as crisp as they did in the second half against Houston.
While Shough got off to a fast start against the Lumberjacks, hitting WR Erik Ezukanma for a 75-yard TD strike, the rest of his first half was forgettable. Shough needs to be a better first half quarterback to avoid always having to bring the Red Raiders back from behind in the second half. However, he does have the ability and the weapons around to lead such comebacks.
Shough may not be the NFL first round draft pick some claimed he would be, but he's certain to improve as the season progresses and is a significant upgrade at QB for Tech.
West Virginia Mountaineers
FACT: West Virginia QB Jarret Doege threw 2 interceptions, completed 58.5% of his passes, and took 3 sacks in the season-opener at Maryland. Against Long Island, he completed 14 of 22 for 259 yards and 3 TDs while QB2 Garret Greene complete 4 of 7 passes for 57 yards and rushed for another 98 yards and 2 TDs. 
SPECULATION: WVU needs to make the move from Doege to Greene.  
Analysis
Greene's mobility adds a dimension sorely missing from WVU's offense. While Doege has far more experience and is a decent passer, his lack of mobility is a liability in close games. Doege looked better against Long Island, but it was Long Island. While it might be a lot to ask Greene to take over the reins against VA Tech this Saturday or against Oklahoma the following Saturday, WVU should keep Doege on a short leash and not be afraid to play Greene.
Greene is too green to lift WVU to some kind of magical season, but he is the future of Mountaineers' offense, and it seems unlikely that Doege's lack of mobility will allow WVU to climb very high this season.