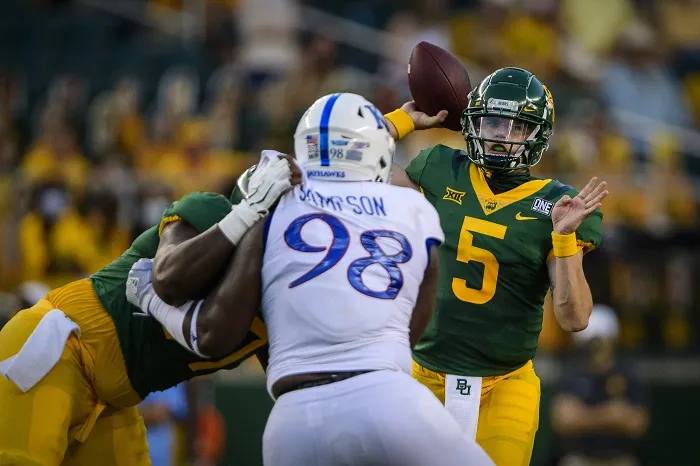 Here is everything you need to know about the Kansas Jayhawks and the Baylor Bears In our Kansas vs. Baylor preview.
Game Info
2:30 p.m. Central Time, Saturday, Sept. 18, 2021, David Booth Kansas Memorial Stadium, Lawrence, Kansas
TV: ESPN+
Radio: Baylor: Baylor Sports Network: Kansas: Jayhawk Sports Network.
Records: Baylor, 2-0; Kansas, 1-1.
Ranking: Baylor: None; Kansas: None.
Last week: Baylor def. Texas Southern, 66-7; Kansas lost to Coastal Carolina, 59-22.
Fun fact: While Kansas hasn't committed a turnover in two games this season, the Bears have excelled at creating turnovers under head coach Dave Aranda. BU has forced more than twice as many turnovers as it has allowed in 11 games under Aranda.
Key players
Baylor Bears
QB Gerry Bohanon: The fourth-year Bear is finally getting his shot to be the consistent starter, and through two games he's been solid and efficient. He's thrown for 395 yards and three touchdowns, completed nearly 69 percent of his passes and added 42 yards rushing and two touchdowns. The luxury of the Bears' two easy wins to start the season is that his backups, Jacob Zeno and Blake Shapen, are getting some reps. Those reps will taper off as Big 12 play begins. This is Bohanon's first opportunity to show what he can do against a Big 12 team, and the opponent — Kansas — couldn't be a better one to get his feet wet.
RB Trestan Ebner: The running back can catch passes, too. But, for the first two games he's been Baylor's leading rusher with 245 yards (though Abram Smith has been cashing in the touchdowns with a team-leading four). Ebner has also caught five passes for 64 yards and a touchdown. He's also returned two kickoffs. The Bears like to spread things around in the backfield, but Ebner is the back the Bears are going to turn to in the clutch. Why? Because Ebner leads all active FBS running backs with 1,295 receiving yards. He is also the first player in program history with both 1,000 career rushing yards (1,136) and 1,000 career receiving yards (1,295).
S Jalen Pitre: There's a reason to single out Pitre on a defense with 10 returning starters. He already has an interception this season, coming off a third-team preseason All-America selection by Pro Football Focus. Plus, if you're into analytics, ESPN's Bill Connelly ranked Pitre as the nation's most disruptive defensive back according to havoc rate – tackles-for-loss, passes defensed and forced fumbles divided by snaps. But, in just two games, Pitre already has four tackles-for-loss, an interception, a forced fumble, a pass break-up and a quarterback hurry. It's not underselling it to say he's everywhere.
Kansas Jayhawks
WR Kwamie Lassiter II: Saturday should be a banner day for Lassiter, win or lose. The super-senior is six yards away from 1,000 receiving yards for his career. He's also just two receptions shy of 100 for his career. Lassiter started slowly against South Dakota, with just two receptions for 12 yards. But, against Coastal Carolina, Lassiter produced more like himself, catching seven passes for 85 yards. Entering the Baylor game, Lassiter has 98 career catches and 994 career receiving yards.
QB Jason Bean: The North Texas transfer has become a stabilizing influence for the Kansas offense, and not just because of his passing. Entering the Baylor game, Bean is one of two quarterbacks nationally to have 100 yards rushing and two touchdowns in a single game (North Carolina's Sam Howell is the other). Bean had three rushes of 20 or more yards against Coastal Carolina and ended up with 102 yards. Bean is the Jayhawks' leading rusher right now. You probably don't want that by season's end. But, for now, it's working.
DE Kyron Johnson: Through two games he's building on a solid finish to last season, continuing the disruptive nature of his play from a year ago. After two games, he's the Jayhawks' second-leading tackler with 14 (only safety Kenny Logan Jr. has more with 16), with 2 1/2 tackles for loss and 1 1/2 sacks. That's the kind of pacing the Jayhawks would love to see from Johnson. It would put him among the upper echelon of pass rushers in the Big 12 in 2021.
Key storylines
Baylor Bears
The Bears are shooting for their eighth 3-0 start to the season in the last 11 years. To this point, the Bears beat Texas State for the eighth straight time, though it was a 29-20 win. Then, last Saturday in the home opener the Bears opened things up against Texas Southern, 66-7. In Year 2 under head coach Dave Aranda, the Bears are turning things over to new starting quarterback Gerry Bohanan and leaning on a highly-experienced defense to build momentum in September. That experience permeates the entire roster. Baylor has 28 graduates on its roster, second-most in FBS behind Illinois with 29. The five starting defensive backs have 187 combined starts. What the Bears might not have in overall talent they can make up for with players that have been there and done that as they to get back to a bowl game, at the least, in in 2021.
Kansas Jayhawks
Want some progress? Kansas hasn't committed a turnover in its first two games. The Jayhawks haven't been able to say that since 2007. That's just one of several things that seems to have changed under new head coach Lance Leipold, who has Jayhawks fans feeling optimistic for the first time in a while, despite the loss to Coastal Carolina. QB Jason Bean has settled in nicely on the offensive end. Safety Kenny Logan Jr. is playing like a potential All-Big 12 selection on the defensive side. Bean is the Jayhawks' leading rusher, and that probably needs to change long-term. That means getting Velton Gardner more involved. Leipold isn't the type of coach to wait to make progress, though. At Wisconsin-Whitewater, he became the fastest coach in NCAA history to reach 100 career victories.
Prediction: Baylor 27, Kansas 21
Baylor looks more talented on paper. But, after two games I think Kansas has actually been better tested. Still, the Bears have the weapons to overwhelm the Jayhawks. Plus, they have the history. Baylor is now 16-4 all-time in the series, but just 6-4 in Lawrence. The home field, plus the eagerness to prove their progress on the field, means the Jayhawks are going to give the Bears everything they could want. It's a Trestan Ebner touchdown that does it for the Bears.