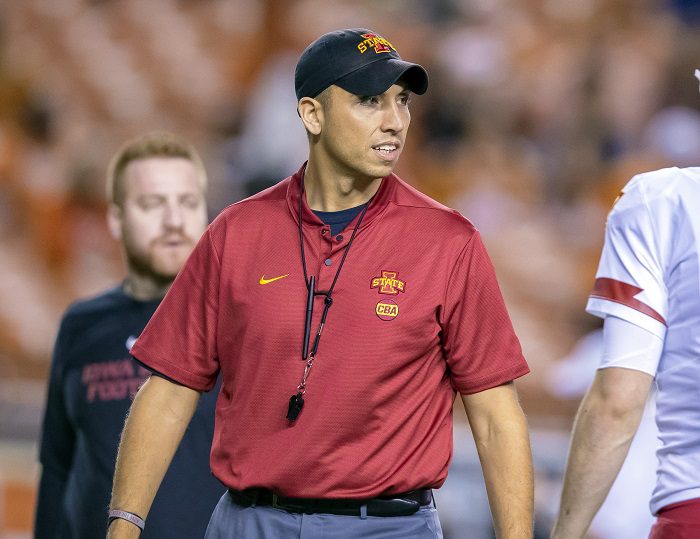 Another big job opening, therefore more speculation on Iowa State head coach Matt Campbell being connected to said job opening.
It's becoming like clockwork the last 3-4 offseasons. With USC firing Clay Helton on Monday following USC's lost to Stanford on Saturday, sportsline.com has released odds on who will be the next head coach of the Trojans. Cincinnati's Luke Fickell was in the top spot, along with Penn State head coach James Franklin, then there's former Washington head coach Chris Petersen, former Oklahoma head coach Bob Stoops, with Matt Campbell rounding out the Top 5 of the oddsmakers' list.
Favorites to be next USC coach
Luke Fickell +600
James Franklin +600
Chris Petersen +700
Bob Stoops +800
Matt Campbell +1000
PJ Fleck +1000
Bill O'Brien +1100
Urban Meyer +1200
Mario Cristobal +1500
Gary Patterson +1800
Tony Elliott +2000
Lane Kiffin +3000
In other Campbell-USC rumors, CBS Sports' Dennis Dodd put Campbell on his list, although he added it's Luke Fickell's to turn town.
But on Campbell, Dodd reported:
"Perhaps the No. 1 developmental coach in the country. Think what he could do with the talent USC attracts. Campbell has turned down significant NFL interest. Insiders say he'd be interested Notre Dame and Ohio State. USC is certainly in that orbit."
But let's all remember something important Matt Campbell said at Big 12 media days when he was asked why he was still at Iowa State.
"Simply, I didn't get in this profession to be someone, I got in this to do something," Campbell said. "You're either trying to be someone else or you're trying to do something. What I love about football is to teach and coach."
Many outside of Ames continue to still not understand why Campbell is still in Ames. And I'm sure that answer won't appease those who don't cover him and don't really appreciate what Matt Campbell is all about. They'll see that as coach speak, as they've heard similar things from other coaches who jump at the next better job opening.
But Campbell has continued to put his money where his mouth is, turning down more money and "better jobs", and continuing to sign extensions at Iowa State. This offseason, he signed another extension through the 2028 season.