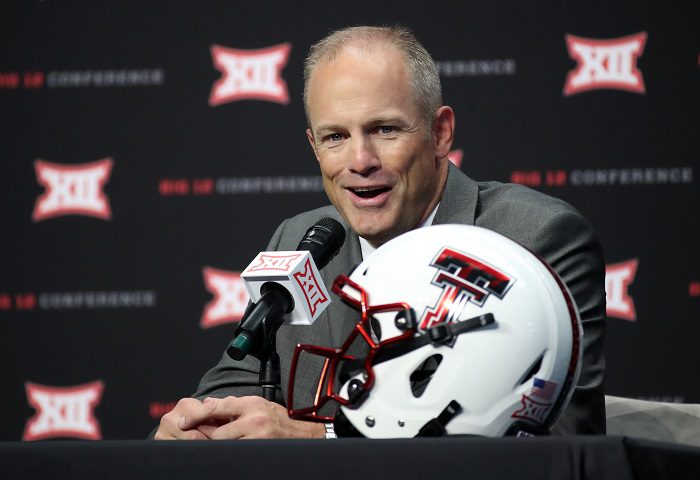 Here is everything you need to know about the Texas Tech Red Raiders in our Texas Tech vs. FIU preview.
Game Info
6 p.m. Central Time, Saturday, Sept. 18, 2021, AT&T Jones Stadium, Lubbock, Texas
TV: ESPN+(Sign up here for $6.99 per month and cancel at any time)
Radio: Texas Tech Sports Network.
Records: FIU, 1-1; Texas Tech, 2-0.
Ranking: FIU: None; Texas Tech: None.
Last week: FIU lost to Texas State, 23-17 (OT); Texas Tech def. Stephen F. Austin, 28-22.
Fun Fact: The Red Raiders and Panthers have met just one time, on Sept. 10, 2005, with the Red Raiders winning easily, 56-3, in Lubbock.
Key players
FIU
QB Max Bortenschlager: The Panthers' starter is coming off a solid effort in an overtime loss to Texas State, as he threw for 259 yards with two passing touchdowns and no interceptions. The redshirt senior started the season threw for 266 yards, two touchdowns and one interception against Long Island. Bortenschlager is entering the Texas Tech game starting just his fifth game since the start of the 2018 season.
RB D'vonte Price: The senior was an honorable mention All-Conference USA selection in 2020. In just five games last season, Price rushed for 581 yards with four touchdowns. He's picked that up in 2021. In the season opener with Long Island he rushed for 165 yards and three touchdowns on just five carries. Then, against Texas State last weekend, Price rushed for 111 yards. Price, who has shared time throughout his career, is finally getting a chance to assume the spotlight.
LB Jamal Gates: Through two games, the senior has 12 tackles, two tackles for loss and a sack for the Panthers. The sack came last weekend against Texas State. His best season came in 2019, as he registered 85 tackles, four tackles for loss and a sack. Gates is shooting for his first appearance on the All-Conference USA team.
Texas Tech
WR Erik Ezukanma: He's just plain hard to stop. Against Stephen F. Austin last Saturday, he caught six passes for 143 yards and a touchdowns, and the touchdown was a 75-yard reception that started the scoring for the Red Raiders. As a junior, Ezukanma has years of eligibility left. But the way he's playing this year, a path to the NFL in 2022 seems feasible. After two games he's caught 13 passes for 322 yards.
DB DaMarcus Fields: After leading the Big 12 in passes defended in 2020, Fields is off to another fine start for the Red Raiders. Against Stephen F. Austin last Saturday, he led the Red Raiders with nine tackles and tied for the team lead with two pass breakups. After two games, he has 13 total tackles, one tackle for loss and three pass breakups.
LB Colin Schooler: Riko Jeffers may be getting more attention when it comes to potential NFL hopes, but through two games Schooler is the one leading the Red Raiders in tackles with 16. He also had two tackles for loss, two pass breakups and three quarterback hurries. The senior had a big game against SFA. The former Arizona standout was second on the team with 63 tackles (41 solo), including 5.0 that went for a loss in 2020. He was also in the Top 10 in tacklers in the Big 12 last year.
Key storylines
FIU
The Panthers are trying to bounce back from an 0-5 season in 2020, after three straight bowl seasons from 2017-19, which included a pair of second-place finishes in the Conference USA's East Division. Head coach Butch Davis probably has time to put the program back on track, and with the majority of last year's starters coming back, Davis has good talent to work with. But, he has to contend with the fact that his Panthers are 7-13 since the start of the 2020 season. Max Bortenschlager looks like a solid starter at quarterback, and several transfers have bolstered the overall roster.
Texas Tech
The Red Raiders are 2-0, but, boy, they're 2-0 by the skin of their teeth after a 28-22 win over SFA. The Red Raiders needed a stop at the end of the game to escape with that win against a program they had dominated in three previous meetings. Running back Tajh Brooks is more than keeping the seat warm at running back, after back-to-back 100-yard rushing games. While they're waiting for SaRodorick Thompson to return to the lineup, Brooks has carved out a big role for himself moving forward. The Red Raiders' defense, overall, needs a bounce-back game after giving up 343 passing yards to SFA quarterback Trae Self and a 12-catch game to Xavier Gipson.
Fun Fact: The Red Raiders and Panthers have met just one time, on Sept. 10, 2005, with the Red Raiders winning easily, 56-3, in Lubbock.
Prediction: Texas Tech 42, FIU 24. I think Texas Tech feels a little embarrassed after its near-loss to SFA and will come out for its second home game of the season and handle the Panthers. FIU's only game against an FBS team this season resulted in a loss to Texas State, and the Bobcats are coming off a 2-10 season in 2020. While the Panthers appear to have improved, I'm not sure they've improved that much.
Matthew Postins can be found on Twitter @PostinsPostcard.