Trending Now
Texas Longhorns Have Best 2022 NCAA Tournament Odds in Big 12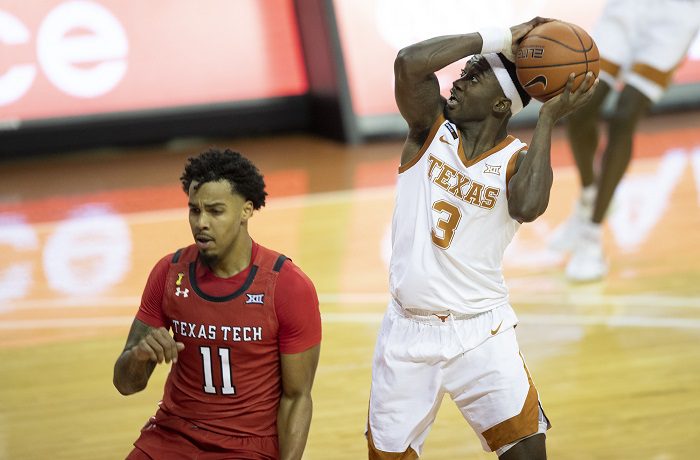 While we are all in full football mode right now, the reality is the college basketball season isn't far away. It always sneaks up on us in the middle of football season. And with the Big 12 poised to have another incredibly deep league this year, the latest 2022 NCAA Tournament odds may surprise you.
When it comes to online basketball betting, the Texas Longhorns have not just the best odds in the Big 12, but some of the best odds in the country.
The Longhorns are 14/1 to win the National Championship, behind only Gonzaga (7/1), Memphis (9/1) and Michigan (9/1). UT is tied with Kentucky and UCLA, while ahead of Purdue, Duke, Illinois, Kansas and Villanova.
The Longhorns are going into a new season with lots of hype under new head coach Chris Beard, who left Texas Tech to go to Austin. Beard replaced Shaka Smart, who took the head-coaching position at Marquette after last season. Smart coached the Longhorns for six seasons and led them to the 2021 Big 12 Tournament championship. But, Texas failed to win a game in his three NCAA Tournament appearances, including a loss to Abilene Christian in the first round of the 2021 NCAA Tournament. Beard is a Texas alum who served as a student manager under former head coach Tom Penders.
At Texas Tech he won 112 games in five seasons, during which the Red Raiders won 112 games, shared the 2019 Big 12 regular-season title, made three NCAA Tournament appearances and reached the 2019 national championship game, where the Red Raiders lost to Virginia in overtime. He also cultivated two of Texas Tech's best recruiting classes. 
As for this offseason, Texas did lose some key pieces to the NBA Draft. The frontcourt pieces of sophomore Kai Jones, freshman Greg Brown III and senior Jericho Sims were an incredibly talented bunch, that while they didn't live up to the hype as a team, all were drafted this past spring.
But here's the good news for the Texas Longhorns. Beard crushed it in the transfer market, which is how he has quickly turned Texas into a national title contender. Beard landed five of the nation's top transfers — Minnesota point guard Marcus Carr, Utah All-Pac-12 forward Timmy Allen, UMass center Tre Mitchell, Vanderbilt power forward Dylan Disu, and Creighton forward Christian Bishop.
And let's not forget another transfer: Kentucky sophomore point guard Devin Askew. This group will join a veteran backcourt led by Andrew Jones, Courtney Ramey and Jase Febres.
However as a result, the top concern for this team heading into the season won't be talent related, but rather chemistry related. Any time there are this many news pieces coming into a new program with a new coach and staff, there are legitimate questions to ask. But the good news for Texas fans is that Beard has plenty of experience using transfers heavily dating back to his time at Texas Tech. So now we wait for the season to see if the Longhorns can live up to the hype, but the oddsmakers are certainly on board with Texas basketball heading into the season.