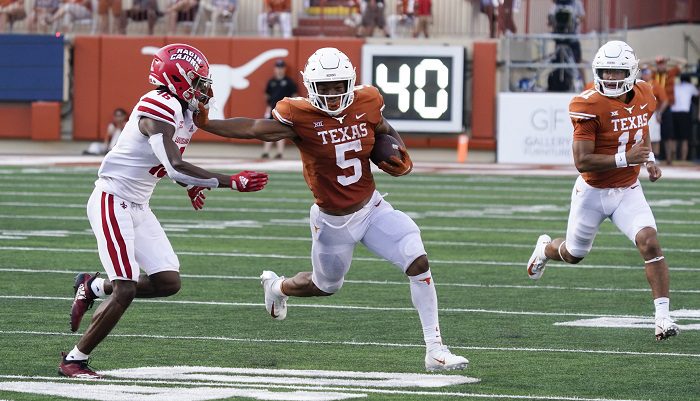 Here is everything you need to know about the Texas Longhorns in our Texas vs. Rice preview.
Game Info
7:00 p.m. Central Time, Saturday, Sept. 18, 2021, Darrell K. Royal-Texas Memorial Stadium, Austin, Texas
TV: LHN
Radio: Longhorn IMG Sports Network
Spread: Texas -26
Fun Fact: Since 1966 these two have played 43 times and Texas has a record of 42-1.
Key Players
Rice Owls
QB Luke McCaffrey
There was a quarterback battle at Rice, but it appears that Luke McCaffrey is going to be their guy once again on Saturday. Luke had a rough game against Houston last weekend as he threw for just 86 yards and had three interceptions in the 44-7 loss. If Rice is to have a chance in this game, Luke needs to have a big day through the air.
LB Antonio Montero
Just like Overshown for Texas, Antonio Montero is one of the leaders of the Owls defense. It's been a rough going for Rice so far this season buy Antonio is a solid player who will need to keep eyes on the Texas ground game at all times on Saturday.
Texas Longhorns
RB Bijan Robinson
I know Texas will be breaking in a new starting quarterback, but this Longhorn offense is all about one man. That man is none other than running back Bijan Robinson. He is the engine to the Texas offense, and he is capable of making big plays when the football is in his hands. So far, he has yet to have that monster game but against a team like Rice, Bijan could be due for a big-time performance we have been waiting for this season.
LB DeMarvion Overshown
Overshown is the leader of the Texas defense as he once again is the leader in tackles for the Longhorns. Last week, Texas had a horrible performance especially in the run game against Arkansas and this defense needs to play much better than they did a week ago.
Key Storylines
Rice
I don't mean to be rude here, but Rice will be outmanned and outmatched in this game. They simply don't have the players to keep up with Texas and with the Longhorns coming off a bad loss against Arkansas, they could very easily take out their frustrations against them on Saturday.
Texas
Texas needs a big bounce back win after getting embarrassed by Arkansas last weekend. Rice is not a good football team, so the Longhorns really need to pull together and have a solid performance. While Casey Thompson is the new starter moving forward, the ground game will be key in this game. Rice is giving up almost 200 yards per game on the ground and running back Bijan Robinson should be due for a big day on Saturday. Defensively, they need to clean up the tackling and everything should go smoothly.
Prediction: Texas 42, Rice 13
Texas is simply the better team here. I know the Longhorns did not play well last weekend, but Rice is no Arkansas. The Owls are not a very good football team, and this should be a game where Texas gets an early lead and by the third quarter, the backups are in.