Big 12 News
Gary Patterson Admits TCU Could Lose Players With New NIL Rules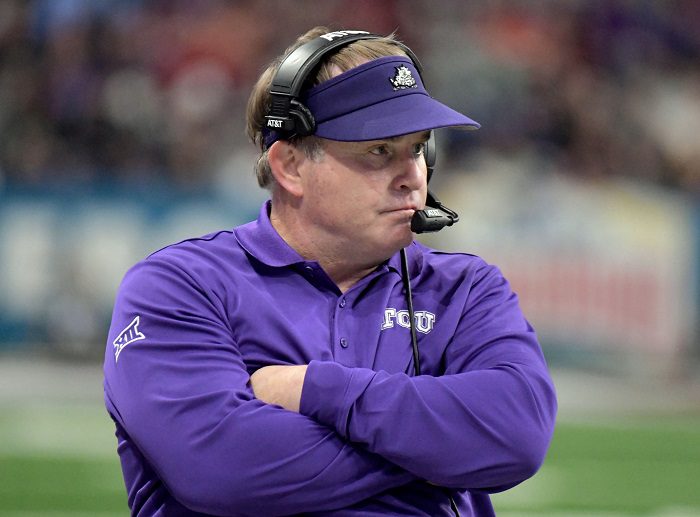 Gary Patterson has never been one to sugarcoat. He sees a problem, identifies it and then tries to go fix it. And that's exactly what Patterson is doing right now with the Wild West that is name, image and likeness.
On Wednesday, Patterson was speaking at NIL open house on TCU's campus and admitted that retaining top talent on his roster could be challenging as NIL opportunities for players could be more lucrative at other schools. In an interview with The Fort Worth Star-Telegram, Patterson shared his issues with schools, particularly SEC schools, using NIL opportunities to both win recruiting battles and also poach his players through the transfer portal.
"There's five SEC schools calling (a given player) and telling him 'Here's what we'll give you if you come here and not stay at TCU,'" Patterson said. "At the end of the day, that's just real life. If we don't do anything about it, within a year we lose him. The rules have changed. There's no wrong anymore."
Patterson added his concerns included the possibility that he could "lose 20-35 guys on scholarships by January", continuing to say he believes that players will inevitably disclose their NIL opportunities to players at other schools, which could entice certain players to leave a place like TCU.
While the Horned Frogs run a legitimate Power 5 program, they're not Alabama, Georgia, Oklahoma or Texas. That's not what TCU is. And if players learn their craft under a defensive whiz like Gary Patterson and then scoot off to the SEC for a year or two for a more lucrative NIL deal before the NFL, what is Patterson to do?
Granted, the same could apply for a Group of 5 player going to a place like TCU after a couple of years, but regardless, these are serious concerns that have yet to be answered as it relates to the future of college football.
And as always, Gary Patterson is a step ahead of the rest of us.